Navratri is just around the corner and many of you might have even started prepping for it already. Right from decorating the idols of goddess Durga with bangles, flowers, and embellished attires to stocking special fasting food items. And what can be a better way of serving the Goddess than offering them some special savories prepared with the best Navratri recipes? Later, when you distribute this offering as a Prasad among the rest of the devotees, you are ought to receive a compliment.
Navratri, being one of the most popular Indian festivals, that appears twice a year is celebrated with great zeal and spirituality across the nation. The nine avatars of Goddess Durga are being worshipped throughout this festival. As the name itself suggests 'Navratri' refers to the nine auspicious nights of serving 9 incarnations of the goddess Durga. A lot of people fast during these days. As a matter of fact, that comforting aroma of Navratri special delicacies is something we all have grown up sniffing.
What To Eat In Navratri Fast?
Who says that fasting food is monotonous? If someone really thinks so, then this blog is going to burst their notion. so now the question is what can you eat during Navratri fasting.
Thereupon, to make your Navratri even more special and interesting, run down and try these following best Navratri recipes to treat your tastebuds even when you are observing fasts.
Kuttu Ka Dosa aka Buckwheat Crepes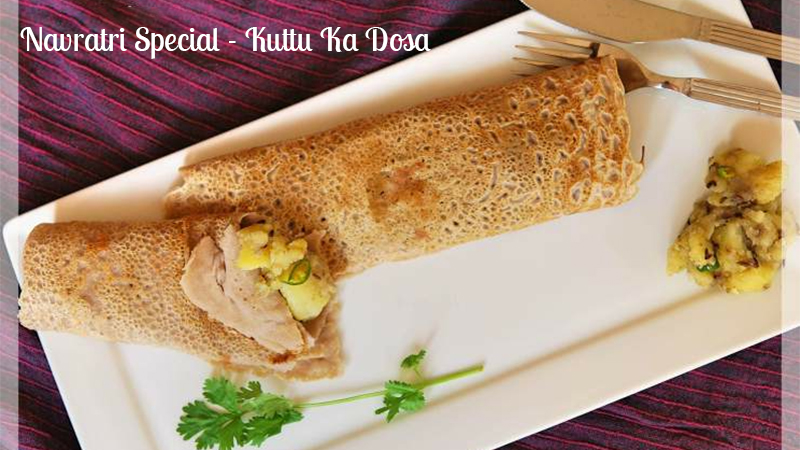 For the Filling
Add crushes potatoes with fasting salt and red chili to a pan smeared with heated ghee.

Toss the potatoes till they are light brown in color.

Take it off the stove and place it aside.
For the Dosa
In a mixing bowl add arbi (Colocasia roots) with buckwheat and salt.

Mix it well with some water.

Now add green chilies, red chili powder and mix it well.

Keep stirring and adding the required amount of water till it achieves a smooth batter like consistency.

Grease a heated carbon steel pan

with a few drops of ghee.

Spread a ladle full of batter on it in a circular motion.

Cook it for some time, until it comes off from the sides itself.

Now flip over and cook the other side too.

Now spread the filling on it and wrap it.

Your navratri special kuttu dosa is ready to be served.
Note: If you are unable to find the ingredients you can place an order online with Big Basket and you can even save extra with Big Basket Offers and Coupons.
Low Fat Makhana Kheer aka Foxnuts' Pudding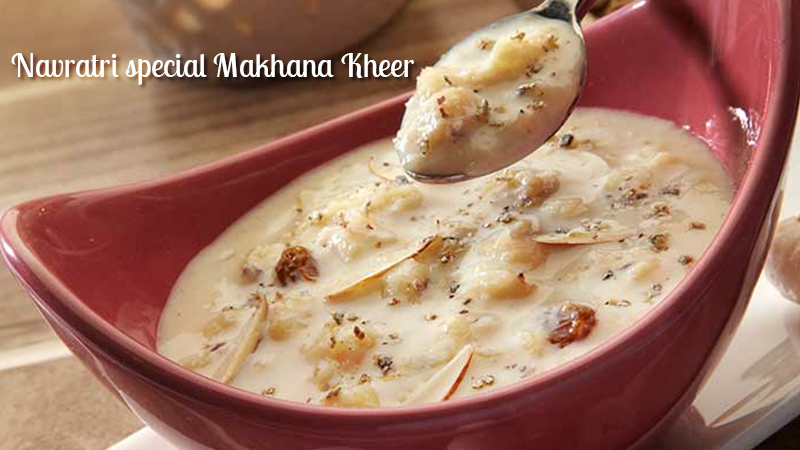 Sauté some makhana (foxnuts) in a deep non-stick pan containing heated ghee (clarified butter). Keep the flame slow and sauté it for 2-3 minutes until they turn golden brown.

Now coarsely blend these foxnuts in a blender.

Now bring the milk to boil in a deep non-stick pan and then add coarsely crushed foxnuts and sugar or jaggery as a sugar substitute.

Cook it on a medium flame for 2-3 minutes and keep stirring occasionally.

Add nuts to it and mix it well on a medium flame for another 3-4 minutes.

Your navratri special low-fat makhana kheer is ready to be served.
Banana Walnut Lassi aka Banana Walnut Buttermilk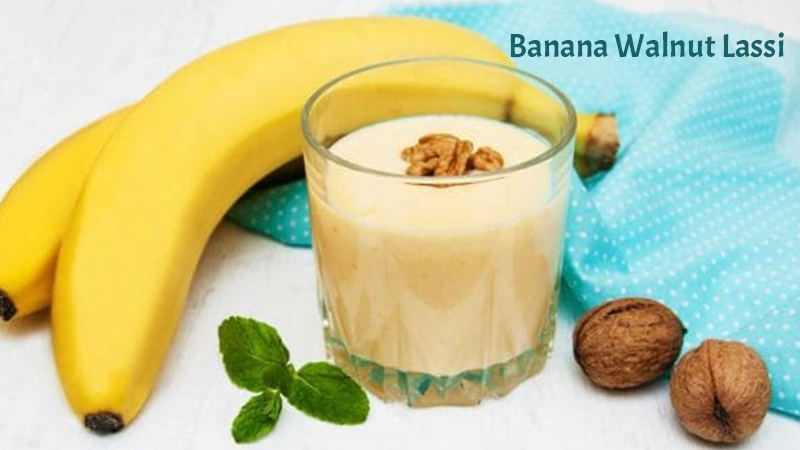 In a food processor add ¼ cup of low-fat yogurt.

Add ½ banana, 3-4 walnuts and 1-2 tsp of honey to it.

Blend it well it achieves a smooth and creamy texture.

Now transfer it to a glass and serve it chilled, topped with walnuts.
Note: Use only fresh yogurt and high-quality walnuts to make it taste at its best. You can get hold of these fresh ingredients from Nature's Basket, the online store. Moreover, you can steal the deal with active Nature's Basket Coupons available round the clock.
Paneer Cutlets aka Cottage Cheese Cutlets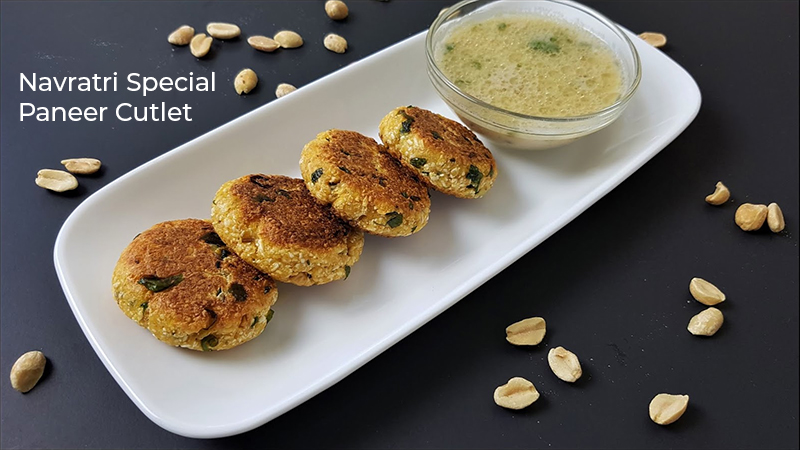 In a mixing bowl, add 2 mashed potatoes and 2 cups of mashed paneer (cottage cheese).

Add green chili, fasting salt, raisins, black pepper, and freshly chopped coriander leaves.

Now combine all the ingredients well to make a dough of it.

Make uniform cutlets out of this dough in whichever shape you like.

Now shallow fry these cutlets from both the sides in a pan containing heated clarified butter.

Fry them till they are golden brown in color.

Your navratri special paneer cutlets are ready to be served.
Fruit Cream aka Indian Fruit and Cream Dessert
In a mixing bowl add 2 cups of diced fruits (bananas, grapes, pomegranates, apple and so on). Try avoiding citrus fruits.

Now add ½ cup of fresh cream.

Add any form of natural sugar like honey, jaggery or rock sugar. You can use castor sugar if none of these are available.

Now mix all the ingredients wee and allow it to cool in the refrigerator for at least 2 hours.

Serve it chill
Note: Use only fresh cream and fruits to amplify the flavor. You can grab these at real bargains from Grofers with Grofers Coupons and Offers.
Enjoy these delectable and delightful Navratri recipes to make this Navratri fasting special for you and your loved ones. Not only this, you can double your happiness by procuring all the ingredients online at the real bargain with amazing coupons and offers available at our portal. So must try these Navratri fasting recipes that taste is so amazing. The best part is these fasting recipes are very easy to make with just simple ingredients.
Sabu Dana Khichdi
Another most popular navratri food is Sabudana khichdi. This navratri food is very easy to make and is very tasty. As we all know sabudana is full of carbohydrates that gives us energy for fasting.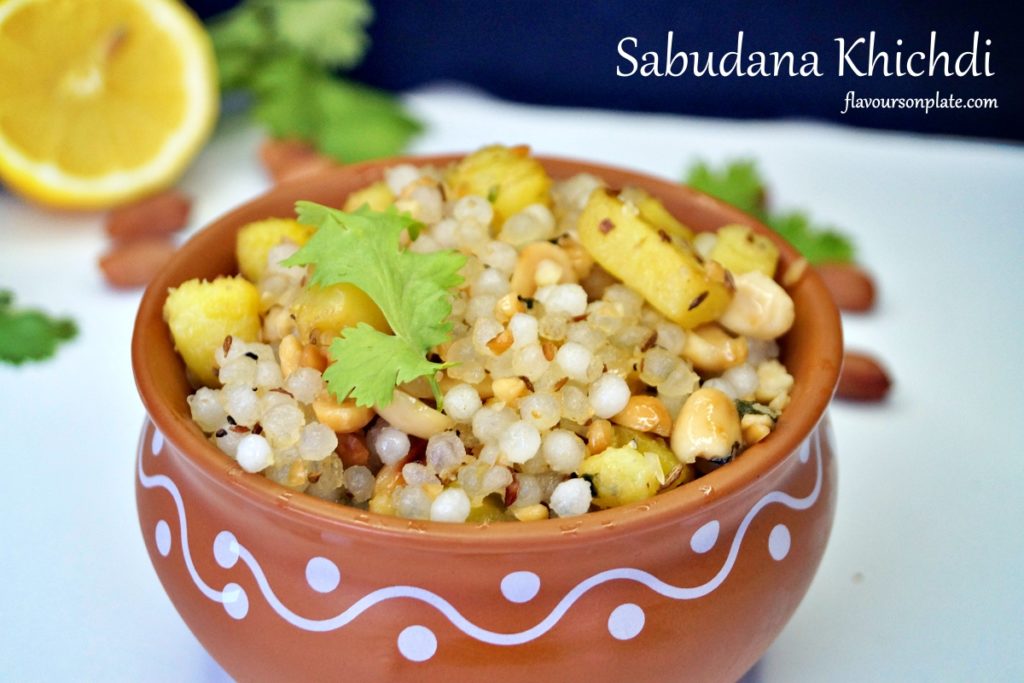 How To Make This Navratri Fast?
Take one bowl of sabudana and soak into the water for 2 hours.

Now take a pan and add some oil into it. Add some peanuts, potato, Makhanas, and whatever you want to add.

Don't forget to add spices as per your taste.

Now add sabudana into it. Make sure that you remove all the water from sabudana. Cook for 2 minutes and enjoy this navratri fast food directly at your home.

You can also make sabudana vada or sabudana kheer.
Vrat Wale Paneer Rolls (Vrat Ka Khana)
Are you looking for vrat recipes that you can cook during Navratri? Then try this mouth-watering vrat paneer rolls which is a perfect mid-day snack. You will definitely love these recipes for fast.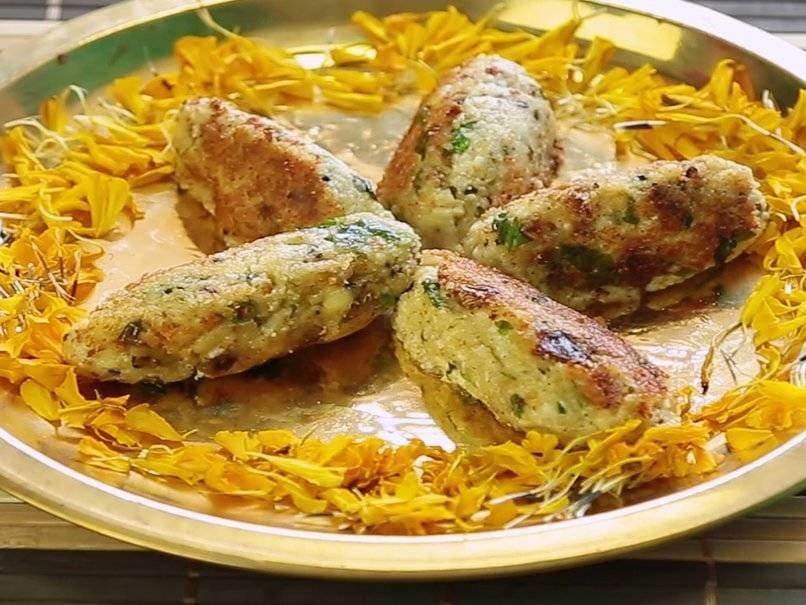 Recipe For This Navratri Special Food
Take some grated paneer, boiled potatoes, and some spices like Kaali mirch, green chilly, sendha namak.

Mix all the ingredients together and mashed them properly so that you can easily make rolls in proper shape.

Serve these finger-licking rolls with mint and coriander chutney

to your guests.

Eat this snack anytime during Navratri days.
Kuttu Ki Poori
One of the most popular Navratri special food items are kuttu ki poori. Hot & crispy that change every person's mood. So must try this Navratri food that you can eat with Aloo ki sabji. You can also order this delicious fasting food online from Swiggy by using the swiggy coupon code that helps to save big bucks on Navratri special thali or Navratri special food.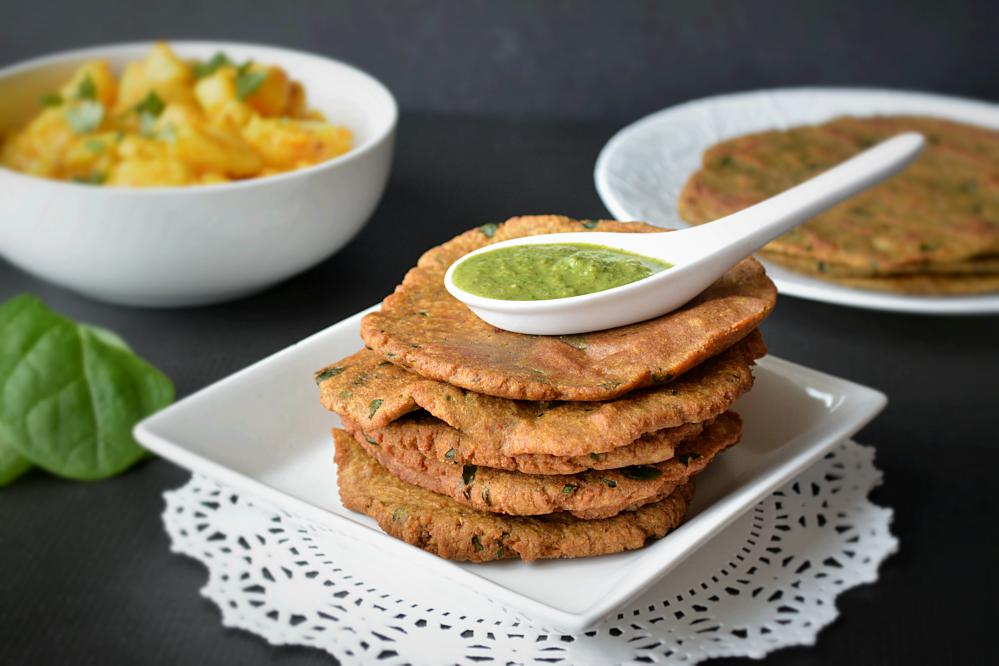 Vrat wali tikki
One of my most favorite Navratri food items is Aloo Tikki. So this fasting season tries this mouth-watering Tikki with just a few ingredients.
How To Make Vrat Tikki?
This recipe is very simple to make.

All you have to do is just take some boiled potatoes, singhare ka atta, green chilly, pinch of black pepper, sendha namak, roasted peanuts, and green coriander.

Mash all these ingredients together and apply some oil on your palms to make a round Tikki.

Now apply some oil on the pan and let the Tikki fry.

Eat this Tikki with Imli ki chutney or mint and coriander chutney.
So this is the list of best Navratri recipes that I personally like the most because of its lip-smacking taste. This Navrati season must try these Navratri foods that you will love to eat again and again. Must share your thoughts on these top best Navratri recipes for fasting. Don't forget to share these best Navratri recipes with your beloved ones.
Have you a scrumptious and Happy Navratri……