What Is Holi?
Holi – the most colorful festival of India which is filled with bright colors, water balloons, Bollywood songs, lavish gujiyas, and bhang. In our Mythology, it signifies the killing of Holika, the sister of Hrinyakashyapu. So people called Holika Dehan. It also signifies the undying love of Radha for Lord Krishna. It's the time to make the new bond of love by giving gifts to each other and says "Happy Holi". This festive season forgets everything and makes good relations with family, friends and of course your enemies by applying some colors on his/her face and say it loudly "Bura Na Mano Holi Hai". So start your holi celebration with amazing gift hampers or holi offers and get the colorful Holi decoration ideas by reading this full blog.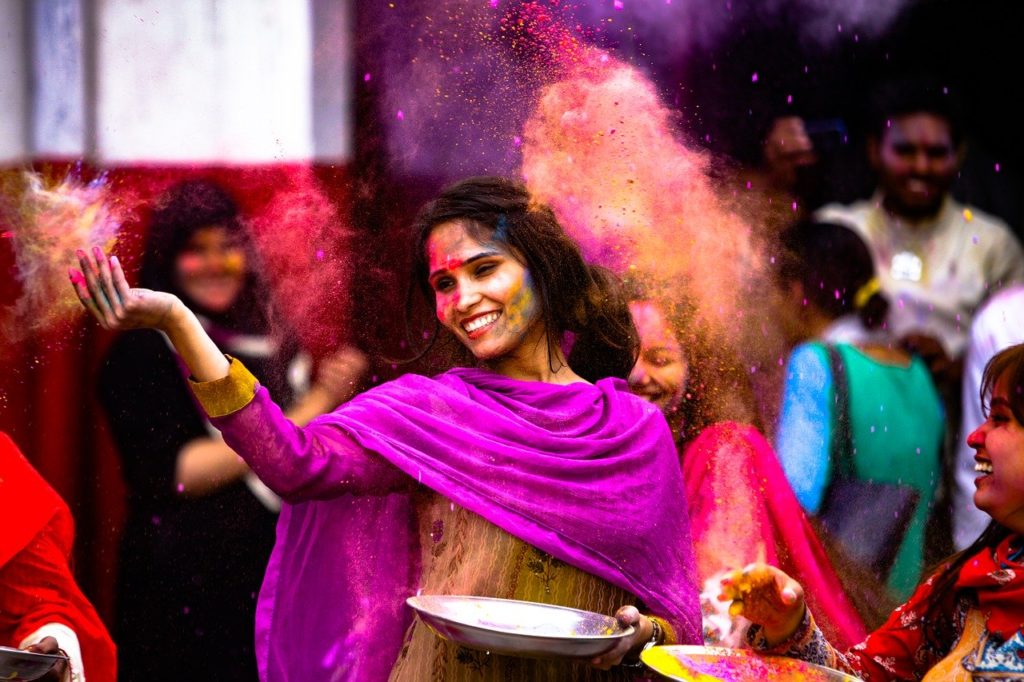 When Is Holi?
Every year the Holi festival is celebrated in Falgun i.e the last full moon day according to our Hindu calendar. So now say goodbye to chilling winters, let's welcome the spring season that comes with many beautiful colors and can attract everyone. This year it will fall on March,19. People are eagerly waiting for this day to make some masti at Holi Utsav.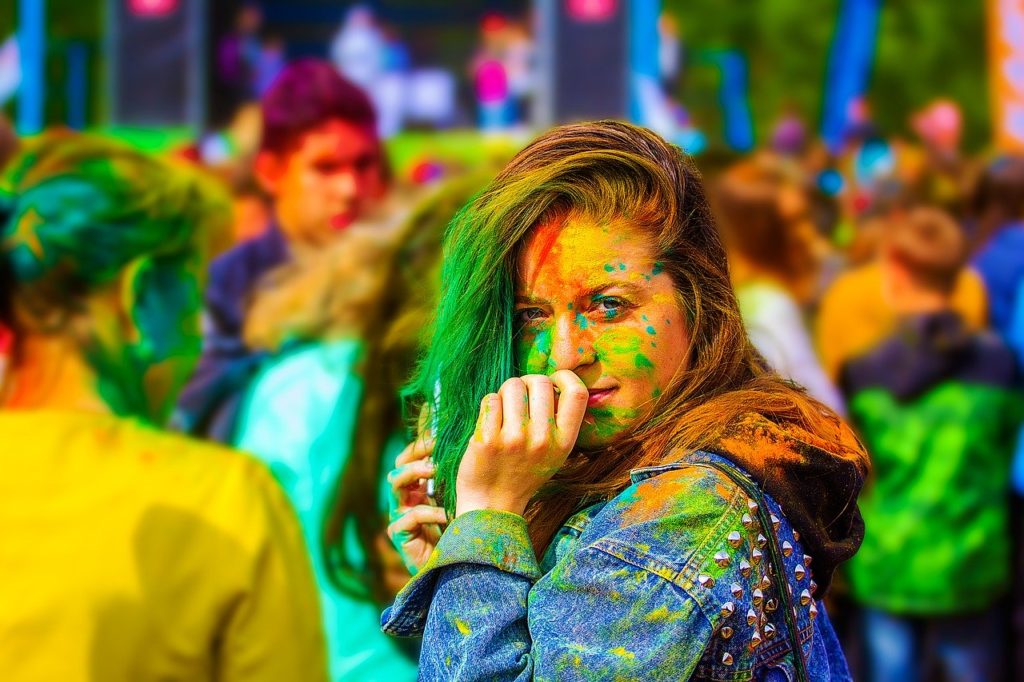 Traditional Holi Celebration In Different Parts Of India
Holi is celebrated in many different Indian states in various styles such as Barasana, UP "Lath Maar Holi", Mathura & Vrindavan, UP "Traditional Holi", Shantiniketan, West Bengal "Cultural Holi", Purulia, WB "Traditional Holi", Anandpur Sahib, Punjab "Warrior Holi", Mumbai, Maharashtra "Modern Holi", Udaipur, Rajasthan "Royal Holi", Delhi "Musical Holi", Jaipur Rajasthan "Elephant Festival", Hampi, Karnataka "An Exception". So what are you waiting for? plan a trip to these popular places in India and enjoy the festival of love, food, and colors with enthusiasm. Double your happiness by giving holi wishes to everyone you meet.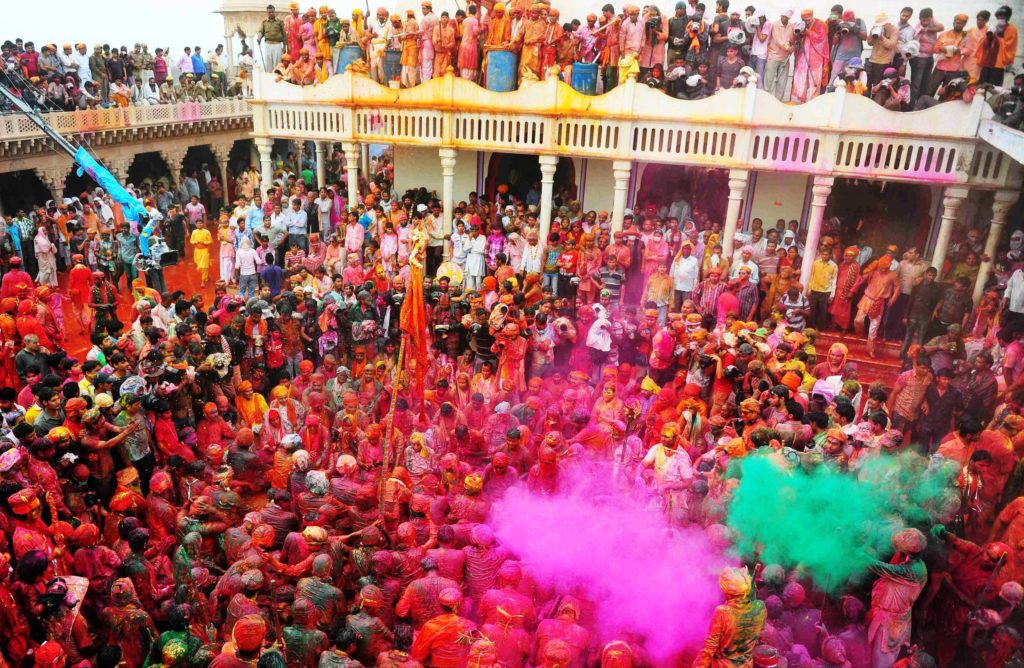 DIY Holi decoration ideas For Home
Holi is around the corner and it's the best time to add colors not in your life but also in your home. If you are going through holi party at your home, first check the holi party ideas and then plan as per your holi theme for holi party decoration. So here I am sharing the top best holi decoration ideas for a home that will definitely give you complements from your guests. Try this easy DIY holi decoration ideas and make your home colorful one.
Colors On Walls
Are you one of them who like painting? If yes, time to regenerate your childhood memories and show your talent by coloring the walls and draw some native cultural shapes or patterns with beautiful watercolors or fabric colors. Basically this will create a spiritual theme of the festival and your guests or visitors will definitely like your creativity.
Colorful Rangoli
Rangoli – one of the most beautiful things that people love to do with so much excitement and fun. Rangoli plays a very important role in Indian culture and makes every festival more special. Download the traditional and contemporary rangoli designs from the internet and draw with chalk or pencil wherever you want. Most people draw rangoli designs from their entrance home door. Now add some bright colors and make this auspicious day with a touch of colorfulness. You can also use flower petals in your rangoli.
Balloon Arrangement
Balloons are the king of every party and occasion. With balloon decoration, the house looks beautiful and adorable. Pick the balloons as per your requirements and stick them on little high places. You can also use balloons in your entrance home door, food area, party area, etc. In metro cities, people use water balloons that everyone loved the most. It's the time to celebrate Holi festival India in your own style.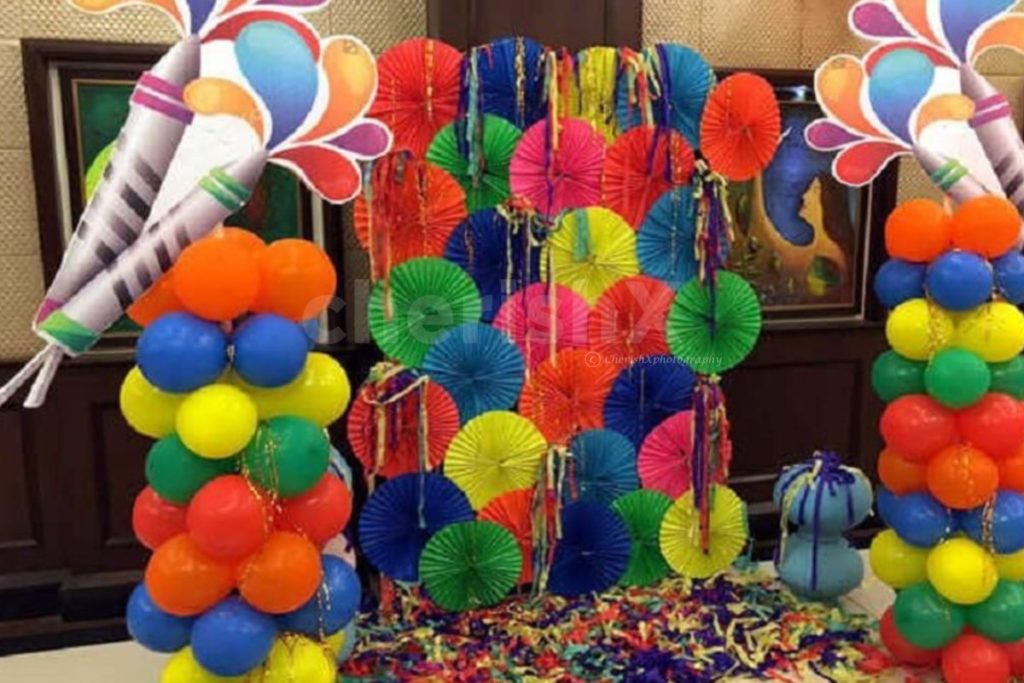 Flower Hangings In Colorful Pots
Every occasion is incomplete without flowers decoration. Buy some plain pots from local markets or malls and color them with bright colors. You can also use stones, sparkles, laces, mirrors, paint and many other things you can add on your pot. Let them dry and then add flowers and hang them wherever you want like walls, outdoor garden, drawing room, etc. Arrange them in a different way.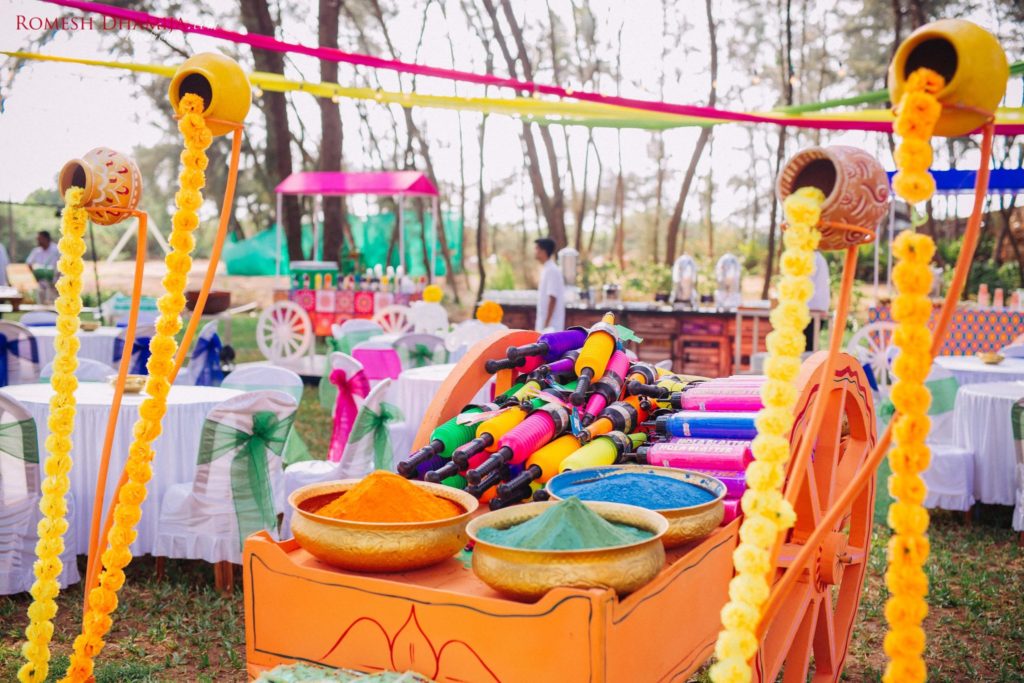 Cover Your Empty Space With Drinks
Holi without Bhaang is incomplete especially when you through the party at your home. Choose an empty space and filled up with drinks and bhang and make your empty space into a home bar. This will look awesome and gives a long-lasting impression in front of your friends and relatives.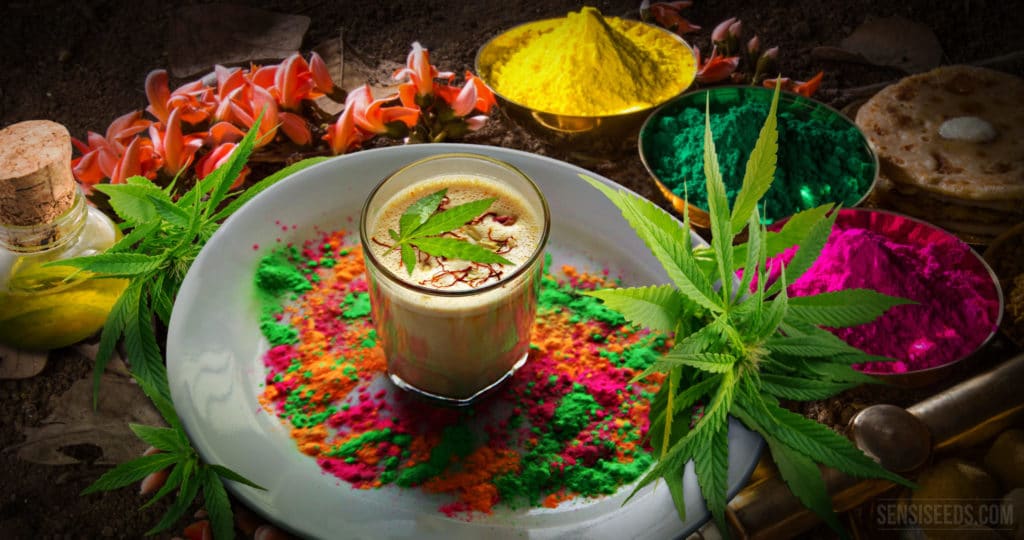 Radiant Color Rugs
The whole house is decorated, then why not the floor? Choose colorful rugs, doormats, and carpets that compliment your interior and will create a sense of ambiance in your home. Choose the darker shade rugs, so that it cannot spoil in HOLI Colors.
Artistic Color Wall Hangings
Say goodbye to the boring plain walls and this holi makeover your house with colorful wall hangings and handmade paintings that gives the royal touch impression in your home décor. Start your shopping today and buy some artistic color wall hangings that match your walls.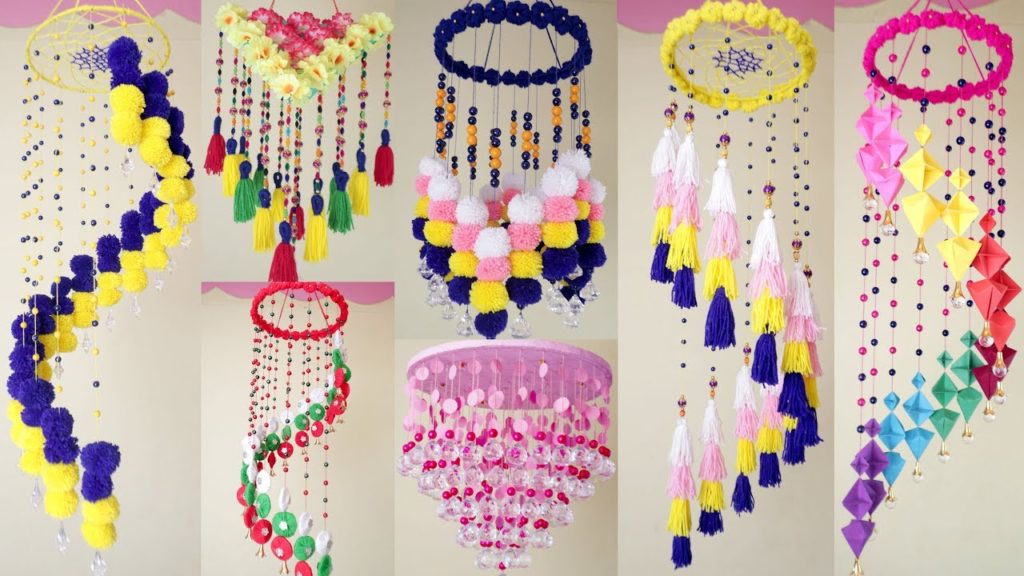 Decorate Your Home With Fresh Flowers
Flowers are the most beautiful things in this world. This festival gets ready to decorate your home with fresh flowers such as rose, orchids, lily, marigold, and the list goes on. Place the flowers on doors, balcony, stairs, etc. You can also use fresh flowers in an empty jar and place it on the table or in a good place. This will create a cozy atmosphere at your home.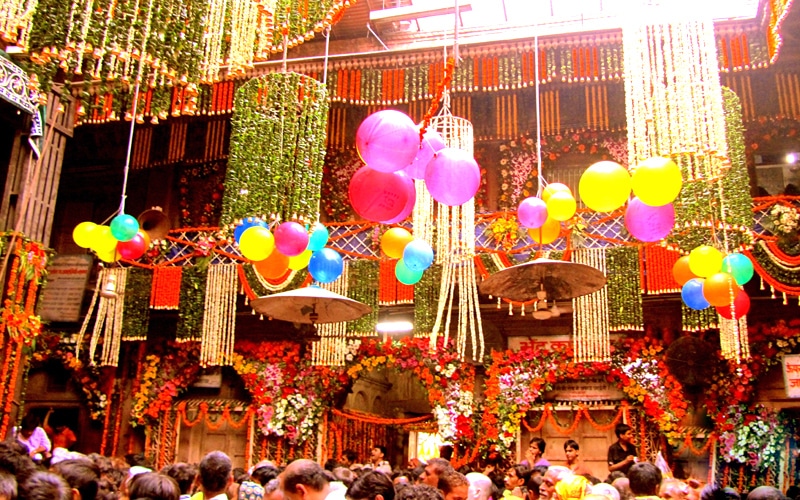 Use Multi Colorful Lights
Every festival is incomplete without colorful lights. Be it Holi, Diwali or New Year, Lights are the part of every occasion. When it comes to decoration, lights are part of it for every festive season. As we all know Holi is celebrated in a day but lights and lanterns can add a unique statement to your home outdoors and indoors. Simply hang the lights at your home especially the center of the area where you through the party. Add a magical touch to your home by decorating the house with colorful lights, lanterns and industrial corn cob light bulb that add an extra charm to your party area.
Catch Attention With Paper Buntings
Remember the time of school days when we make paper buntings in our art and craft class. Yeah, the idea is very old but it's the best way to decorate your party space with a modern touch. In this modern era, buntings could be done with immense creativity. These days' lacy or paper buntings are very famous for every occasion or party.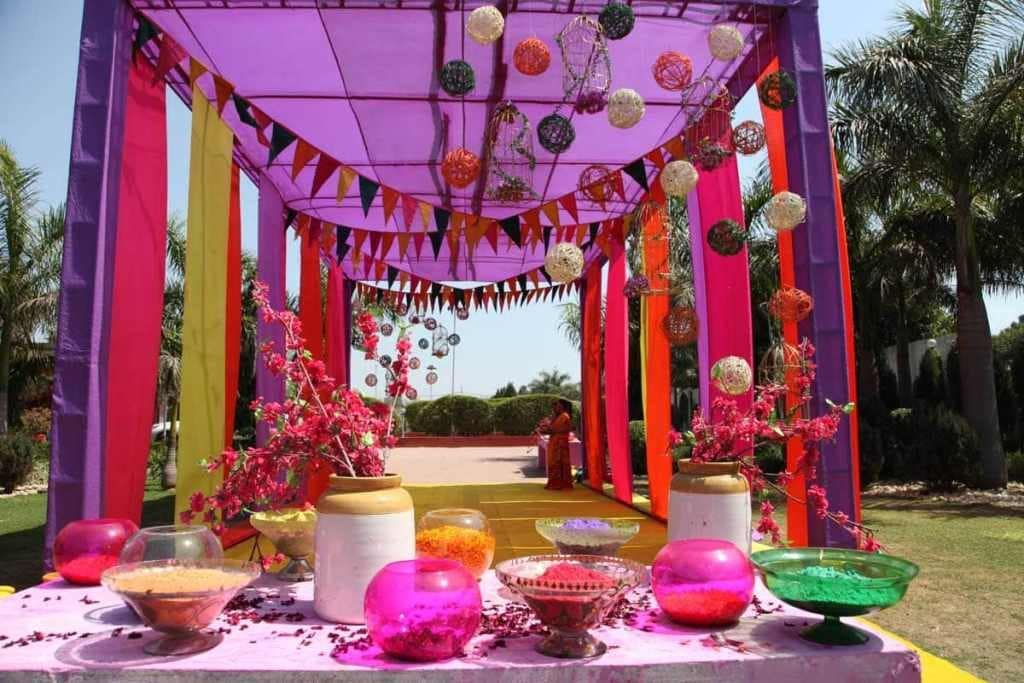 Spruce Up Ceiling With Colored Dupattas.
Adding colorful dupattas on the ceilings is an amazing way to make the home look more beautiful and classy. All you have to do is just choose the old dupattas like red, pink, blue, yellow, wine, etc and tie a chain of colorful dupattas on the ceilings. This will add a double beauty on your plain ceilings and walls and look more radiant. After finishing to ceiling the dupattas on walls, add a big chandelier from the middle center of the ceiling to finish up the look.
I hope you like all these holi decoration ideas that you can add this on this festive season. Those who visit your place will really appreciate your hard work. Make your social celebrations the unforgettable one with these outstanding holi decoration ideas.
Dealsshutter Wishes You A Very Happy And Safe Holi…!!