The festive season is around the corner and making rangoli is an important thing during the festivals of time especially in Diwali. In Indian culture, every festival is incomplete without sweets, flowers, gifts, and rangoli. No matter what the occasion is, nowadays rangoli is very famous from all over the world. People believe that rangoli was drawn to bring prosperity in the house and good luck. So this festive season decorates your home by creating flower rangoli designs. Rangoli is made not only on Diwali but also it is made on various festivals of India such as Onam, Pongal, tihar, and many other Hindu festivals. It is said when Ram JI came to Ayodhya after 14 years of Vanvas, people decorate their homes with diyas and create colorful rangoli's on their homes to welcome him. The tradition of rangoli started and it is still continued in this modern era.
Basically, there are many types of rangoli available. Some people make rangoli by using colorful powders, flowers, sparkles, rice, flour, much more. In Mathura or Vrindavan temples people made large rangoli with petals of flowers that look ravishing. Rangoli is a sign of welcome the goddess of wealth, Laxmi, to bless the household and prosperity. In this blog, I am going to share the top best flower rangoli designs which are very easy and eye catching. You can use any type of flowers on your rangoli be it roses, marigolds, daisies, etc. You can also use leaves. So let's have a look at the top best most famous rangoli designs for home, temple, or office. With Rangoli decoration, your home looks attractive that catches anyone's attention.
Top 10 Creative Flower Rangoli Designs
Extravagant Rangoli
These types of rangolis are very big and consist of various beautiful flowers such as roses, daisies, marigolds, and much more. This design is a little bit difficult but it looks so beautiful and is perfect for every occasion be it a wedding, anniversary or festivals. So this Diwali try this bigger rangoli on your hall or lobby and it should be on your Diwali to-do list.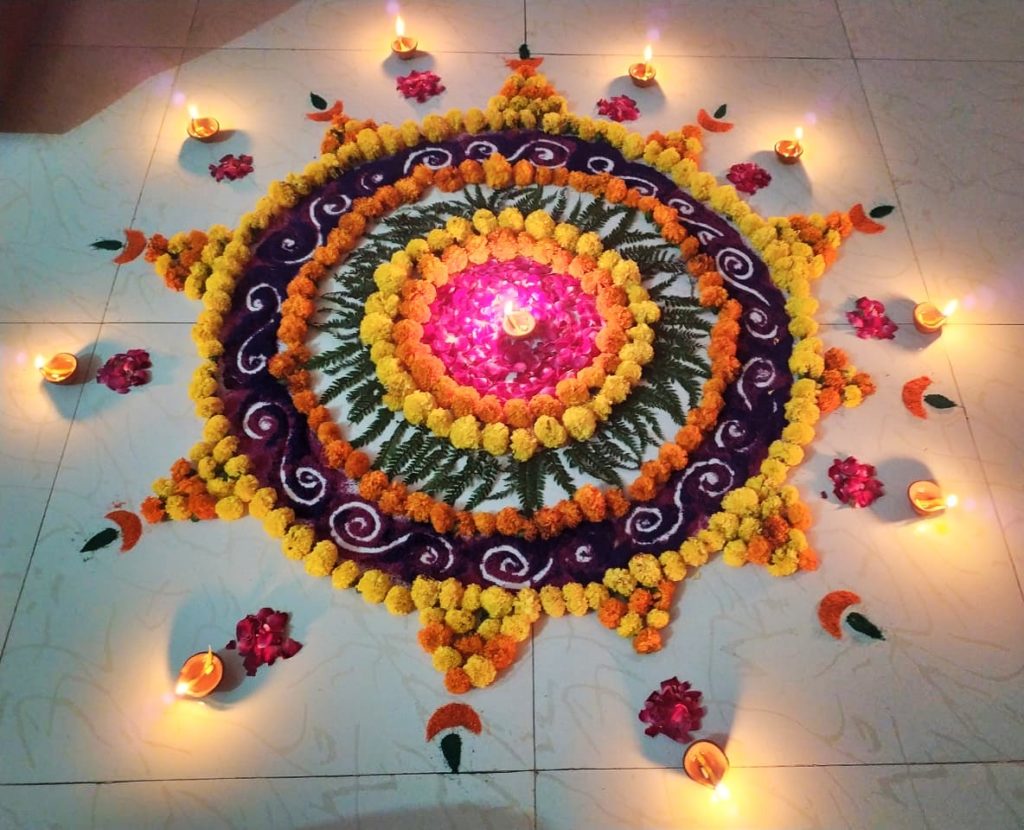 Semi Circle Rangoli
As we all know that apartments and flats have limited space so it's difficult to make big rangoli. Those who live in metro cities such as Mumbai, Delhi, Gurgaon, Noida, Bangalore, prefer to make small rangoli because of limited space. If you are looking for small rangoli designs with flowers then this semi-circle rangoli is best for you. This will save your space and adorn your home with a beautiful flower rangoli design. Choose the perfect place be it door or balcony and draw this semi-circle rangoli to add some charm to your home.
Center Rangoli With Piece
If you are looking for Diwali rangoli designs with flowers then you are at the right place. This center flower rangoli design is made up of flowers and colors. When the rangoli is complete, you can use an idol around the center be it flower pots, diyas, Ganesha idol, or any other showpieces. This is one of the simple rangoli designs with flowers that catch anyone's attention.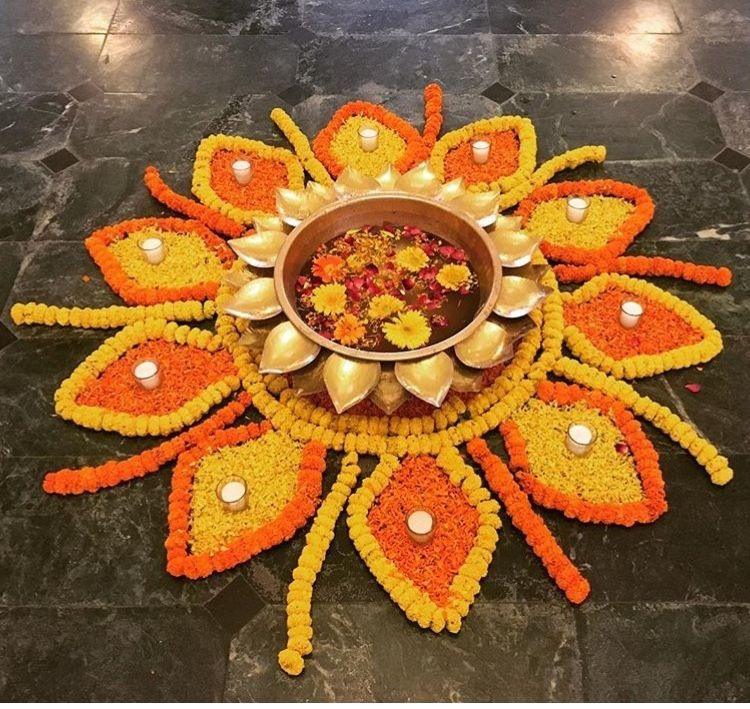 Corner Rangoli
Another most beautiful and easy rangoli design that includes lots of colors and flowers. Yes, I am talking about corner rangoli for those people who don't have so much space in their homes for an extravagant rangoli or semi-circle rangoli. Try this corner rangoli which is very simple and doesn't require so much space and flowers. Just draw a simple flower rangoli design and decorate with diyas or lights. Use the Amazon coupons to save more on diyas and candles.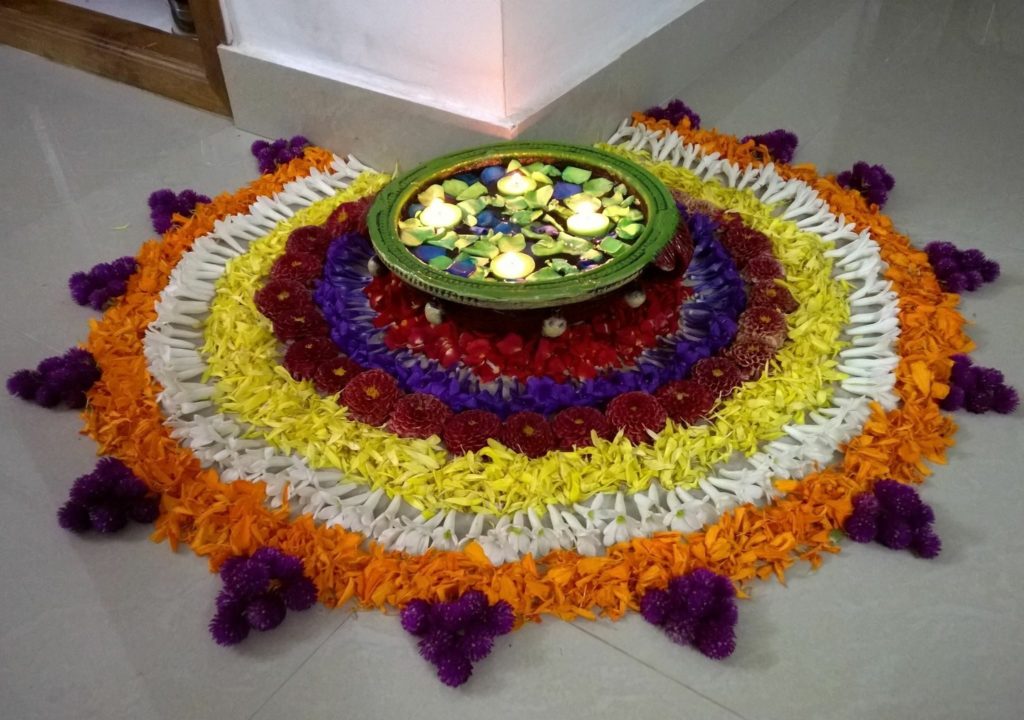 Floral Diya Rangoli
Looking for modern rangoli ideas? Then this is the best rangoli design for you. Flowers when combined with Diwali diyas are a perfect combination that adds charms to your house. As we all know diyas can charm any beautiful rangoli and bring out the beauty of the creation. Decorate your home on Diwali night with floral Diya rangoli with lots of lights, candles, and diyas that your guests will definitely love.
The Welcome Flower Rangoli Design
Welcome your guests with this alluring flowers rangoli design and leave them in awe. The rangoli is very simple and looks charming. Use the flowers according to your choice. Try this flower rangoli simple design on this Diwali.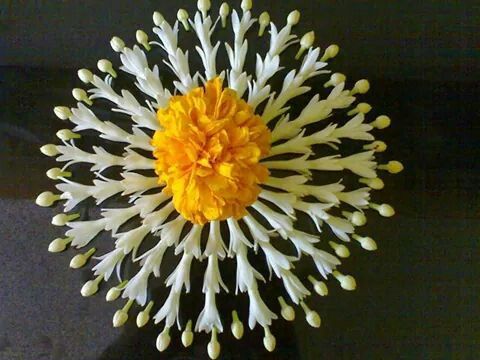 Peacock Flower Rangoli Design
Another most popular and my favorite too peacock rangoli design. The design is very unique from the other ones and it looks so attractive. Use the colors and flowers and create this peacock rangoli design for the Diwali festival.
Floral Rangoli Designs Using Rice & Flour
Are you one of them who likes colorful designs? If yes then this floral rangoli design is the best to pick for you. Create any kind of design by using chalk or sketch pen and fill this rangoli with rice, flour, colors, or flowers. This type of rangoli is perfect for every occasion and is the best rangoli decoration for home.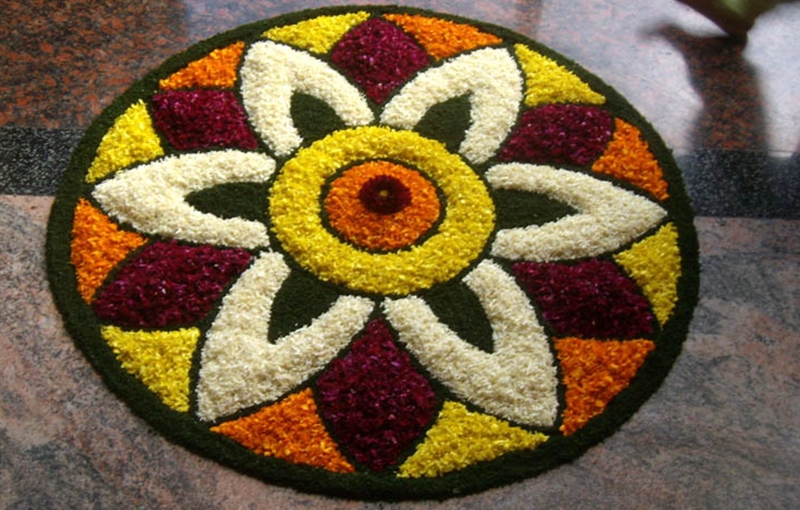 Flower Rangoli In Water Pot
Again my all-time favorite rangoli design which is very easy and is a perfect rangoli decoration idea for home or office. All you have to do is just choose the attractive pot and fill the water with the pot. Now add some fresh flowers like lilies, mogra, red roses or any kind of flowers of your choice. You can also add diyas in it to look spectacular.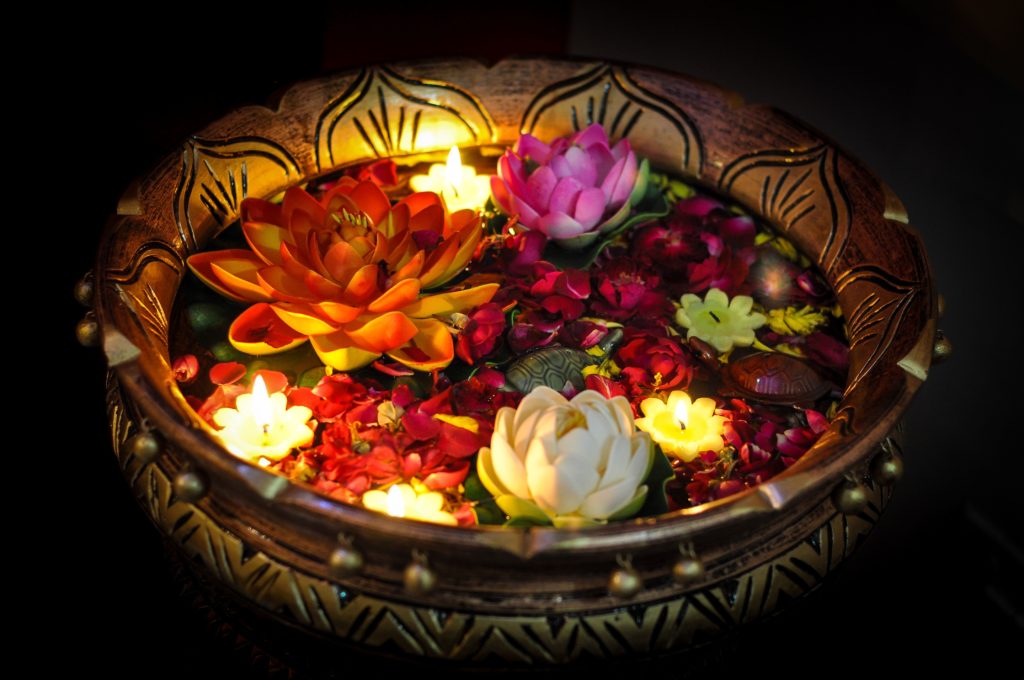 DIY Rangoli
Are you one of them who believe in DIY? If yes then try this DIY rangoli design that surely catches the attention of your guests. The rangoli is made up of bangles. Sound weird? But it's true, take some old bangles and create this rangoli. Use the colors of your choice and add some diyas and make it even more beautiful.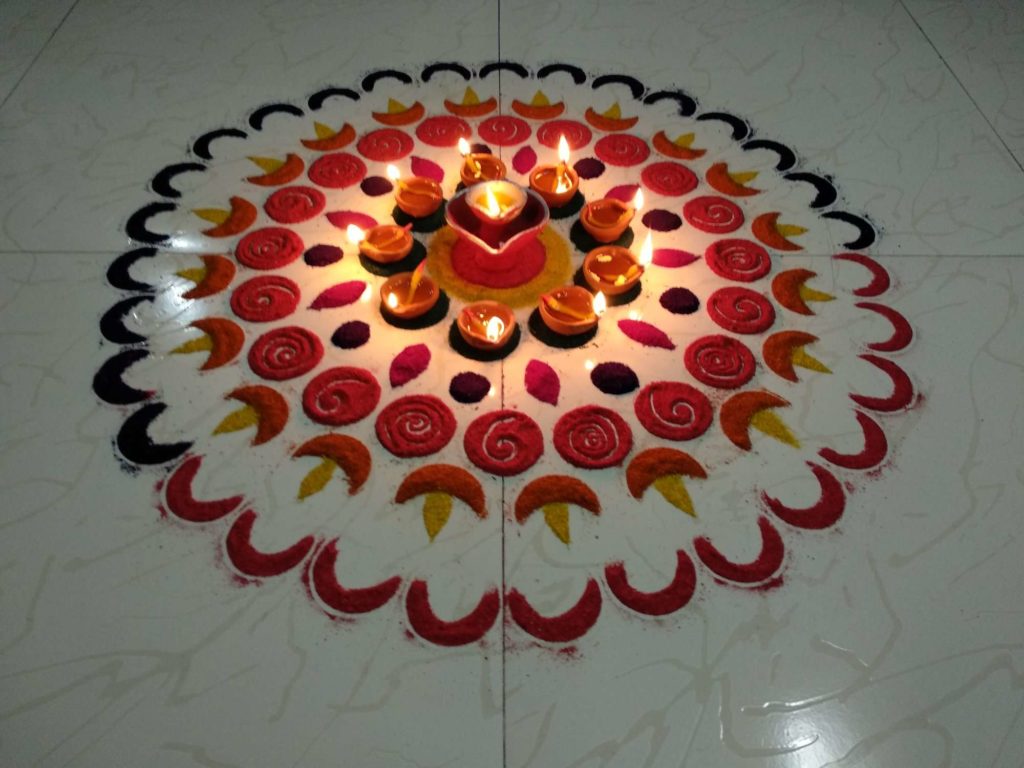 Things To Keep In Mind While Creating Floral Rangoli Designs
✔️ First, create the design and then fill up with flowers so that it looks more beautiful with perfection.
👉 Use flowers petals instead of flowers so that only less flowers can be used.
✔️ Add some colors also.
👉 Switch off the fans while making rangoli so that flowers or colors do not go up in the air.
So these are the top best ideas to decorate your home with creative flower rangoli designs. If you like my ideas related to flower rangoli designs must share this blog with your friends and family. Do share your ideas on these unique flower rangoli designs in the comment section below. HAPPY FESTIVE SEASON…!!