Doing Mahashivratri Sadhana gives peace and relaxation to the mind and connects you to the almighty. It is a much-appreciated process where one finds himself at a divine place. All the people can participate in this MahaShivratri Sadhana aged above 8 years of age.
Shivratri literally means the 'Night of lord Shiva', which is celebrated every year in the month of Phalgun according to the Hindu calendar (in the north). It is celebrated with a day-long fast in the love and honor of Lord Shiva. The devotees stay up all night and perform puja for their lord at Nishitha kaal to celebrate this auspicious day. 'Lingam' is worshiped on this day because it symbolizes Lord Shiva.
Mahashivratri Date 2022
Tuesday, 1 March, 2022
MahaShivratri Sadhana Duration and Dates
MahaShivratri Sadhana is meant to be completed till the Shivratri date and it is performed on consecutive days. You can do this MahaShivratri Sadhana for 40, 21, 14, 7 or 3 days. There is no or less to these. The dates are mentioned below
40 days: January 21 – March 1
21 days: February 9 – March 1
14 days: February 16 – March 1
7 days: February 23 – March 1
3 days: February 27 – March 1
If you cannot complete the sadhana till mahashivratri, then you need to visit a yoga center before the next Amavasya and culminate there.
How to Perform MahaShivratri Sadhana?
The Process is as Follow:
Complete Shiva Namaskar 12 times continuously on empty stomach and after doing that, start chanting Sarvebhyo three times. You have to do this daily either before sunrise or after sunset. Here is the video of Shiva Namaskar and Sarvebhyo Chant.
Link to the Audio of Sarvebhyo Chant Audio
Sarvebhyo Chant
Aum Sarvebhyo Devebhyo Namaha
(We bow down to all the celestial and divine beings)
Aum Pancha Bhutaya Namaha
(We bow down to the five elements)
Aum Shri Sathguruve Namaha
(We bow down to the Eternal Guru)
Aum Shri Pritviyai Namaha
(We bow down to Mother Earth)
Aum Adi Yogishwaraya Namaha
(We bow down to the One who is the Origin of Yoga)
Aum, Aum, Aum
Take some water and soak 8-10 peppercorns together with 2-3 vilva or neem leaves in honey, and few groundnuts overnight. When you complete the Shiva Namaskar and chanting, chew the leaves, consume the peppercorns after mixing them with lemon juice, and eat the groundnuts too. You can also use neem powder, if the neem leaves are not available. Make sure to finish your regular sadhana such as Shambhavi Mahamudra before consuming these. To know about Shambhavi Mahamudra watch this video below, you'll learn how to perform it.
Use either lamp or candle; light it once in the morning and once in evening daily.
Chant the Yoga Yoga Yogeshwaraya chant 12 times daily. Once in the morning and once in the evening after lighting the lamp. The best time for sadhana is 40-minute sandhya kalas. The two important sandhya kalas starts 20 minutes before and end 20 minutes after sunrise and sunset. Here is the mantra of Yoga Yoga Yogeshwaraya chant-
Yoga Yoga Yogeshwaraya
Bhuta Bhuta Bhuteshwaraya
Kala Kala Kaleshwaraya
Shiva Shiva Sarveshwaraya
Shambho Shambho Mahadevaya
Download This Image And Get the Positive Effect of Chanting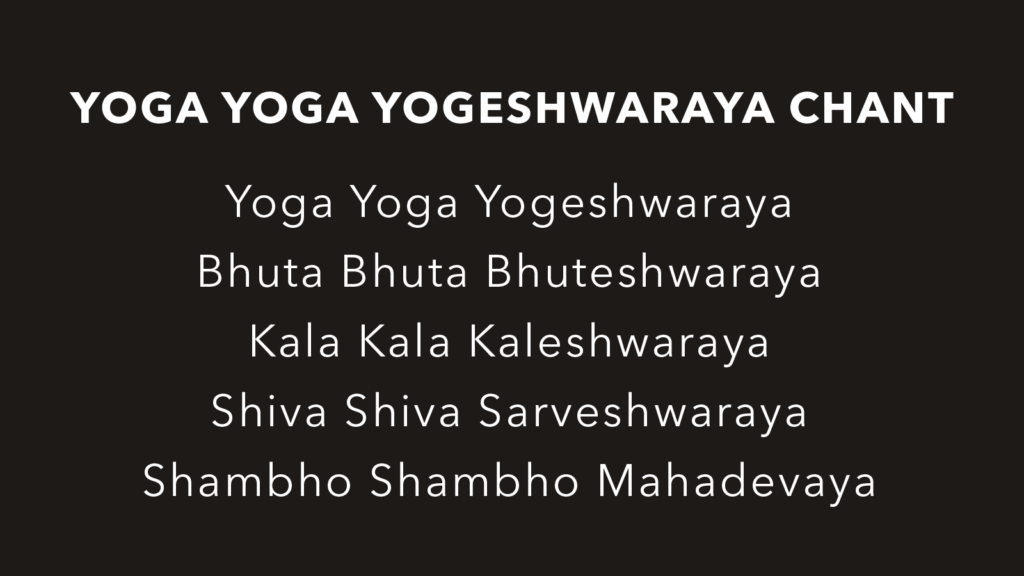 Points To Keep in Mind
You can perform Shiv Namaskar during your menstrual cycle too
Shiv Namaskar is not advisable to the pregnant ladies
Using cushions or chairs are fine if you are suffering from any disease which can be a hurdle while performing.
Guidelines for Mahashivratri Sadhana!!!
Here are a few guidelines which you have to follow while doing Mahashivratri Sadhana and there is a video attached that explains the same. Watch that video for more clarifications-
You can have 2 meals a day where the first meal will be after 12:00 noon.
You can have that mixture that made with peppercorn, honey, lemon juice and water, if you feel hungry
You are allowed to eat vegetarian food only
Do not drink and smoke
Take a black cloth and tie it up on the right arm of men and left arm of women. A cloth must be 12 inches long and 1 inch wide at least. Those participating in the sadhana can procure the black cloth by themselves.
Wear white or light coloured clothes during sadhana period.
Bath with herbal bathing powder twice a day. You can order it online too.
Apply Vibhuti on the following points: Agna – between the eyebrows, Vishuddhi – pit of the throat, Anahata – just beneath where the rib cage meets, and Manipuraka – just below the navel.
Culmination Of Mahashivratri Sadhana:
This Mahashivratri Sadhana has to complete on the day of Mahashivratri. You can either do it at home in front of a photo of Dhayanalinga or visit sadhguru's Isha Yoga center.
There will be jagarana and you have to attend it, which means you have to stay up the whole night.
Chant the Yoga Yoga Yogeshwaraya chant 112 times.
Provide something to 3 people who needs of food or money.
Offer a vilva leaf / neem leaf / leaf with 3 or 5 petals to Dhyanalinga.
Untie the black cloth from your arm and tie it near Nandi in front of Dhyanalinga.
The people who are performing it at home can burn the black cloth and apply the ashes on your forearms and legs after the culmination process.
To culminate the Mahashivratri Sadhana at home, Download this image of Dhayanlinga.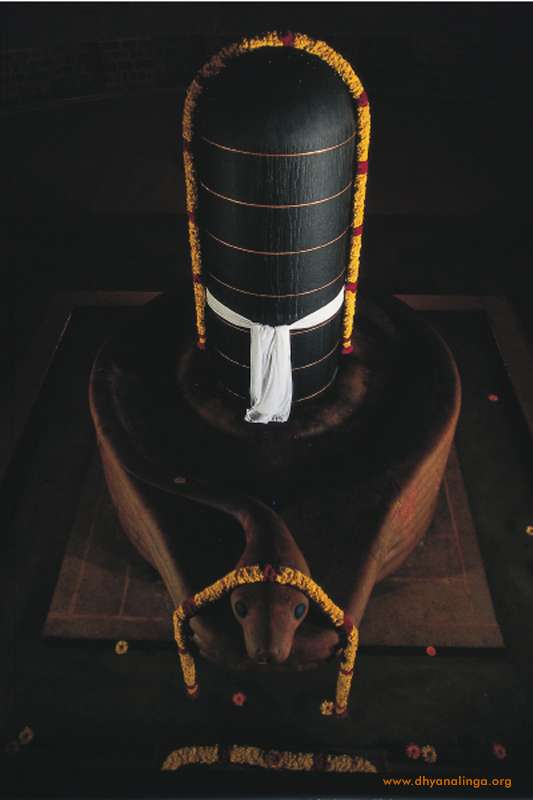 More You Need to Know About Shivratri
As indicated by the Shiva Purana, there are six stages to the Maha Shivratri puja.
Taking bath in river Ganga and then washing the lingam with water of ganga river. After that, applying milk and honey on the lingam because that is symbolizes purity.
The next step is to apply the paste on lingam, made with vermilion colour and offer fresh fruits and flowers to it.
Then, light a diya near to the idol, it is considered holy and spiritual. It symbolizes the accomplishment of more knowledge.
Betel leaf is offered to lingam. Everything which is considered holy and pure is used while worshipping.
Devotees apply holy ash on their forehead during puja. This grayish coloured ash represents spirituality and all the devotees apply this.
You need garland made with rudraksha seeds because that represents lord Shiva. Mythology says that Lord Shiva used to have rudraksh seeds with him always.
FAQ
Q. How do you do Shiv Sadhana?
A. We have already mentioned the procedure of Shiv Sadhana. Here is a video tutorial of the same.
Q. Can we break Mahashivratri Fast?
A. It is advisable to complete the fast on time. Nothing bad happens to you or your family as such, but for the love of Lord Shiva, one should not disrespect by breaking it.
Q. Can we drink water in Shivratri Fast?
A. There are 2 types of Mahashivratri fasts. You can observe fast where you can have fruits and dairy products and another one is where you cannot eat or drink anything throughout the fast.
Q. What can you eat on Mahashivratri Fast?
A. You can eat fruits and dairy products like milk etc. Don't forget that you cannot have salt on that day. In fact, you can have coffee too, but you cannot add onion, garlic to your food.
Q. Can we wear black color on Mahashivratri?
A. No, the black colour should be strongly avoided. Prefer white or light colors and don't wear dark colors.
You can purchase all the above-mentioned products at our store at discounted rates. And also, listen to Shivratri vrat katha on youtube. We wish you a very happy Shivratri 2022.