You body fragrance talks about your personality. Perfumes have occupied an essential space in our grooming routine. They not just help us to fight our body odor but also uplift our confidence and refreshes our mood. The market is flooded with countless perfume brands varying in the different types of fragrances, mild or strong, varies in pricing, and more such factors. It becomes difficult for an individual to choose a perfect fragrance from the available options in the market. This is where my research can help you a bit. I have compiled the list of best perfumes for women in India along with its pricing, fragrances coupons, and whom it is suitable most.
1. Fogg I Am Queen Scent for Women
Stay fresh whole day long with long-lasting fragrance of the best perfume for women in India i.e. Fogg I am Queen Scent for Women. Suitable for every "Queen" who favors interest in the beautiful mixture of various fragrances. It keeps you fresh and energetic for a long duration. The perfume is available at multiple online marketplaces and official websites. You can also grab some exciting Amazon Coupons from Dealsshutter to get cashback on your shopping.
| | |
| --- | --- |
| Brand | Fogg |
| Quantity | 100ml (800 Sprays) |
| Price | Rs. 349 |
| Fragrance includes | Ginger, Bitter Orange, Rose, Jasmine, Honey-Amber Accord And Sandalwood |
---
2. Skinn By Titan Nude Eau De Parfum for Women
Skinn by Titan has a range of French perfumes that bring you back in happy memories. Its sensuous, fruity, floral and woody fragrance uplifts your mood.
The long-lasting fragrance of Skinn By Titan Nude Eau De Perfume is attractive, lasts for long durations, and is best suitable for modern women. Apart from this, it has a range of products from which you can choose as per taste but Skinn by Titan is my personal favorite.
Brand
Titan
Quantity
100 ml
Price
Rs. 1516
Fragrance includes
Top Note- Lychee, bergamot and raspberry
Middle Note- Rose petals, super hedione and violets
Base Notes- Sandalwood, tonka beans and firewood in the base notes for a pleasant fragrance
---
3. Bella vita organic The Perfumer Glam Perfume
The extraordinary blend of fragrances makes it a little different from usual sweet-fruity perfumes from women. Bella vita organic emits sharp, subtle, and sweet fragrance. It perfectly gets fit in different use cases be it in-office meetings or date night. It is a must-own perfume for women who just love the fragrance of musk. Also, it is considered as the best gifting option as well as it is one of the best musk perfumes for women in India.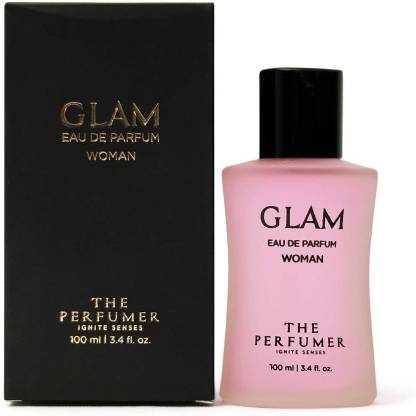 Brand
Bella
Quantity
100 ml
Price
Rs. 499
Fragrance includes
Base Note: Ambergris, Patchouli
Heart Note: Jasmine, Rose
Top Note: Pink Pepper, Mandarin Orange
---
4. Miniso EDT Perfume for Women-Lollipop Pink
Miniso Lollipop pink variant of perfume is easy to carry yet a very long-lasting and excellent perfume. It is introduced to uplift your confidence in some special events or formal events. The fragrance is floral and fruity which remains full day along with you. Its lightweight and portable design makes it easy for you to carry on any social event.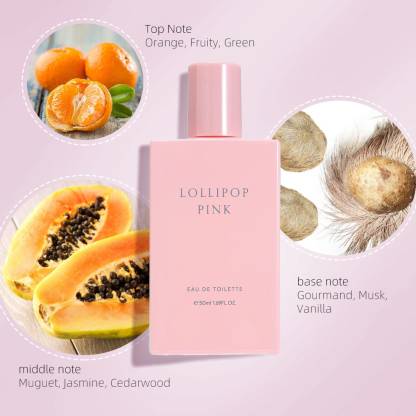 | | |
| --- | --- |
| Brand | Miniso |
| Quantity | 50 ml |
| Price | Rs. 460 |
| Fragrance includes | Floral & Fruity |
---
5. The Body Shop White Musk Eau De Toilette
The Body Shop is not a new name for those who absolutely love their skin. The brands have presented promising cruelty-free products skincare, haircare, makeup products, and yes, of course, the range of perfume for women in India.
The Body Shop offers a range of several perfumes, body mists, eau de parfum, eau de toilette perfume range, and The Body Shop's very own collections such as Japnese cherry blossom, scents of life, white musk, and so on. I personally recommend you The Body Shop White Musk Eau De Toilette fragrance.
The fragrance of White Musk Eau De Toilette is sweet and feminine with a fresh floral scent. It leaves behind the sensual fragrance of musk that's extremely alluring, perfect for daytime wear.
| | |
| --- | --- |
| Brand | The Body Shop |
| Quantity | 60 ml |
| Price | Rs. 1756 |
| Fragrance includes | Mix of notes including Musk, Lily, Iris, Rose And Vanilla. |
---
6. Engage Lamante Sunkissed Eau De Parfum
Engage Lamante Sunkissed Eau De Parfum is infused with modern fragrance and that's why it is strongly recommended for bold and passionate women. The perfume bottle filled with lavender color liquid appears like a magical portion to a woman. This is not it, Engage Sunkissed perfume has long-lasting and skin-friendly fragrance. It is also one of the best budget perfumes of women when you can't compromise on quality.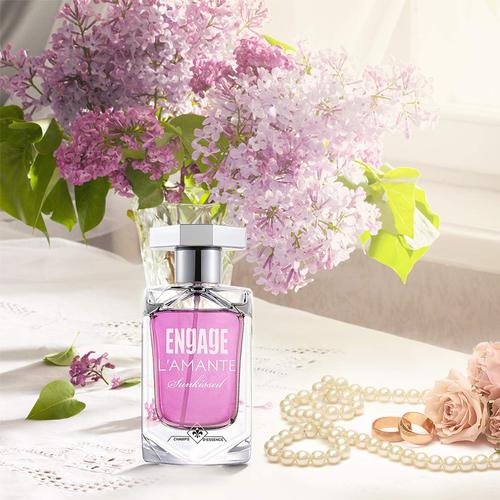 | | |
| --- | --- |
| Brand | Engage |
| Quantity | 100 ml |
| Price | Rs. 649 |
| Fragrance includes | Effervescent, with fruity, citrus notes and strong with hints of Tuberose and Jasmine, and an earthy, Sandalwood trail. |
---
7. Victoria's Secret Bombshell
Victoria's Secret Bombshell is infused with sensuous, strong, and aromatic fragrances. It elevates your energy level and confidence. Eau de Parfum is our most concentrated and pure version of the fragrance. It also comes in the list of the best luxurious perfumes for women in India.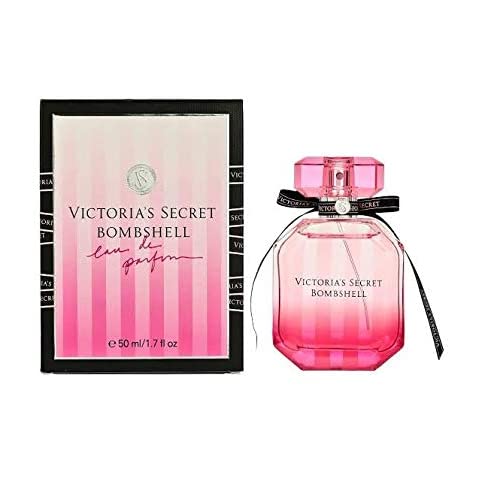 Brand
Victoria Secret
Quantity
100 ml
Price
Rs. 7200
Fragrance includes
Top notes Pineapple, Strawberry, Tangerine
Middle notes Jasmine, Lily Of The Valley, Orchid, Peony, Red Berries
Base notes Moss, Musk, Wood
---
8. Secret Temptation Romance Perfume for Women
Being one of the leading brands in the women's personal care category, Secret Temptation fits in the everyday routine of women. It gives long-lasting fragrances in affordable prices. The perfume is subtle and bold as per the personality. It keeps your mood and energy level up all day long with its fragrance.
Brand
Secret Temptation
Quantity
100 ml
Price
Rs. 559
Fragrance includes
Top Notes: Citrus, Green, Hyacinth
Heart Notes: Jasmine, muguet, orange blossom
Base Notes: Aromatic mossy, patchouli
---
9. Miss Dior Eau De Parfum
Miss Dior Eau De Parfum re-enchant the lives of women and opens up their eyes to feel the sparkling colors of love. The bottle is carved in form of bold and beautiful lady and filled with alluring scent fragrance. If someone wants to buy a premium range of perfumes, then it is a worth choosing option. The brand is easily available at top multi brand outlets such as Shoppers Stop, Lifestyle.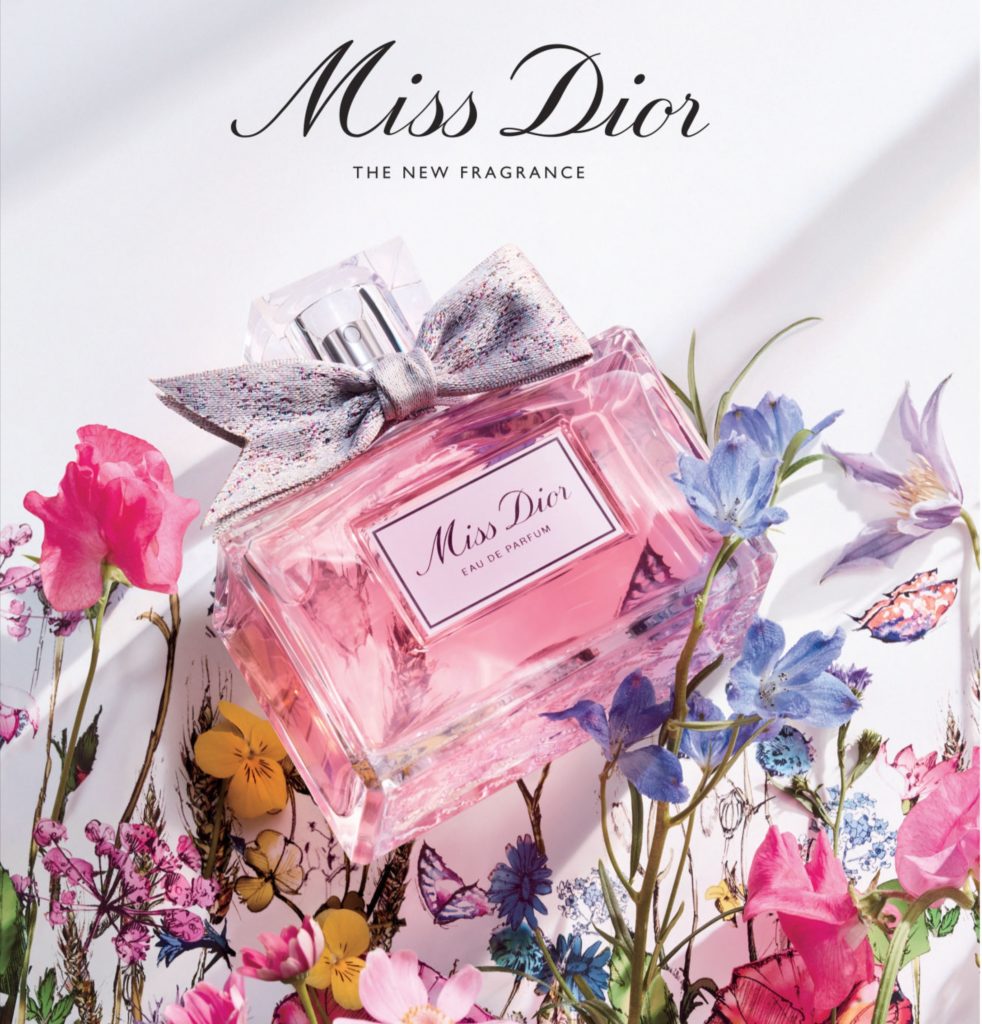 Brand
Dior
Quantity
100 ml
Price
Rs. 9200
Fragrance includes
– Top Notes: Calabrian Bergamot
– Heart Notes: Grasse Rose
– Base Notes: Rosewood
---
10. Dolce & Gabbana Dolce Garden Eau De Parfum
Dolce and Gabbana Eau De Parfum give to the simple pleasing fragrance that makes you feel like a heavenly whole day. The scent celebrates feminism and keeps you refreshing a day long. The fragrance is relatable to a new flower blossoming in a garden. So if you can afford luxury perfume in India for everyday use, then it is recommended.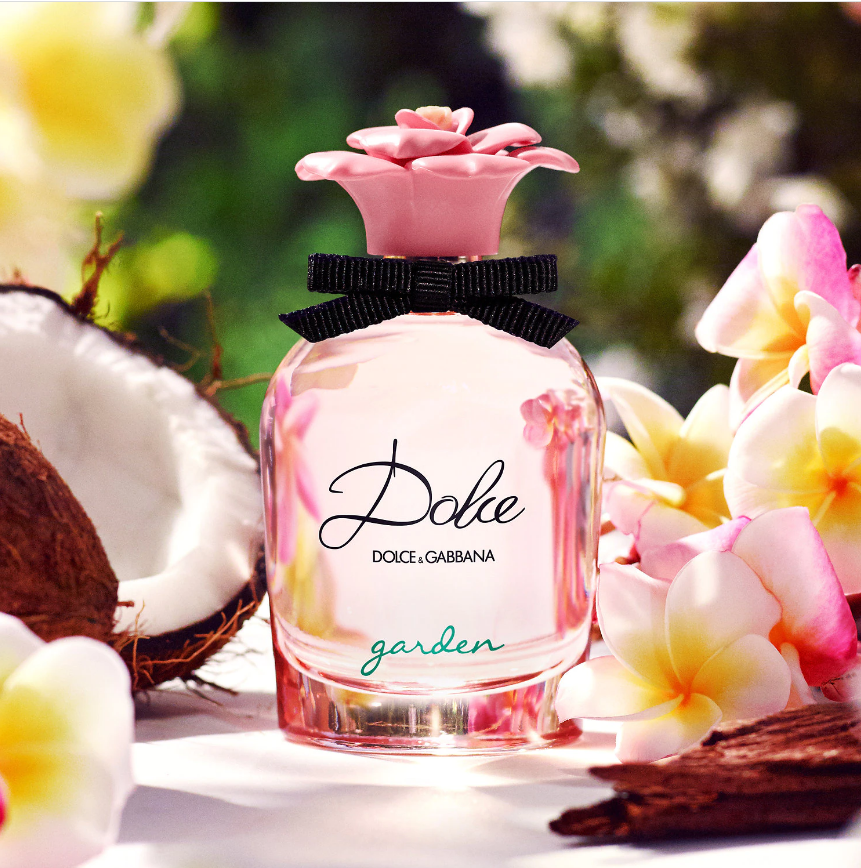 Brand
Dolce & Gabbana
Quantity
30 ml
Price
Rs. 3700
Fragrance includes
– Top Notes Mandarinmagnolia Accordneroli
– Middle Notes Frangipani Flower Accordcoconut Essenceylang
– Base Notes Vanilla Absolutealmond Milk Accordsandalwood Accord
---
11. Layer'r Wottagirl Adore Perfume Spray
Layer's Wottagirl is one of the fastest emerging brands offering an array of personal care and styling products. The fragrances offered by Layer'r are specially crafted for confident women of the era.
LAYER'R Wottagirl Adore Perfume Spray works as magic. Its intoxicating aroma and sweet charm make this scent adorable for women in India. This spray is suitable to be worn any time of the day and spreads a long-lasting fragrance.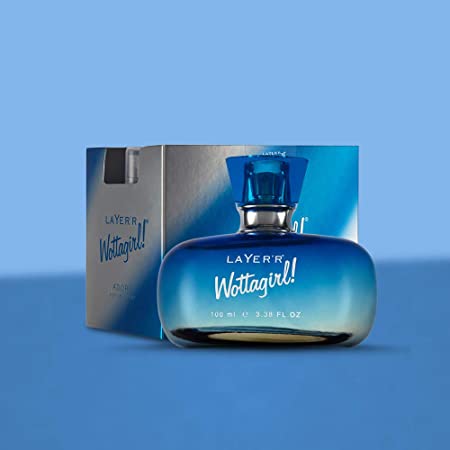 | | |
| --- | --- |
| Brand | Layer's |
| Quantity | 100 ml |
| Price | Rs. 551 |
| Fragrance includes | An intimate mix of fresh apple, lavender and cedarwood |
---
12. Body Cupid Aqua Wave Body Mist
Body Cupid is luxury bath and body range brand whose each product is designed and presented with a sole aim of loving care to your body just like your face gets. With a magnificent range of bath gels, body scrubs, body polishes, moisturizers, body fragrances and more, it keeps the extra special pampering of the body at pace.
Introducing today, the Body Cupid Jasmine Body Mist which is also the best perfumes for women in India. It's exotic floral fragrance infused with jasmine, musk, and cedar notes makes your skin feel fresh whole day. The Body Cupid jasmine mist has a subtle, irresistible fragrance makes you feel cherished and welcome life with open arms.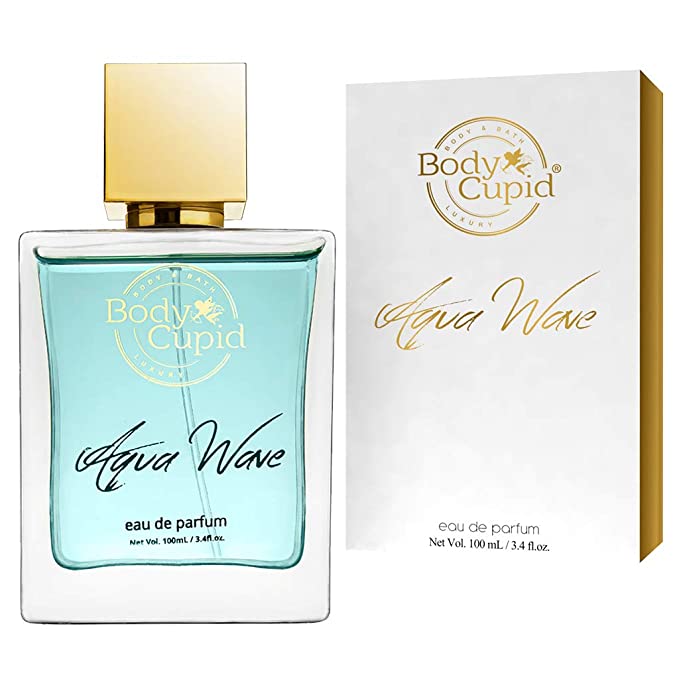 | | |
| --- | --- |
| Brand | Body Cupid |
| Quantity | 100 ml |
| Price | Rs. 239 |
| Fragrance includes | Exotic floral jasmine scented body mist for women |
---
13. Guess Seductive Women Eau de Toilette
Guess Seductive Women Eau de Toilette is one of the best luxury perfumes brands in India for women. It has strong woody fragrance which makes it suitable for any social or formal events. The bottle of 75 ml costs up to Rs. 3990 which makes it a premium choice. So if you are looking for the best perfume brand in India then definitely make it your own body fragrance in your next order.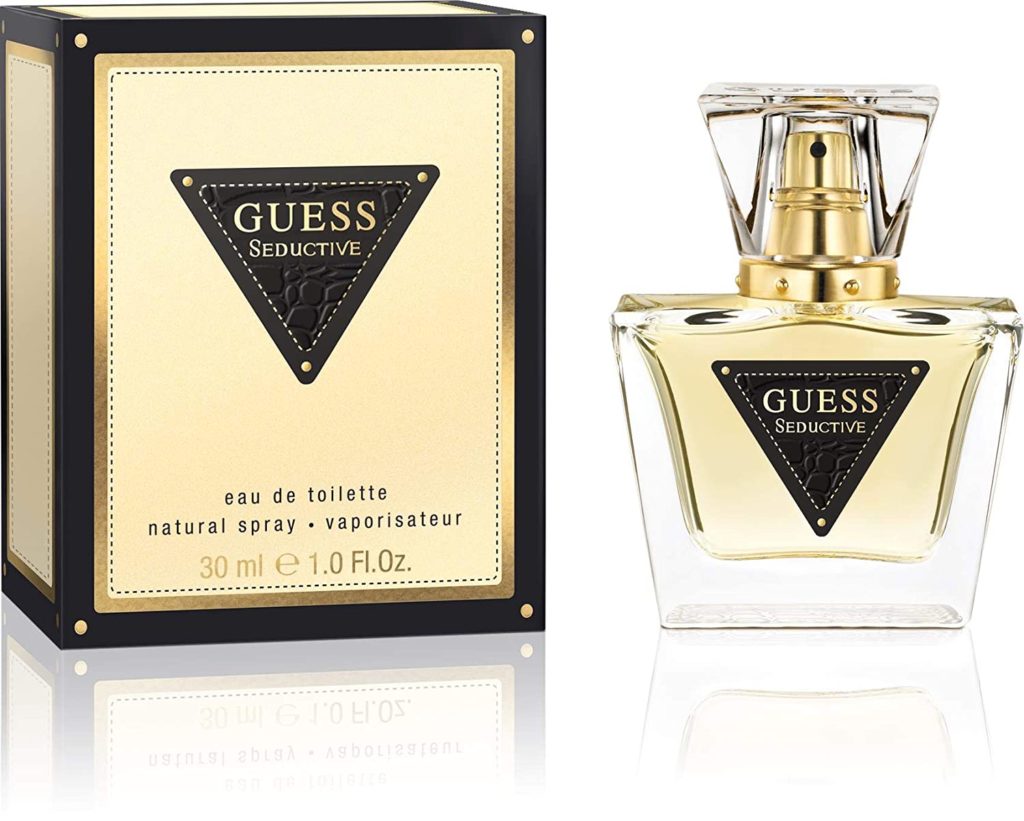 | | |
| --- | --- |
| Brand | Guess |
| Quantity | 75 ml |
| Price | Rs. 3990 |
| Fragrance includes | Woody Fragrance |
---
14. Isak Fragrances-Dew of Life
Last but not the least, Dew of life fragrance presented by Isak fragrances. The suggested use is all day long either you can use it in the office or any daytime/night events. It is a long-lasting solution to fight against your body odour and bloom it with the fragrance of delicate flowers. Get a sophisticatedly feminine experience with this bestseller perfume for women by Isak fragrances.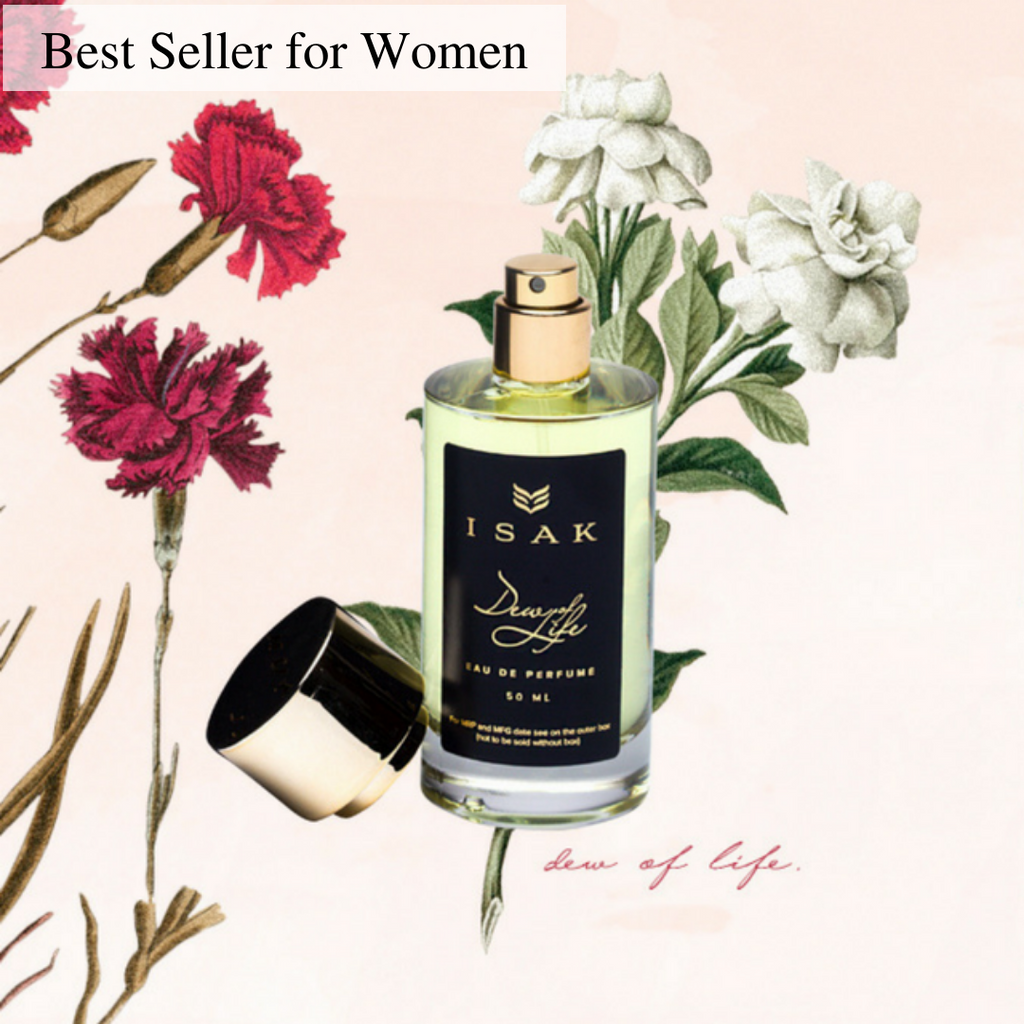 | | |
| --- | --- |
| Brand | Isak Fragrances |
| Quantity | 50 ml |
| Price | Rs. 3200 |
| Fragrance includes | Top Note- Jasmine, Narcissus Heart- Vetiver, Cedarwood Base- Musk, Carnation |
---
Also Read: Best Perfumes In India Under Rs. 450