20 Exquisite Jewelry Collections to Check-Out
Weddings are simply dream-come-true for the bride and groom. Needless to say, every bride goes all-out to look her best on her wedding day, if not like a true princess. Just like the wedding destination or bridal dress and hairstyle, bridal jewellery plays a vital part too. You spent days and hours in beauty salons to get the perfect flawless look for the big day. The one thing every single bride covets is South Indian Jewellery. Hence, they must be absolutely stunning so that no one takes their eye off the beautiful girl who is wearing them.
Beyond being ornaments, wedding jewels are a legacy passed on from mothers to daughters and granddaughters. They are tokens of the love and care bestowed upon the bride. Wedding jewellery is the heirloom that carries on the family tales along with it. Choosing them is thus so much more than mere investment or a matter of convention. For a bride, they mark a very important day in her life that she will cherish forever. We bring you some of the finest of the jewelry from all over India, for you to take a look before you buy your wedding jewels. From the exquisite South-Indian Nethichutti to the Punjabi Jhumka, these are traditional ornaments that will make your jewel-box priceless.
The temple jewelry collections of South India boast of chains and necklaces that once adorned the gods and goddesses. The Cuban chain from statement collective is the treasures. You can also check out other options of Cuban chains here. These South Indian Jewellery were worn by the beautiful princesses of the Chola dynasty on their wedding days. They include ornately carved pure gold jewelry perfect for a bride on her special day.
1. The Ashtalakshmi Pieces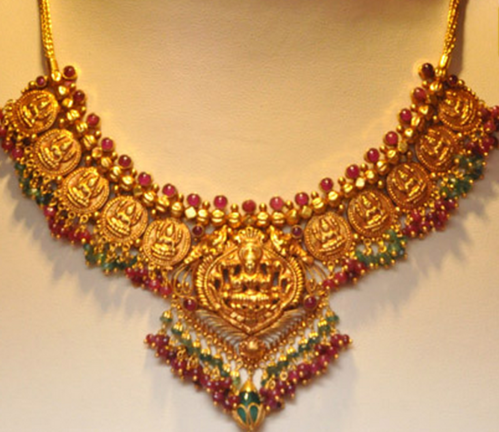 Ashtalakshmi Haram is the long chain studded with gold carved figures of the eight Lakhmis, believed to bring prosperity to the bride in her married life. They are elongated and fall over the Sari, thus embellishing the whole look. This is one of the best piece of South Indian Jewellery. Use the best coupon sites for offers from different brands to get more designs under this category.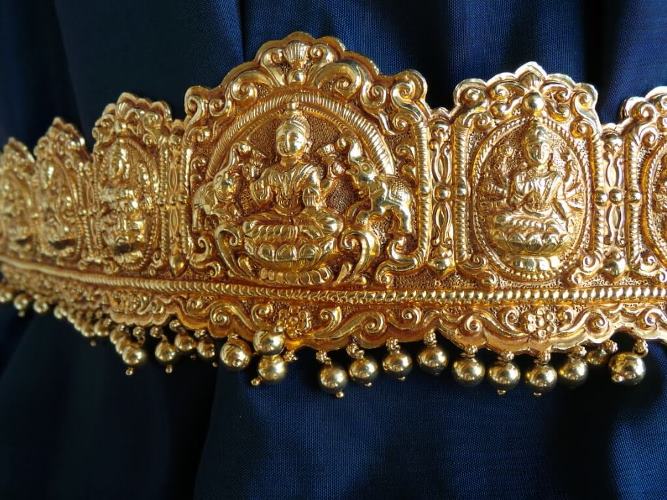 The Ashtalakshmi carvings are also usually found in bangles and waist chains or Kamarbandh. Similar to the Haraam, these are also woven with intricately carved Lakshmi.
2. The Kaasu Jewels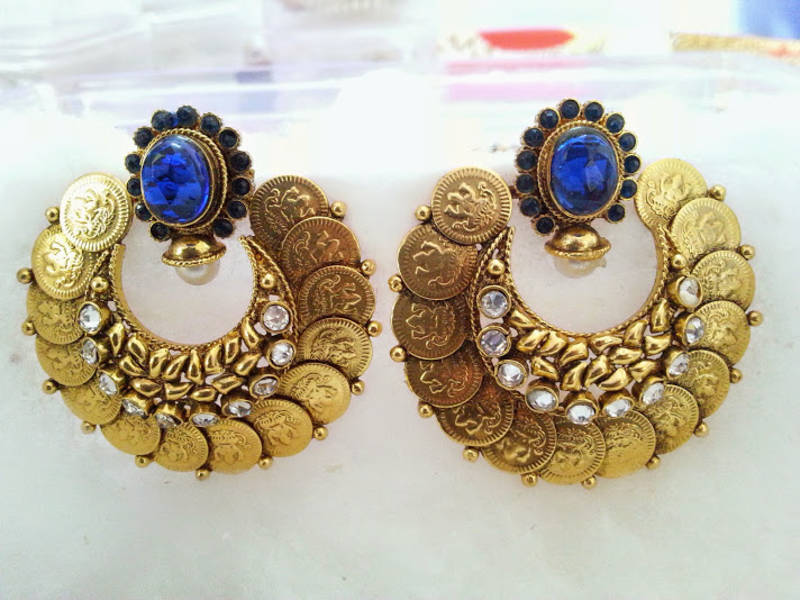 The Kaasu jewelry is a collection of chains and earrings which are made of neat rows of pure gold coins. You heard it right! These South Indian Jewellery pieces are small, thin coins of gold most often with images of gods and goddesses inscribed on them. What better than an amazing set of the Kaasu Haram and matching earrings to get the bride glowing?
3. The Paalakka Necklace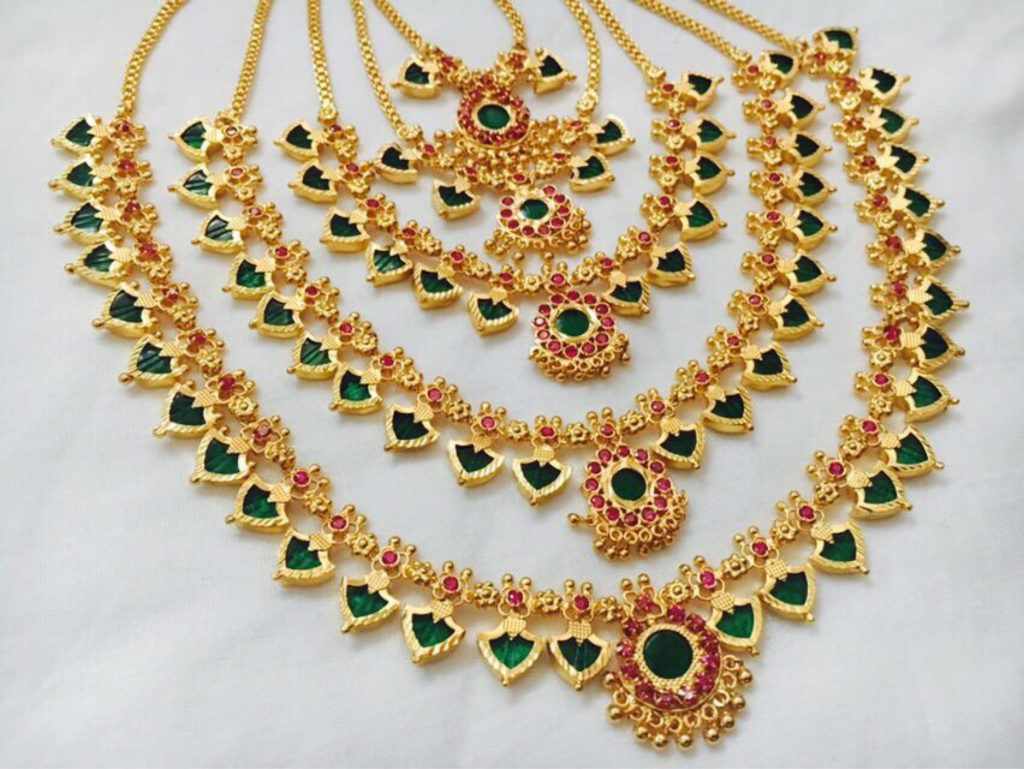 The Paalakka necklace is a part of the traditional Kerala bridal jewelry and is a chain of well-crafted small pendants with green or red stones fixed on them. These are said to have been worn by the queens of Travancore themselves.
4. The Maanga Haaram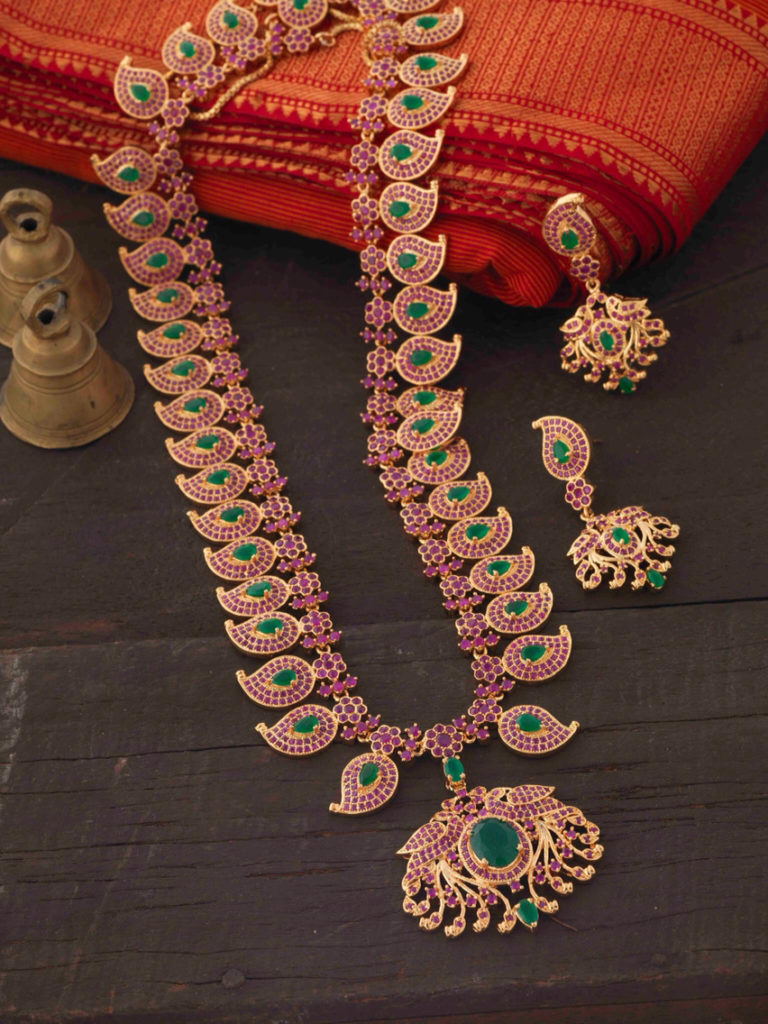 The Maanga Haram is crafted with multiple small pendants each of which resemble mangoes. These are made either completely of gold or with bright green and rose-colored stones set over the pendants. Matching Maanga earrings with little mango-shaped droppings are also available with jewelers. It reflects the beauty of South Indian Jewellery
5. The Nethichutti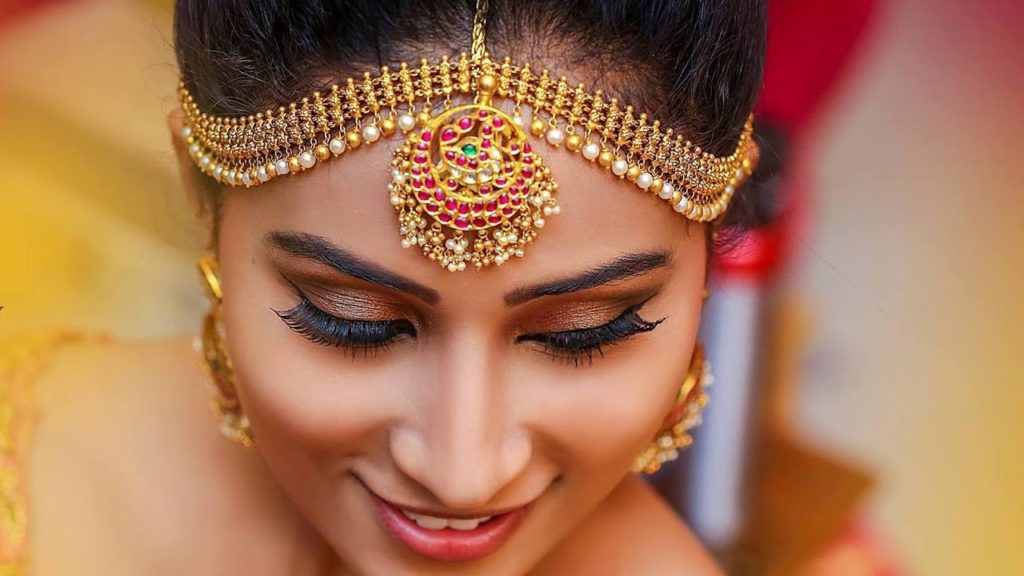 A Nethichutti is the golden, stone and pearl-studded Maang tika worn by the South Indian brides. These are adorable head wears which replace tiaras in traditional Hindu weddings. They have an ornate round or oval pendant set with pearls hanging over the bride's hairline.
The Maharashtrian bride is adorned with many beautifully crafted jewelry that will instantly have you hooked. They are all inspired by the patterns found in nature and are symbolic of prosperity and luck.
6. Kohlapuri Saaj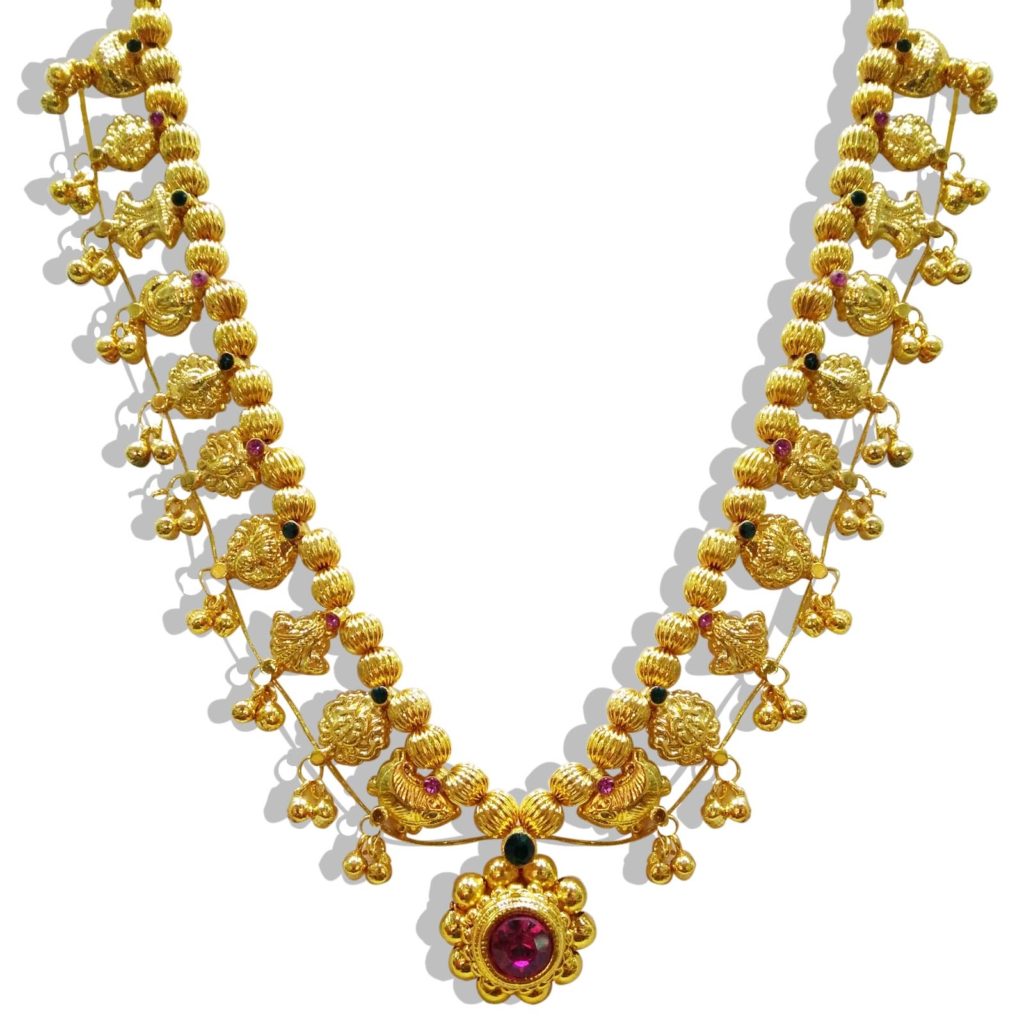 A Saaj is a long necklace adorned with 21 pendants, with each pendant pair being unique. The sophisticated carvings on these pendants represent various forms of goddess Lakshmi and are believed to be lucky for the bride.
7. Belpaan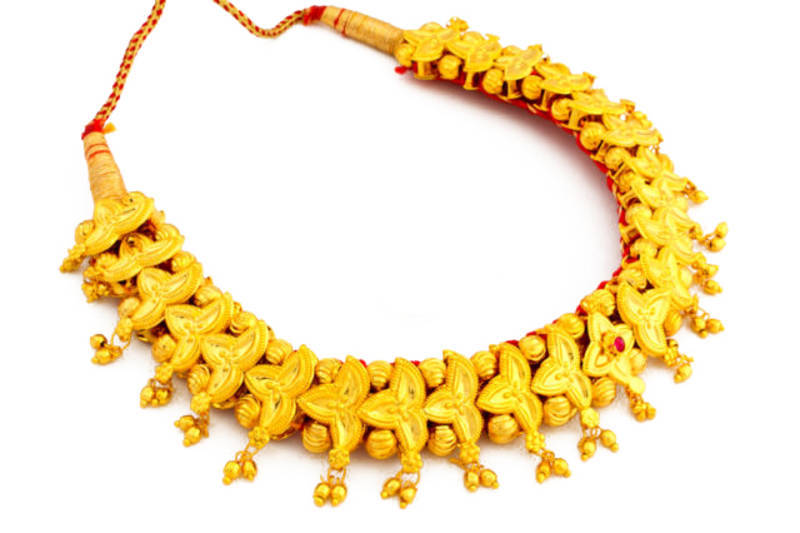 A Belpaan is a traditional Maharashtrian necklace designed to resemble the Bel leaves. The Bel leaves are usually used as an offering for Lord Siva and are supposed to bring good fortune to the newly-weds. The whole necklace is made out of gold, with exquisite carvings all over. The Belpaan is a classy and fabulous work of art made just for an elegant bride.
8. Mohan Maala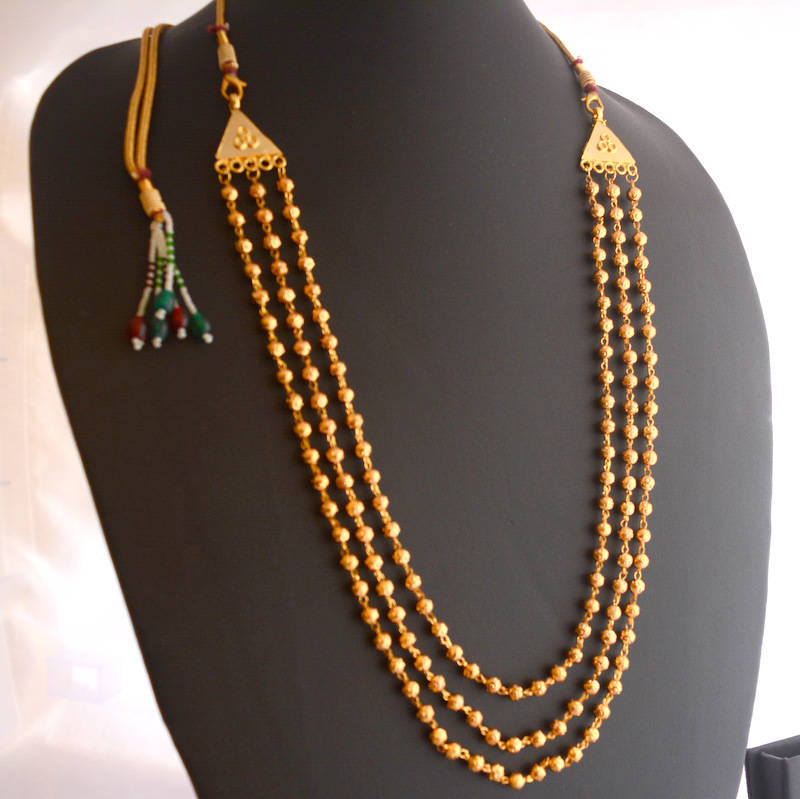 The South Indian Jewellery Mohan Maala is a well-designed and elongated chain of beads, often multilayered. Its beauty lies in the simplicity of the whole piece which could as well have been a statement necklace. They Maala will definitely add a little charm of its own to the bride.
9. Ambada Veni Phool
Ambada Veni Phool is a hair ornament worn by the brides over the hair buns, sometimes along with jasmine flowers. These are elaborately carved gold pieces are sure to make you feel exactly like a princess on your wedding day.
10. Vaaki
South Indian Jewellery Vaaki or the Baajuband is the armband worn by the Maharashtrian bride. These are gold pieces with beautiful patterns and stones set into them. A little piece of art to remind you that it is your big day indeed!!
11. Thushi
Thushi is the traditional Maharashtrian bridal necklace that is believed to bring Lakshmi to the doorstep of the newlyweds. These are worn by the brides in hope of a never-ending supply of food. The necklaces are crafted purely in gold with little beads at the end which resembles the grains of Jowar.
12. Diamond Jewellery
Nor diamonds neither their place in marriages need to be explained. With a single set of this fine stone jewelry, you will literally be a star. Add a raw, pure look to your bridal attire by matching it with some uncut diamond jewelry.
The uncut diamonds are available in the form of stunningly pretty choker necklaces, earrings, bangles and pendants that are made just to enrich your bridal outfit. If you want your wedding look to be simple and royal at the same time, uncut diamond jewelry will be the wisest choice.
13. Platinum Jewellery
Platinum is considered the new trend in town. Jewelers are right now exploring the many possibilities that the metal has opened before us. Thus we have a whole new set of designs and a very different style of ornaments to dote upon and choose from.
Platinum bridal jewellery design includes ornate necklaces, chains, and bangles. These beautiful works of art possess a natural glow that will transform the bride into a graceful angel.
14. Nawabi Jewellery
The city of Hyderabad is famous for its pearls. So it is not surprising to find that the royal Nawabi brides all wore jewelry set with shimmering pearls on their wedding day. Especially noted among the jewelry are the long, multilayered chains of gold and pearl. These glowing pieces simply have elegance written all over them.
The sari-belts made of strings of white pearls are something you should definitely watch out for as a bride-to-be. These match wedding attires of all colors and will lay hugging your curves. Pearl sari-belts are often set with beautiful stone pendants to add a dash of elegance to them.
15. The Raani Haar
The Raani Haar is the loveliest among the Rajputi bridal jewelry. It was worn by the beautiful princesses of the Rajput dynasty of India. They resemble the present day choker necklaces in design yet are completely traditional and classy. Embedded with multiple colors of precious stones and pearls, the Haar brings out the princess in every bride. No doubt the Haar is truly one of its kind, just like the bride.
16. Kundan Jewellery
Kundan Jewellery consists of ornaments crafted in gold that and set with glittering stones. It is traditional jewelry handmade by the skillful craftsmen of Jaipur, Rajasthan. Kundan ornaments range from necklaces, pendants, bangles, and earrings to anklets and toe rings.
Kundan has been the choice of brides since time immemorial. No matter how fashion has changed, they have been loved by brides at all times. Maybe it is the quality of unmatchable grace and the soft glow of the stone-clad Kundan that has won it a place in hearts forever.
No matter how you wear them, Kundan jewelry just compliments your whole look. In a bride, it brings on such wordless beauty that the prince charming won't take his eyed off her.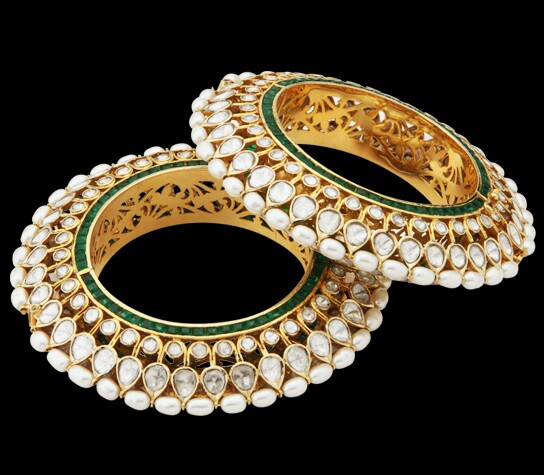 Times have certainly changed and with it have arrived new bridal jewelry designs. If you prefer a little of a variety and a step away from the tradition, these jewels might prove to be exactly what you have been looking for. They are modern it the true sense of the word and a blend of sophistication and style.
17. The Peacock Necklace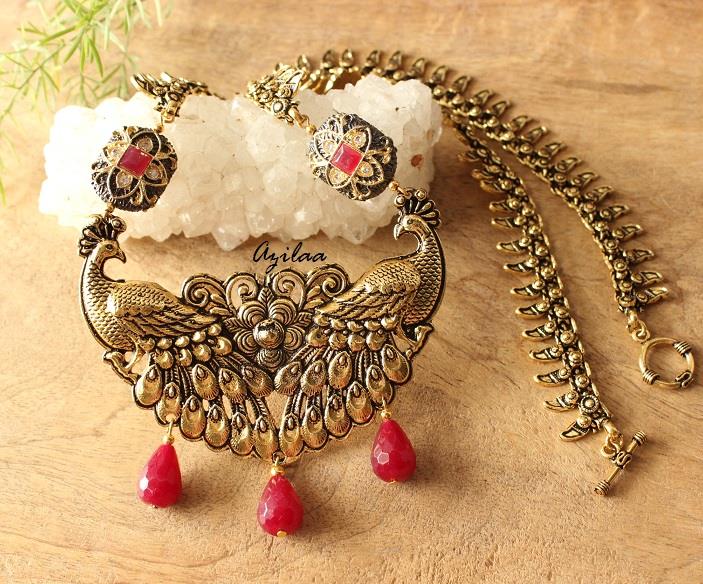 These peacock necklaces are modernized versions of antique craftsmanship. They bring on the old idea of the peacock carvings in jewelry in a whole new design. They are ornately carved gold necklaces, so beautiful that you will fall in love with them.
18. Beads Necklace
The beads necklaces outshine all other jewelry in their style. The clusters of little gold beads and pearls upon a single chain are a sight to marvel at. No doubt the unique jewelry will ensure that the bride is her best look ever.
19. Half-moon Necklace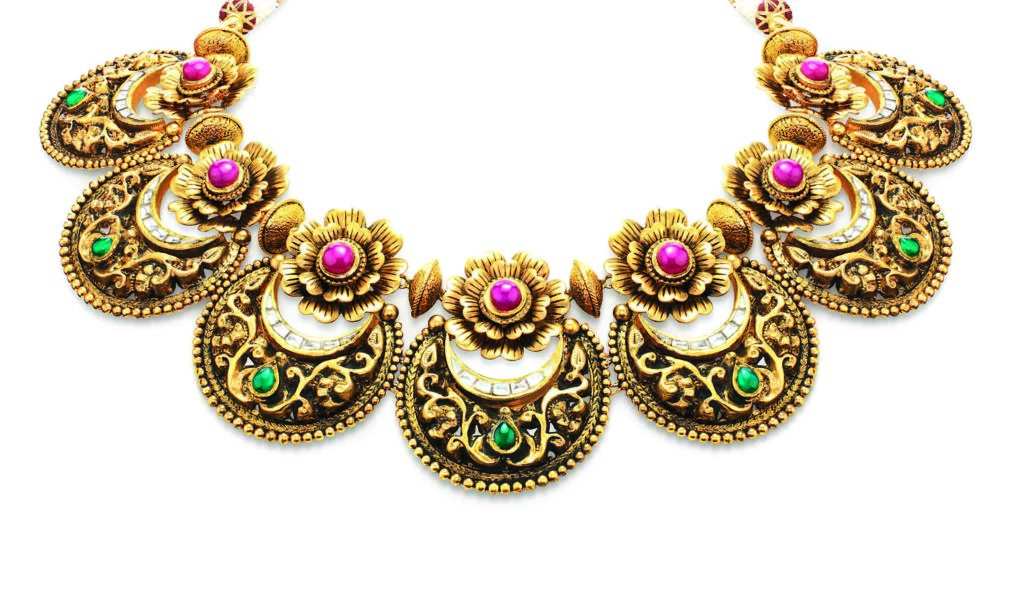 Half-moon designs in ornaments have been ruling the jewelry trends for some time now. No wonder the brides are loving it. The necklace has beautiful gold roses set alongside golden half-moons with stones set on them. Just perfect for an ultra-modern bridal look.
20. Asymmetrical Necklaces
Asymmetry is the new trend in, well, in almost everything. It may be the effect of postmodernism for all we know. What we do know though is that everybody is going gaga over the style. It is the time the brides get their fair share of the trend. Since it is a breaking of rules, they've gone all out and brought out a number of designs, mixing and blending various patterns in the process.
These asymmetrical necklaces beautifully balance entirely different patterns on them. On one side it is a chain of golden beads in varying sizes and on the other, it is a cluster of delicately crafted roses with gold petals and ruby crusts.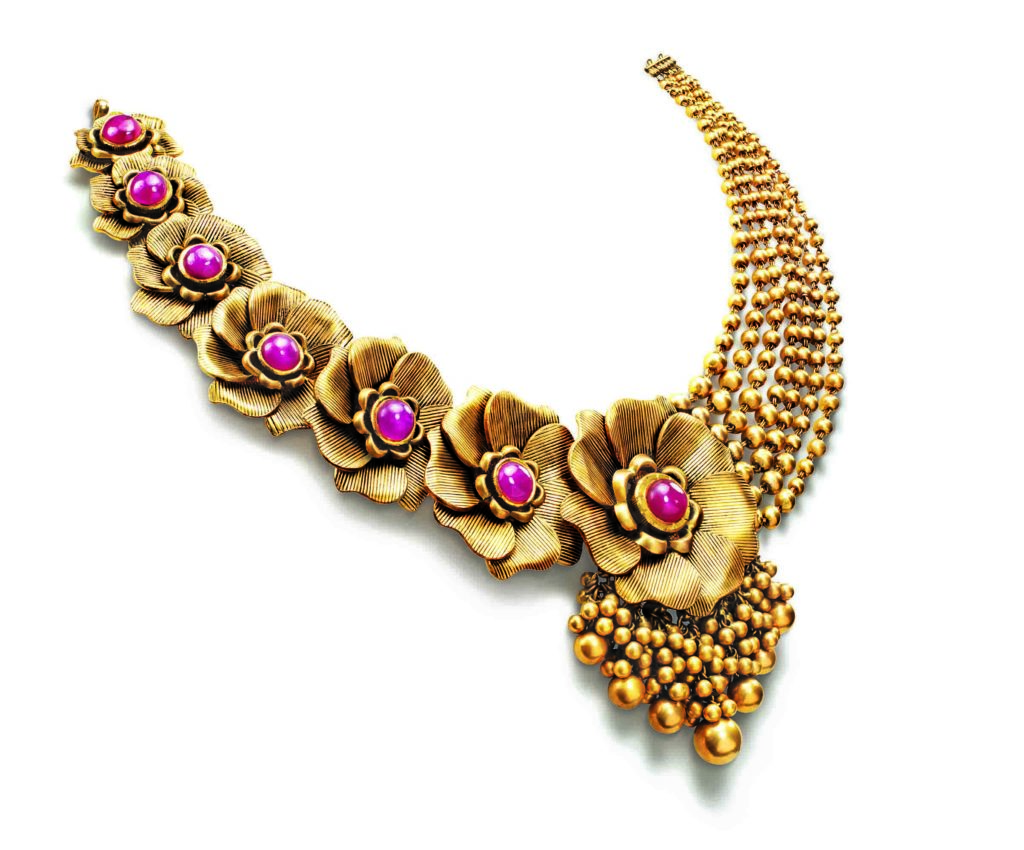 Or it could be a mix of layers of golden beads on strings with circular buttons set on them in varying sizes.
Another of these unique pieces combine more than one design to give us something so exquisite. It is a choker necklace with multiple layers of water-droplet shaped carvings, sometimes set straight, sometimes inverted. It is a necklace made to transform any bride into an elegant lady.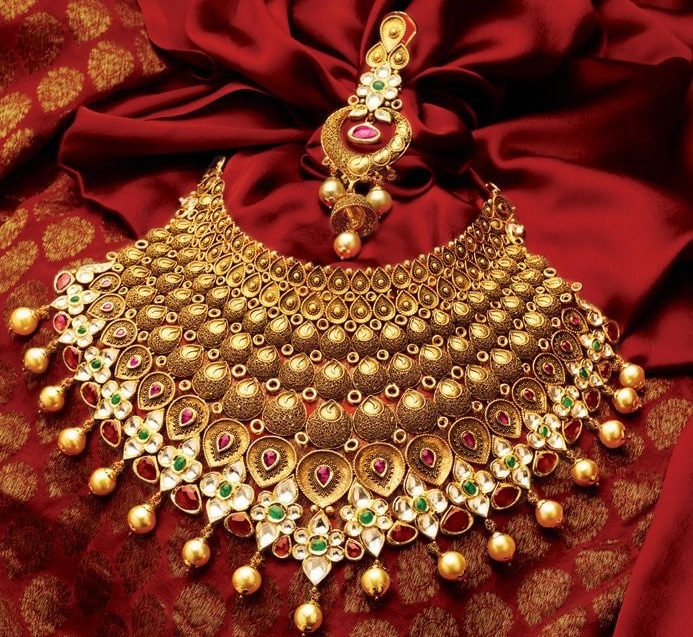 We sincerely hope that these designs are going to help you decide what you want to wear on your big day. Nothing less than an absolutely stunning attire is expected of you. So this is indeed your day to give everyone some tips of your own on how to rock being the bride. Choose minimal elegant jewelry with the classy dress or saree to make everyone remember your wedding entry till the end of times.
Still, you need to keep in mind that no matter what you wear, the happiness on your face and its reflection in your partner will be your biggest confidence. Nothing can ever adorn the bride better than her heartfelt smile of happiness. It is so true that marriage is the step to a new life. So let all your jewels bring with them a lot of luck in your married life. So ladies, keep up the smiles for a whole lifetime! Here's wishing you an awesome, fairytale wedding and the happiest of lives thereafter.
Also Read: The Importance Of Traditional Indian Bridal Makeup