The most widely used application for Movie and event ticket booking has already gained a lot of popularity because of its amazing and unique features. And now it launched another feature.  BookMyShow has already announced publicly that it has launched out its new in-app messaging feature known as 'Plan it' for all its users on Android as well as on iOS.
With the new feature of in-app messaging people who have booked tickets in groups like family members or friends or office colleagues, can now use this feature 'Plan it'  to communicate in real time. The best thing about this new feature is that members of the group can suggest movies, showtimes, venue options and eventually complete the movie tickets booking, all without having to switch between BookMyShow and other apps used for messaging or phone calls.
Also Read: BookMyShow Offers and Promo Codes
BookMyShow's 'Plan It'
BookMyShow's 'Plan It' feature automatically allows users to add people from their phone's contact list and start chatting. There are even different options to initiate a chat either user can initiate private conversations or create a group to start discussions on different movies, events, shows etc. This feature also supports a very important facility that's encryption so that no third party can access the messages, keeping privacy as a concern. The feature lets the user also see when the other person or group members are typing a message or are online and get to know when a message has been read.
To use this feature all you have to do is, you need to do is update your BookMyShow application to start using the new features. If you are already an existing 'Plan It' user then you can also introduce this new features to your friends by just sending an invitation to them through any of the social media platforms including Whatsapp, Facebook, or even through SMS. BookMyShow's this new feature is already rocking! The feature is said to already made possible over 1,30,000 movie plans.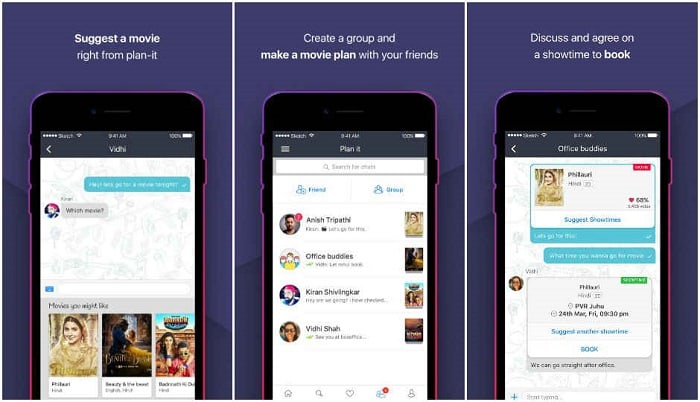 Thus, this new feature is attracting a lot of users already. Earlier also because of BookMyShow offer codes which facilitated users with heavy discounts,  BookMyShow gained a huge popularity. BookMyShow offer codes rejuvenated users and build their interest in buying tickets for different events and shows. People who are fond of other events rather than movies like theaters, musical events, comedy shows and other events, BookMyShow is a platform for them to get to know about such events and book tickets for them. With the new 'plan it' feature,  it is likely that BookMyShow family is going to increase. Building different communities for different people having various choices. BookMyShow offer codes are really good incentives and are working like a fuel for building this community.
BookMyShow offer codes
BookMyShow is truly known for its magnificent performance and amazing consumer replies. The ultimate destination for Movie lovers, BookMyShow is now connected with most of the renowned cinemas in the country. These includes PVR Cinemas, BIG Cinemas, INOX, AGS Cinemas, Apna Cinema, Cinemax, City Gold, DT City Centre, E-SQUARE, Cinepolis, Fame Cinemas, Fun Cinemas, Glitz Cinemas, Gold Cinema, Gopalan Cinemas, HDIL Broadway, Movietime, Prasad, Q Cinemas, Rajhans Cine World, Satyam Cineplexes, SRS Cinemas, Storm 5D, Wave and many others. So in which part of the country you are, don't worry BookMyShow is there for you with its ultimate discount BookMyShow offer codes.
So with this new feature 'Plan it' and BookMyShow offer codes, now save a huge chunk of money together with your friends and family. It seems like Plan it and saves it! Next time before going for any event or movie do not forget to try 'Plan it' and also apply BookMyShow offer codes to avail discounts!