Diwali brings pictures of beautifully illuminated courtyards to our minds. It is a festival of lights, colors, and sweets. The many shades of lamps signify the joyous emotions in us. We share the sweetness of life through the Mithais. Diwali, as we all know, is associated with the victory of the good over the bad. Lights are symbolic of goodness and positive energy and if you think about it Diwali actually is about spreading positive vibes. We get each other gifts, we decorate homes with lights and flowers, and we wear new clothes all in the expectation of better times in the future. So this year decorate your home with these unique Diwali decoration ideas. Start your online shopping with Amazon coupons and spare your money.
Let's light up this Diwali with some whole new do-it-yourself decor ideas. Read on to know more about different ways to decorate your home and courtyards with homely stuff. That way, you can innovate on decorations and save a whole lot of money that could otherwise have gone down on décor expenses. It is always fun to tidy up the home and beautify it with Diwali lights decoration. Yet, you run out of new ways to do ornamentation. Here we bring a bunch of easy-to-do Diwali decoration ideas that you could use to style your home during festivities. Take a look!
How To Decorate Home For Diwali?
Colour papers, string lights, flowers, tea lights, Diyas, wine bottles, mason jars, glasses, and cotton yarn are some of the things which we are going to be using in our Diwali ideas i.e DIYs. All these are either homely materials or are available in stores near you. Needless to say, all these are inexpensive stuff. Apart from these, you are going to need basic things like glue, scissors et cetera. Let's get started and have a look at Diwali decoration ideas for home handmade!!
No Diwali decoration is ever done without string lights. These are cheap and safe-to-handle LED lights and are available in multiple colors and color-changing varieties. String lights also give us a whole new set of Diwali decor ideas. The time of the boring lighting is passed. We now go for the ambiance that lights can build up. So we wind the charming lights around anything and everything to create new art in illumination.
Top 20 Latest Diwali Decoration Ideas For Home Sweet Home
1. Hula Hoop Chandeliers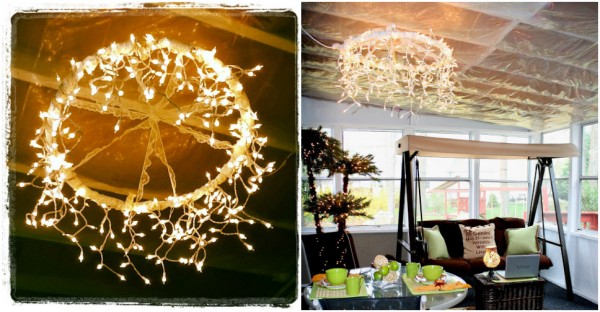 Wind the string lights randomly around the hula hoop to create a beautiful chandelier that can be hung in your living room to add a festive mood to it. This is the perfect Diwali decoration idea for the living room. These lights work very well both indoors and outdoors. They are also perfect for quick party decor while you are at it. All you need will be to get a hoop to twine the lights. So this year, try these Diwali home decoration lights to get a glam look for your house.
2. Thread Lanterns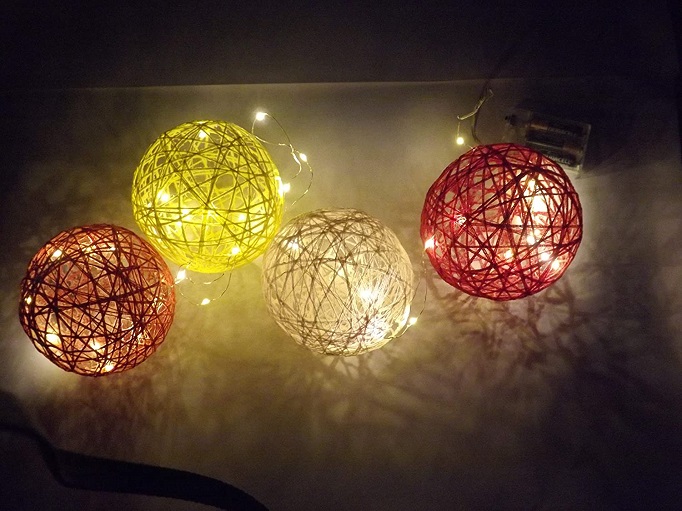 Thread lanterns are so very simple to make and unbelievably magnificent when putting up with lights. You are going to need some glue-like Fevicol, a bowl, balloons, cotton yarn, and water to make the lanterns. Go back to your childhood days and experience the art & craft at home. These Diwali decoration items are made at home just with a few things.
First of all, mix some glue with a little of the water in a bowl. Put the whole of yarn in it and keep it aside for some minutes. Then, take a blown-up balloon and start winding the yarn all around it tightly and randomly till you get the desired pattern. Let the glue dry for some hours. When it all dries off burst the balloon and pull it out of the lantern. Insert the string lights in it and hang it up anywhere you wish. Is not its great Diwali decoration ideas for home without spending too much money?
3. Mason Jar Lights
String lights can be inserted into almost anything. Grab hold of a few mason jars and fill them up with the lights. Now all you have to do is find the right place to hang them. Like the Hula-hoop chandeliers, these are also excellent for Diwali decoration ideas for home. This festive season, try these home decoration ideas for Diwali.
4. Paper cup Lights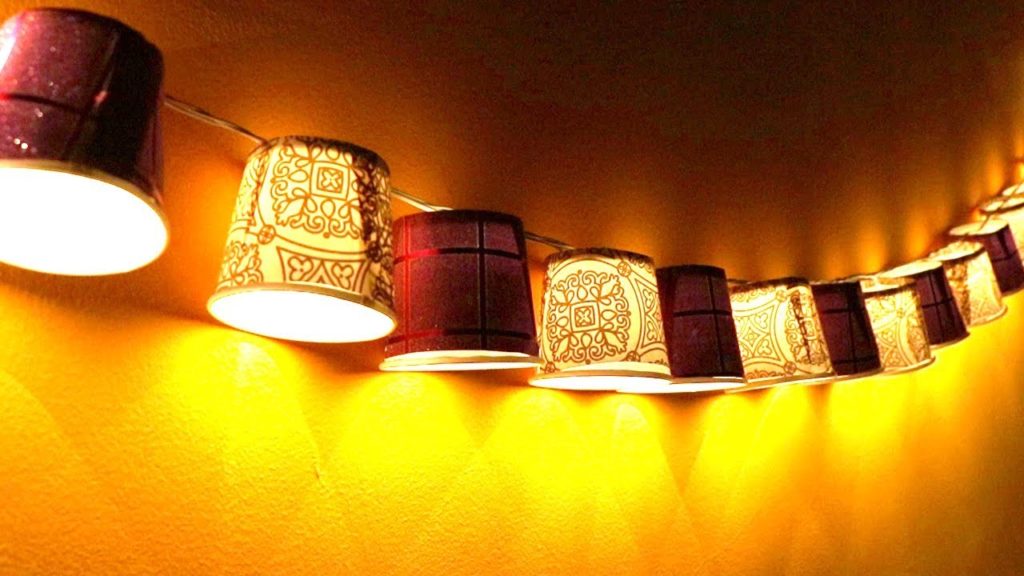 Lighting up never simpler than this. Make small crisscross cuts on the base of paper cups and put the lights in through them. This way the paper cups act as lampshades giving the lights a different appearance altogether. You will definitely love this Diwali decoration idea.
5. Bottle Lights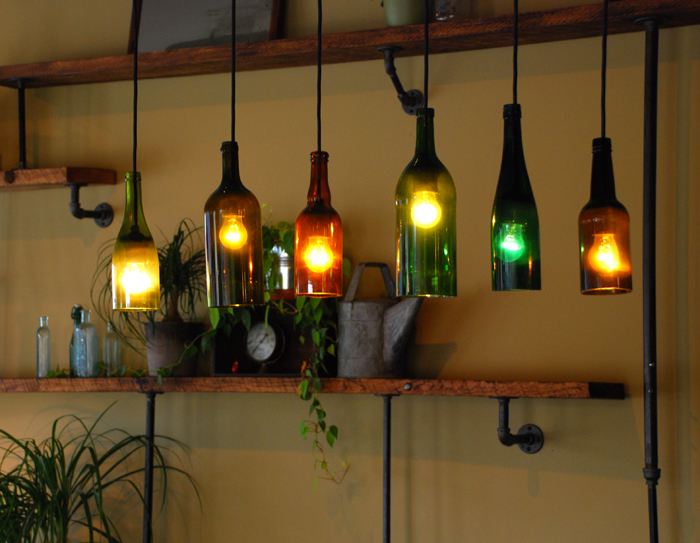 We have found fun new ways to make use of empty wine bottles, this Diwali. Save them to light up your interiors along with some string lights. All you have to do is put the lights inside the bottle and close them with a corkscrew. Now you can simply place them on the table or along the stairs to give the room classy lighting. Try these Diwali decor ideas today.
6. Winding Lights On Trees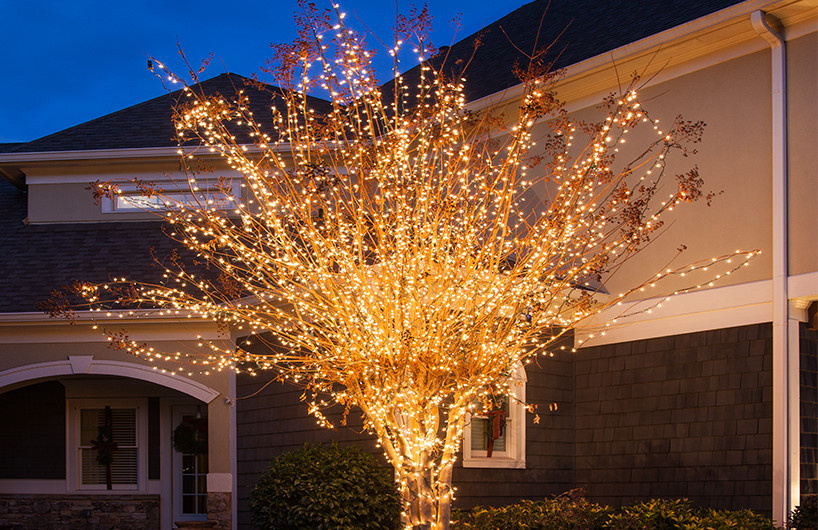 Courtyards can be made awesome with lighting alone. In a garden, the pieces that can be best worked to your advantage are the trees and bushes. The easiest way to decorate the garden is by winding string lights over the plants. An extension cord can help with the lighting and the whole area will be transformed into a party-perfect setting. These are my all-time favorite Diwali home decoration ideas that my family also loved it.
7. Box Lights
Just like we did with the paper cups, different colors of light can be produced by using tiny paper boxes as lampshades over white light. These boxes can be made by folding the paper the Origami-way. It is all extremely simple to accomplish. Make small cuts over them and place them over individual lights. The strings are ready to be hung up! Your friends will definitely appreciate your Diwali decoration ideas that you have used for your home.
Paper lanterns and Diyas can make interiors look alive during the festive season. So now let's look at some cool new ways to make paper hangings to decorate the rooms. Clearly, all you are going to need is color papers, scissors, glue, and some thread to hang them up. Start decorating your home with these eye-catching Diwali decorations for home.
8. Paper Diya Hanging
Another most beautiful Deepavali decoration ideas that you will definitely love. Cut out circular pieces of the color paper in fixed sizes and fold them twice, once along the diameter, and then again in half. Now, glue two such folded papers together to make the Diya. You can also add a flame on top of it to finish the lightened lamp. Glue the Diyas onto a thread and they are ready to be put up.
Folded accordion lamps could be made just so quickly by basically folding square pieces of paper. Glue the opposite ends of the folded paper and add the flame just like you do with the paper lamps above. So if you are looking for the amazing ideas for Diwali decoration then don't forget to try these Diwali decoration ideas at home.
9. Paper Coneflowers
Paper coneflowers can be excellent for decorating tables, floors, and doors. And they are super simple to craft. Make paper cones by folding square pieces of paper around themselves. Glue the sharps end onto a circular cardboard sheet in a flower design. The paper coneflower is all set to smarten up your home with this Diwali home decoration.
10. Handcrafted Lampshades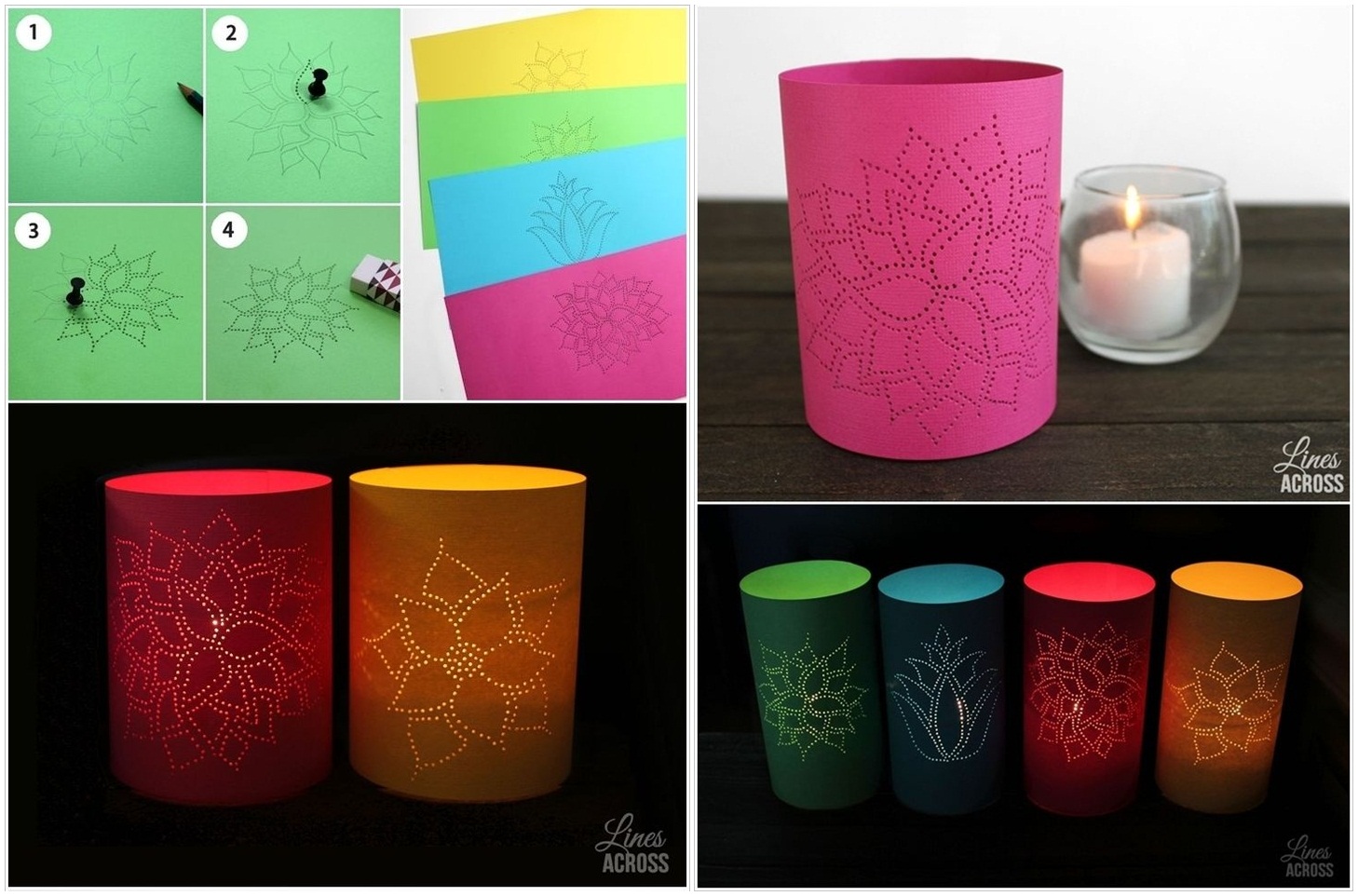 Create beautiful lampshades for your Diwali lights with paper. Draw desired patterns on a rectangular piece of paper and perforate it with a compass. Now fold the paper into a cylindrical structure and glue the ends together. Place it over the lamp so that light comes out through the patterned punctures. Is not its a beautiful Diwali idea for home, huh???
11. Quilling Paper Designs for Thali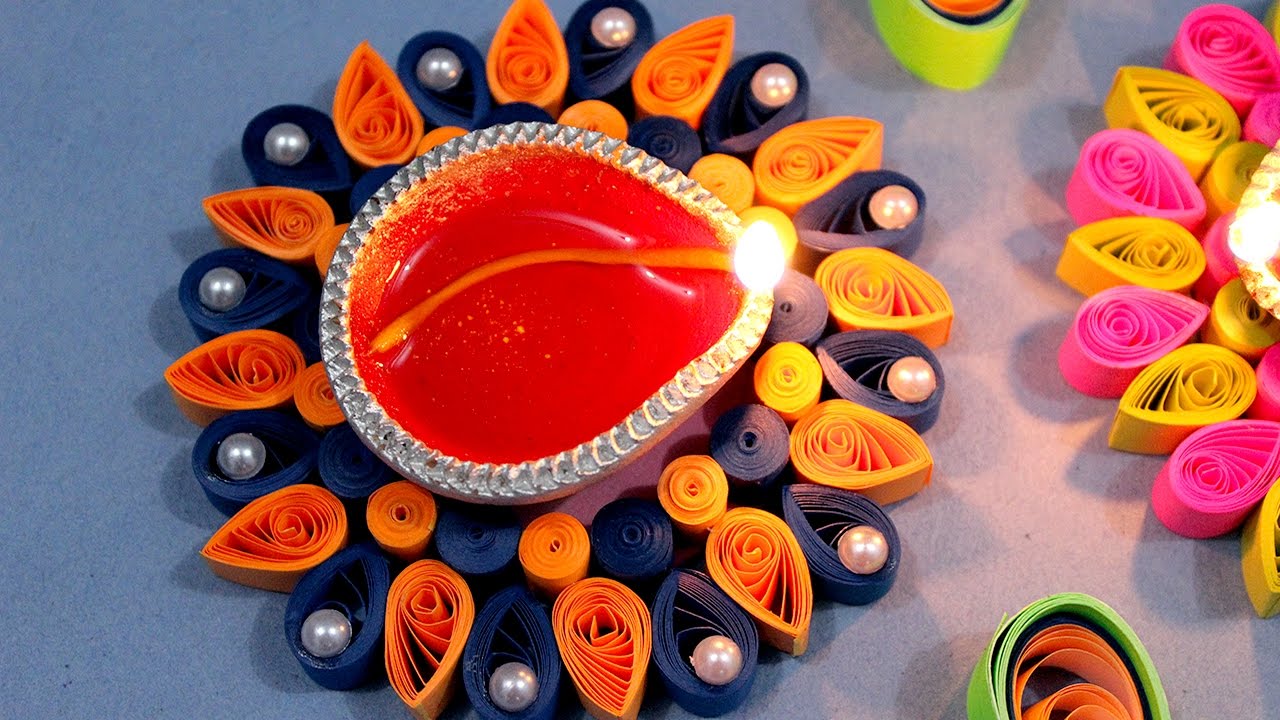 Get colorful quilling papers and needle to decorate you thalis in a special style. Make circular or elliptical shapes of quilling papers and arrange them in beautiful patterns around the light in your thali. You can use these to decorate doorways and windows, too!
Bangles are familiar to us as jewelry, of course! But you will be surprised to find out the many ways in which you can use bangles to decorate your home. Must try this great Diwali decoration at home.
12. Bangle Lampshades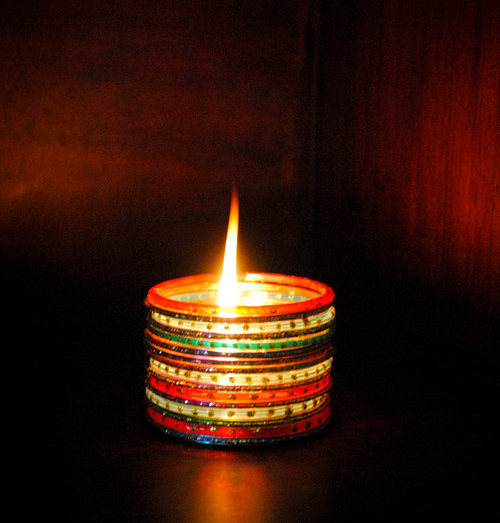 Glue multiple colors of bangles one over the other to build gorgeous lampshades for Diwali lights. Glass bangles are always best to make lampshades as they can resist heat. These are easy to make and can be reused as many times as you want in the future. Every year I love to try these beautiful DIY Diwali decorations at home.
13. Wall Hangers
Similar to the making of lampshades, to build bangle wall hangers you have to glue the bangles together to create a circular shape. Now tie it all up with colorful satin ribbons and put them up on walls, ceilings or doorways to perk up the rooms. You can also simply tie them up with ribbons and decorate your rooms with them. This year save your money with the best Diwali decorations at home.
Tea lights are cheap and long-lasting lamps. They can either be placed on the floor within holders or can be made to float in bowls. Let's find out some fun new ways to do decoration ideas for Diwali at home with tea lights.
You can add color to the lights by covering the tea light holders with crepe papers or gift papers. They are easy to do and give a nice view when lighted at night. so try these Diwali ideas at home and get compliments from your friends and family.
14. Wineglass Lamps
Wineglasses can be put to other uses like decorating tables. Fill three-fourths of the glasses with water and put in some beautiful flowers so that they float submerged in the water. Now place the tea light on top so it is floating above the water. Light them up to create an ambiance in the room. You can also put in crystals or white pebbles inside the glasses to make them more interesting. Share these decoration ideas for Diwali with your loved ones.
Also, these glass lights can be arranged on a large scale to create patterns. They can easily lighten up any party.
Flowers are always the unavoidable parts of Diwali decoration. We simply cannot finish off without a beautiful rangoli of flowers. Here, we will be looking at ways to utilize flowers for making some garlands for décor. Of course, it isn't unheard of, the simplest of twists can bring newness to things. This year follow these Diwali home decor ideas for your home.
15. Pathway Decor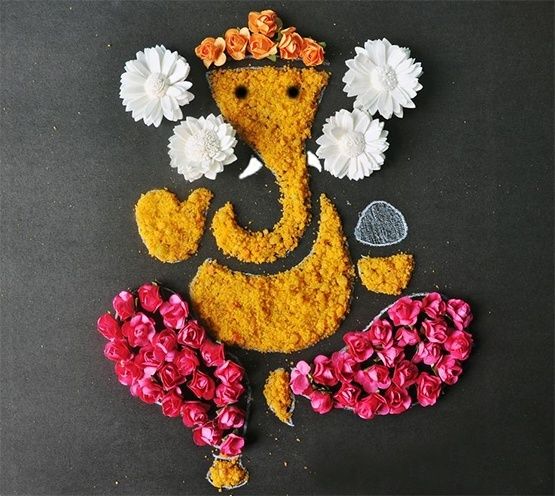 Most rangolis are made of shredded flowers. This time let's use whole flowers instead of just petals. Draw patterns on the floor along pathways and arrange flowers over them to create the ultimate flower rangoli.
You could also arrange flowers in the shapes of Ganapati to enhance the furnishings in front of doors. Brainstorm and find innovative ways to arrange flowers this Diwali. Let loose your creativity. I personally like rangoli a lot and if you are one of them who is looking for Diwali decoration for home, then you are in the right place. This home decoration for the Diwali idea is great.
16. Garlands
One of the best home decor ideas for Diwali that you should not miss. Simple flower garlands go a long way in beautifying a room. String the flowers together and hang them up on the walls. You're done.
17. Bells
Another most beautiful Diwali house decoration that you will definitely love to try at home on this festive season. Bells could be the decor pieces for Christmas. Think again! Golden bells strung up together with some marigolds are definitely for Diwali. It is easy to do decoration for ceilings at home or workspace. Everyone is going to be super impressed with your Diwali decoration, that's definite!
Sequins and tassels can be used for a change, to decorate your home this Diwali. They are flashy and cool and go well with lights. Both sequins and tassels are cheap and easy to craft. They could also be reused anytime.
18. Wall Pieces
Sequins can be passed over Thermocol boards or thick cardboard sheets and hung up on walls.
If you wish for some over the top décor for a Diwali party, you can go for large sheets of sequin filled cardboards as wallpapers. They could also be used to decorate everyday objects like bottles, mirrors, and pots, which could then be used as centerpieces. So starts doing Home decor for Diwali on this festive season.
19. Sequin and Tassel Hangings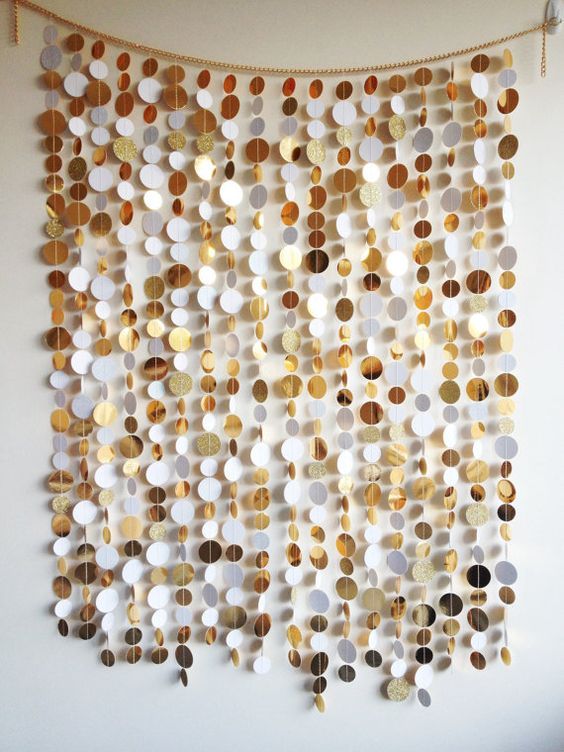 This is the best Diwali home decoration items and is very cheap. Sequins and tassels could be strung up together or separately on the thread. These are really flashy at night and reflects off the light when placed alongside Diwali lights. So start buying these Diwali decoration items from local markets.
Tassels are very nice hanging on doors and walls. They fill up space easily and so finish Diwali decorations quickly.
20. Patterned Rangolis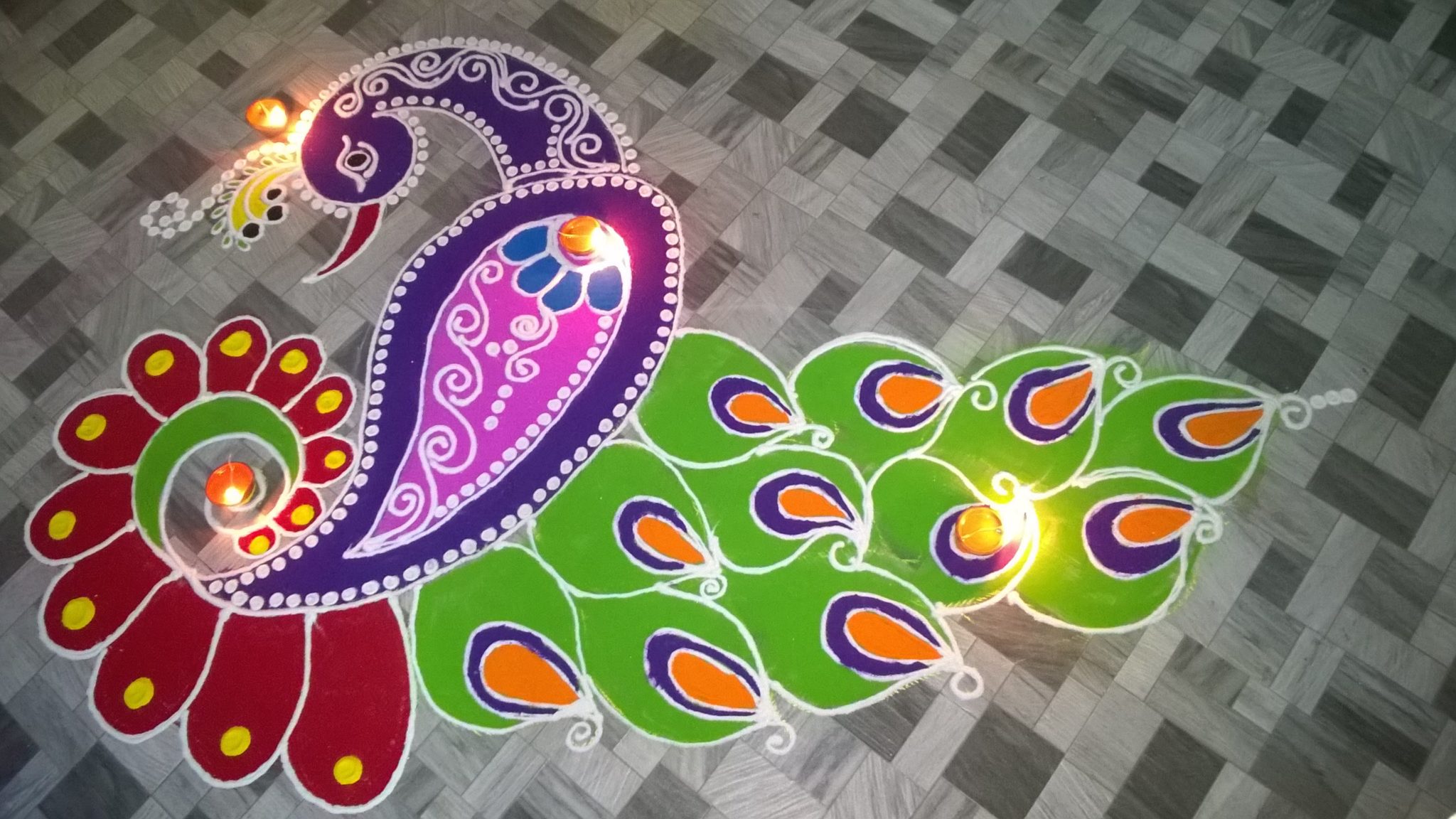 Rangolis made of powders are very beautiful and artistic. They are really colorful and adds to the décor of your home. Create sophisticated patterns over your front doors and hallways to set off this Diwali in style. You can also enliven them with Diyas. Arrange the Diyas within and around the rangoli to finish off the artworks. Shop all these Diwali decoration ideas from Ferns N Petals website and with the help of Ferns N Petals coupons you save more on Diwali decoration ideas.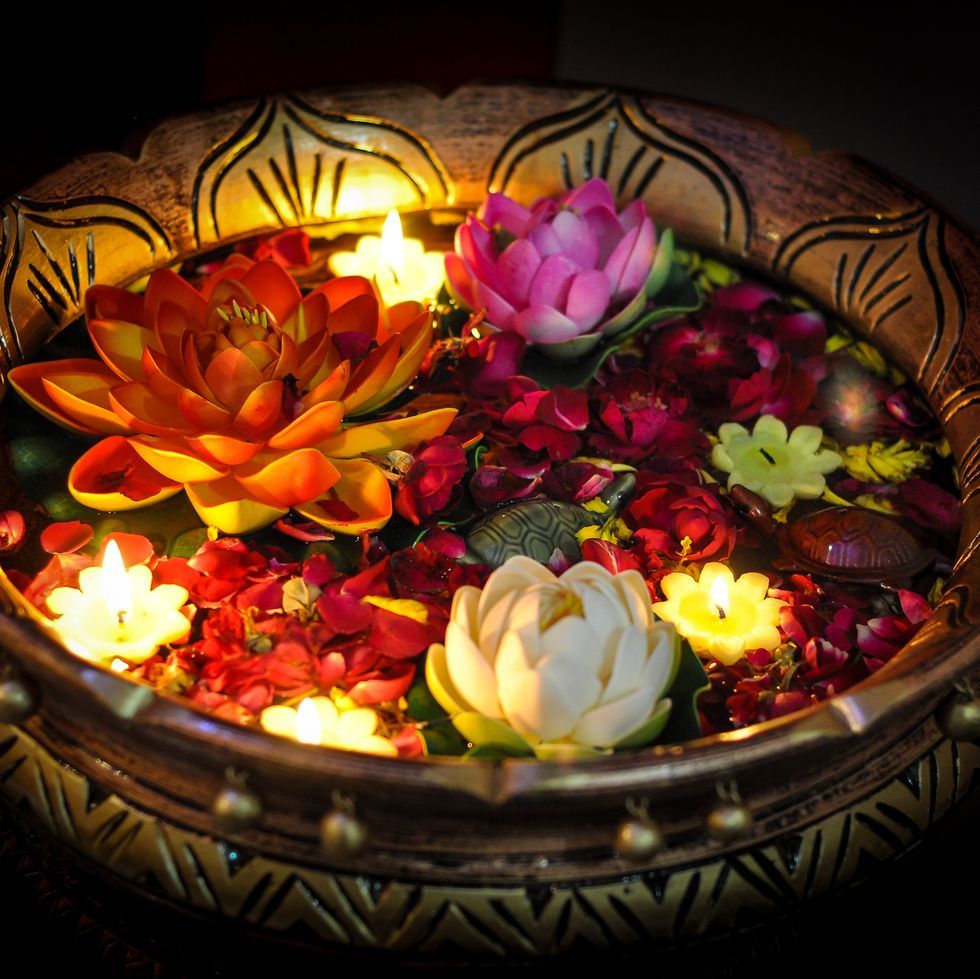 Hope all these tips & tricks are going to lift up your Diwali! Stay safe and enjoy the festivities in all their grandeur. Have a happy Diwali!!!!
Don't forget to share our blog if you like our Diwali decoration ideas. Do share your reviews on this Diwali decoration ideas blog and tell us which Diwali decoration ideas you are going to try on this festive season.