Top 10 Best Vegan Breakfast Recipes
"Panatipata Veramani" – the practice of absolute and perfect ahimsa is the Buddha's perspective that is restraining oneself from harming other life's. Ahimsa not only reflect Gandhian values but today's essence is toward reptiles, avian, bovine, canine, feline, piscine. All resembling an alternative world of different beings as speechless but have emotions. A way to become aware of their feelings and emotions is to take the road of veganism. Veganism is not a mammoth task but a philosophy which focuses to exclude any type of cruelty and exploitation to animals for food, clothing, medicinal purpose and promote awareness for Ahimsa by repudiating the use of animal products by enhancing various animal-free alternatives for the benefit of humans and ecology. Here we are going to explain Top 10 Vegan Breakfast Recipes in detail.
Harmony with nature:
Brotherhood and fraternity but now the need of the hour is Naturehood. Yes, a new vegan society not a vegetarian society, it is a way to harmonize with nature and with "different beings". Therefore, the need for compassion for "different beings". Emma McGrath in "politics of veganism" claimed that people need to realize that they do matter and that they can make a difference and that "veganism is an effective political boycott and is a practical expression of discontent at the current practices of the animal industry". As God has gifted humans with a mind to think rationally. Allow this rationality to think and feel about the severe abuse and confinement farmed animals endure so that humans can eat, enjoy and entertain themselves.
Animals or different beings have right to life:
The hunger, thirst, fear, pain, distress, malnutrition and injuries – these are not the embodiment of a human suffering but sufferings made by humans to others. As these different beings claim to be free and any animal real survival is not human-made sanctuaries or zoos, any husbandry or wildlife parks but these are made for human entertainment and fulfilling their endless cravings for consumption. Moreover, mental and physical sufferings can be severe in captivity, used in laboratories, breeding programmes etc. Many birds in zoos or falconries never take flight and their wings got clipped called pinioning and fishes never able to swim and restrained to a confined enclosure for their so-called survival.
Positive effects of vegan food and myths related to flesh-eating:
The article "Vegetarian Foods: Powerful for health" lists and describes the many health benefits of vegan diet. The article states that "Scientific research shows that health benefits increase as the amount of food from animal sources in the diet decreases, so vegan diets are the healthiest overall." As animal products contain a high level of saturated fat and cholesterol whereas vegetables have fibre in them that helps fight cholesterol. A myth related to vegan diet is that vegans do not get adequate amounts of protein in their diet but the irony is that flesh eaters do get protein in an excessive amount which tends to release bad chemicals in their body, which then form stones in the kidneys and various types of cancer. It is not that to make you scared and forcing you to become vegan but it must be a complete transformation on the psychological and physiological level. Action not only to be taken by PETA(People for the ethical treatment of animals) an organization for the welfare of animals or any charitable trust or by any government. Extend your way of living and become a god in human form by blessing the lives of many animals or different beings. So, we are providing you 10 RAINBOW SPECTRUM which colours your life with new colours by embracing a Plant-based diet.
10 Foods to adorn your plate with different colours:
1. Jumbo Chickpea Pancake
It is a vegan and gluten-free, packed with protein and fibre. It will take 20 minutes to get prepare. Spray skillet liberally with olive oil before pouring on the batter.
Ingredients :
¼ cup finely chopped onion.
½ chickpea flour (Besan)
¼ teaspoon garlic powder, sea salt and baking powder.
1/8 teaspoon ground black pepper.
½ cup + 2 tablespoons water.
For serving: salsa, avocado, hummus and cashew cream(optional).
Directions:
Prepare the vegetables and set aside. Preheat a 10-inch skillet over medium heat.
In a small bowl, whisk together the chickpea flour, garlic powder, salt, pepper, baking powder.
Add the water and whisk well until no clumps remain. Whisk it for a good 15 seconds to create lots of air bubbles in the batter.
Stir in the chopped vegetables.
When the skillet is pre-heated (a drop of water should sizzle on the pan), spray it liberally with olive oil or othernon-stickk cooking spray.
Pour on all of the batters (if making 1 large pancake) and quickly spread it out all over the pan. Cook for about 5-6 minutes on one side (timing will depend on how hot your pan is), until you can easily slide a pancake flipper/spatula under the pancake and it's firm enough not to break when flipping. Flip pancake carefully and cook for another 5 minutes, until lightly golden. Be sure to cook for enough time as this pancake takes much longer to cook compared to regular pancakes.
Serve on a large plate and top with your desired toppings. Leftovers can be wrapped up and placed in the fridge. Reheat on a skillet until warmed throughout.
2. Chocolate Hazelnut Spread
Words like chocolate and hazelnut are enough to move you. So, here is your hassle free recipe.
Ingredients:
1 ½ cup hazelnuts and skinned
1 – 2 tbsp hazelnut or vegetable oil
¾ cup powdered sugar
2 tbsp high-quality cocoa powder and soy powder
¼ tsp vanilla
Directions:
Toast hazelnuts in the oven (or toaster oven) at 350° for ~20 minutes, tossing them frequently so as not to burn the nuts.
While still hot, grind in a blender until nuts break down into nut butter, adding vanilla and a little oil during the blending process.
Once a coarse nut butter has been formed, add cocoa powder, powdered sugar, and soy powder, adding more oil as needed.
Blend until spread reaches desired consistency.
3. Enjoy with Refried Beans and Avocado Recipe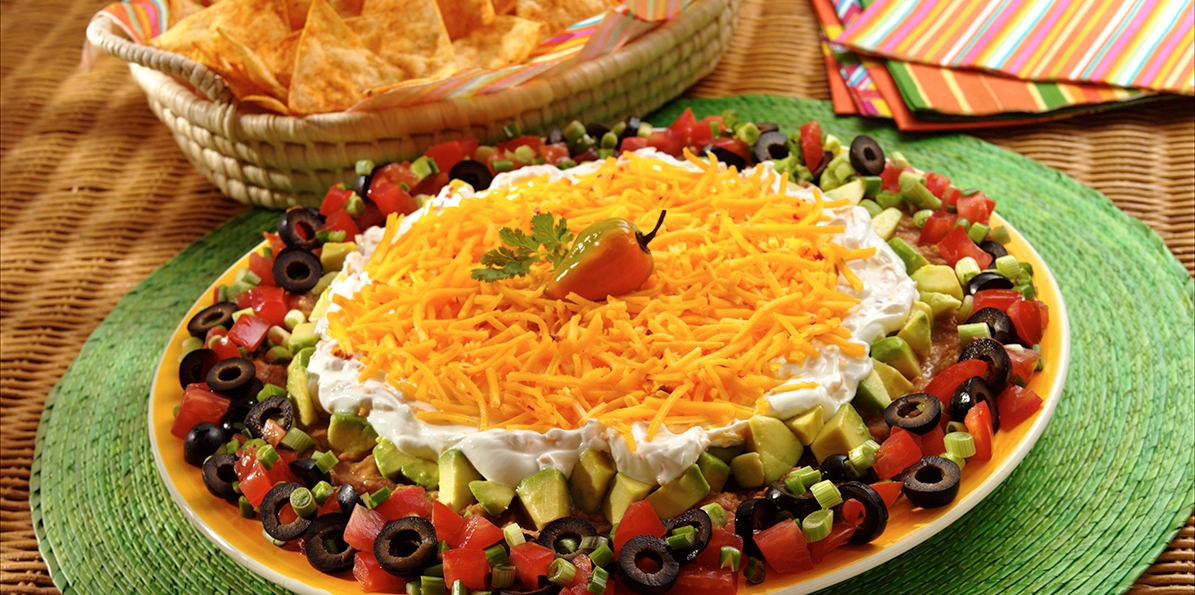 Ideal breakfast, a tasty filling not overly heavy and a vegan sandwich bread.
Ingredients:
2 slices sandwich bread
1 cup store-bought vegan fried beans
1 avocado thinly sliced.
A few onions and sea salt.
Directions:
Toast bread to the desired level of doneness. Top with refried beans and avocado. Add onions, sprinkle with salt and serve.
4. Soft and Chewy Baked Granola Bars
Dense, chewy, soft, doughy, seedy, hearty, protein-and-fibre-packed granola bars, sweetened naturally with dates! Try them spread with nut or seed butter for a fun treat or just enjoy them plain.
Ingredients:
3/4 cup gluten-free rolled oats, ground into a flour
1 cup water
3/4 cup packed pitted Medjool dates
1/2 cup chia seeds
1/4 cup raw sunflower seeds
1/4 cup raw pumpkin seeds
1/4 cup dried cranberries, finely chopped
1 teaspoon cinnamon
1 teaspoon pure vanilla extract
1/4 teaspoon fine grain sea salt
Directions:
Preheat oven to 325F and line a 9-inch square pan with two pieces of parchment paper, one going each way.
Add rolled oats into a high-speed blender. Blend on highest speed until a fine flour forms. Add oat flour into a large bowl.
Add water and pitted dates into a blender. Allow the dates to soak for 30 minutes if they are a bit firm or your blender has a hard time blending dates smooth. Once they are soft, blend the dates and water until super smooth.
Add all of the ingredients into the bowl with the oat flour and stir well until combined.
Scoop the mixture into the pan and spread it out with a spatula as evenly as possible. You can use lightly wet hands to smooth it down if necessary.
Bake at 325F for about 23-25 minutes, or until firm to the touch. Let cool in the pan for 5 minutes and then lift it out and transfer it to a cooling rack for another 5-10 minutes. Slice and enjoy!
I suggest freezing leftovers to preserve freshness.
5. Baked Blueberry Doughnuts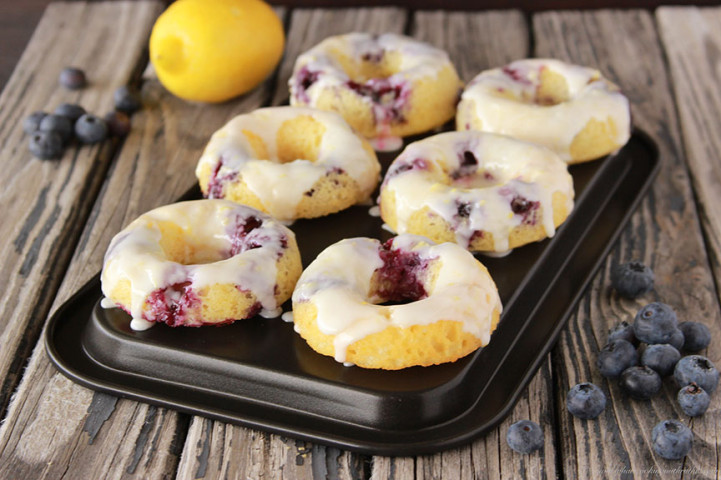 Again a mouth-watering recipe to make your mood refreshing by being vegan.
Ingredients:
For the Donuts
1/2 cup vegan refined sugar
1/2 cup unsweetened applesauce
1 cup vanilla almond milk plus 2 tablespoons
2 tablespoons grapeseed oil
2 teaspoons vanilla
2 cups all-purpose flour
1 teaspoon baking powder
1/2 teaspoon baking soda
1/4 teaspoon cinnamon
1/4 teaspoon nutmeg
1 cup fresh blueberries
For the Blueberry Glaze
1/4 cup frozen blueberries, thawed but not drained
1 1/2 cup vegan confectioners' sugar
1/4 teaspoon vanilla extract
1/2 teaspoon fresh lemon juice
2 teaspoons vanilla almond milk
Directions:
To make the Donuts, start by preheating your oven to 325 degrees Fahrenheit and coating your Donut pan with oil or cooking spray (I used grapeseed oil).
In a large bowl, stir together the sugar, applesauce, almond milk, grape seed oil and vanilla.
Gradually add in the flour, baking powder, baking soda, cinnamon and nutmeg and stir until fully combined. Then, gently fold in blueberries, spoon the batter into a Donut pan filling each hole about 3/4 of the way.
Bake for 15-20 minutes, until the tops of the Donuts, begin to brown. Remove the Donuts from the oven and allow them to cool before removing them from the pan.
Once the Donuts are cool, it's time to make the glaze. Place the thawed blueberries in a large bowl and crush them with a spoon. Remove and discard the skins but keep the juice.
Add in the confectioners' sugar, vanilla, lemon juice and almond milk and stir until the ingredients combine to form a pretty purplish glaze. Drizzle, pour or brush the glaze over the Donuts and devour.
6. Sweet and Nutty Cinnamon Recipe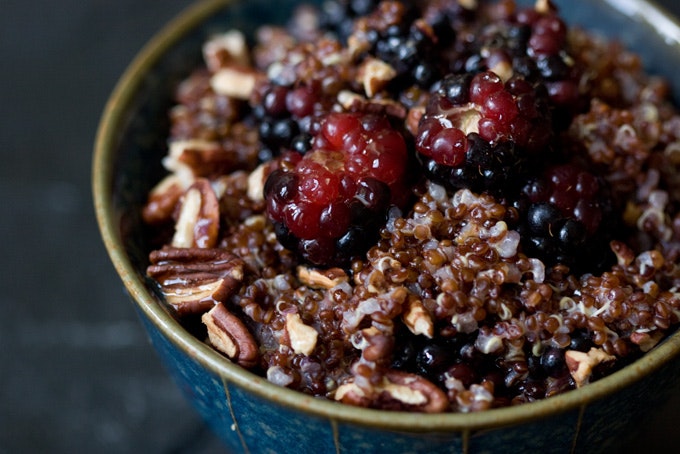 Let's make a stunning berry breakfast for your family.
Ingredients :
I cup organic low-fat milk.
1cup water.
1 cup organic quinoa.
2 cups fresh blackberries
½ tsp ground cinnamon.
1/3 c chopped pecans
4 tsp organic agave nectar
1/3 cup chopped pecans.
Directions:
Combine milk, water and quinoa in a medium saucepan. Bring to a boil over high heat. Reduce heat to medium-low; cover and simmer 15 minutes or until most of the liquid is absorbed. Turn off heat; let stand covered 5 minutes. Stir in blackberries and cinnamon; transfer to four bowls and top with pecans. Drizzle 1 teaspoon agave nectar over each serving.
7. Canal House Lentils Recipe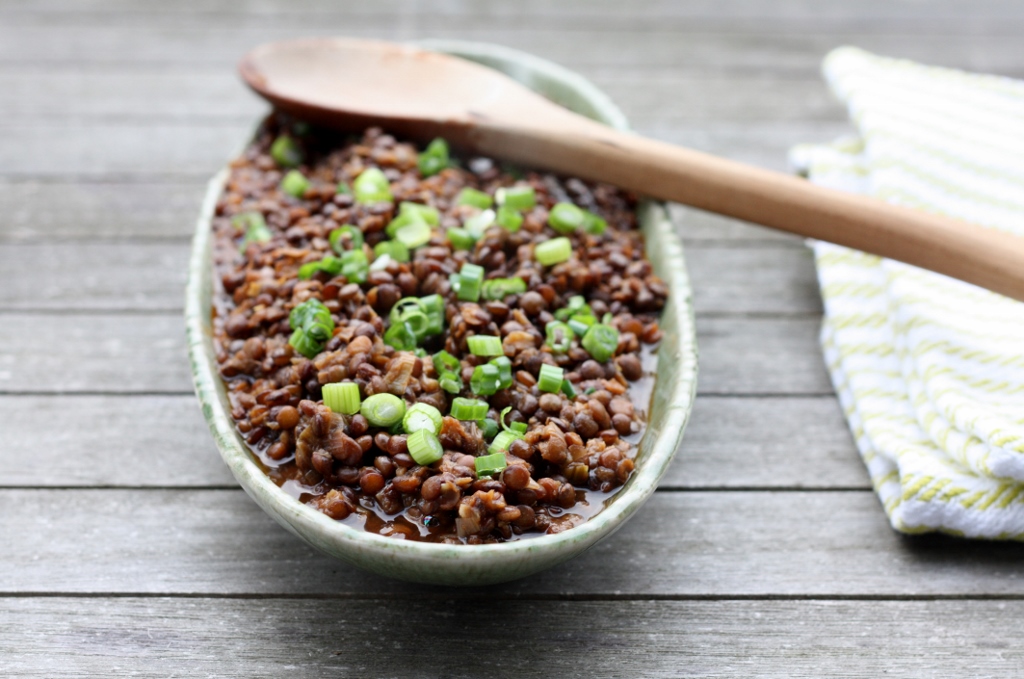 Chill yourself this summer with this recipe and it is bland of anything.
Ingredients:
2 tsp olive oil.
1 medium leek white and pale green parts only and finely chopped.
1 garlic thinly sliced.
1 tsp tomato paste.
1cup green lentils.
2 tsp sodium soy sauce.
Kosher salt and freshly ground black pepper.
Thinly sliced scallions(optional).
Directions:
Heat oil in a medium saucepan over medium heat. Add leek, garlic, and tomato paste and cook, stirring often, until fragrant and tomato paste begins to darken, about 4 minutes. Add lentils and 2½ cups water. Bring to a boil; reduce heat, cover, and simmer, stirring occasionally, until lentils are tender, 45–55 minutes.
Remove from heat and let sit, covered, 10 minutes; add soy sauce and season with salt and pepper. Serve lentils topped with scallions, if desired.
8. Vegan French Toast
A healthy and healing toast for stomach is ready in these steps.
Ingredients:
6 slices day-old ciabatta bread, sliced about ¾-inch thick
1 cup Almond Breeze Almond Milk
1 tablespoon maple syrup, plus more for serving
2 tablespoons millet flour (or spelt or whole wheat)
1 tablespoon nutritional yeast
1 teaspoon cinnamon
¼ teaspoon freshly ground nutmeg
tiny pinch of salt
coconut oil, for the pan
Toppings:
Powdered sugar
Vegan butter
Maple syrup
Fresh fruit
Directions:
In a small bowl, whisk together the almond milk, maple syrup, flour, nutritional yeast, cinnamon, nutmeg and salt.
Place the bread in a shallow dish (with sides) that holds all of the bread. Pour the mixture over the bread, then lift or flip the bread over to make sure both sides are evenly coated.
Heat a drizzle of coconut oil in a large skillet over medium heat. When the pan is hot, add the bread slices and cook for a few minutes per side, until golden brown.
Serve with powdered sugar, a dab of vegan butter, maple syrup, and fresh fruit.
9. Luscious Indian Cream of Wheat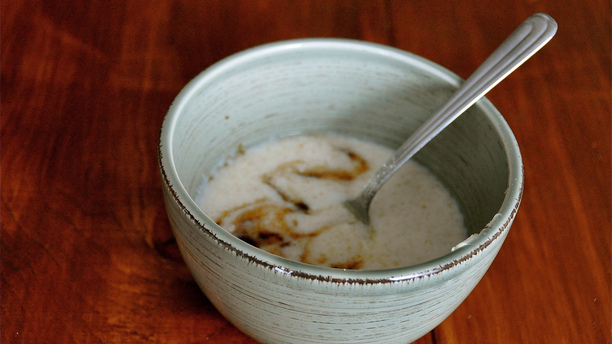 Wrap yourself in love with this comfort food.
Ingredients:
1/3 cup whole grain of Cream of Wheat
2 cups Coconut Milk
1 tbsp. rose water
½ cup + 1 tbsp. pistachios  (finely chopped)
½ tsp.  cardamom (powder)
3 tablespoons of maple syrup, brown sugar or 3 packets of Stevia.
1 tsp. of coconut oil (optional).
Directions:
In a saucepan, bring coconut milk to a boil, watching it carefully to prevent it from boiling over.
Gradually add whole grain cream of wheat, rosewater, ½ cup of pistachios, cardamom and sugar stirring constantly with wire whisk until well blended. Whisk without stopping so that no lumps form.
Reduce heat to Low; drizzle the coconut oil (if using) and simmer, uncovered for 3 minutes or until thickened, stirring frequently.
Transfer to serving bowls, and garnish with remaining pistachios before serving.
10. Tofu Scramble Recipe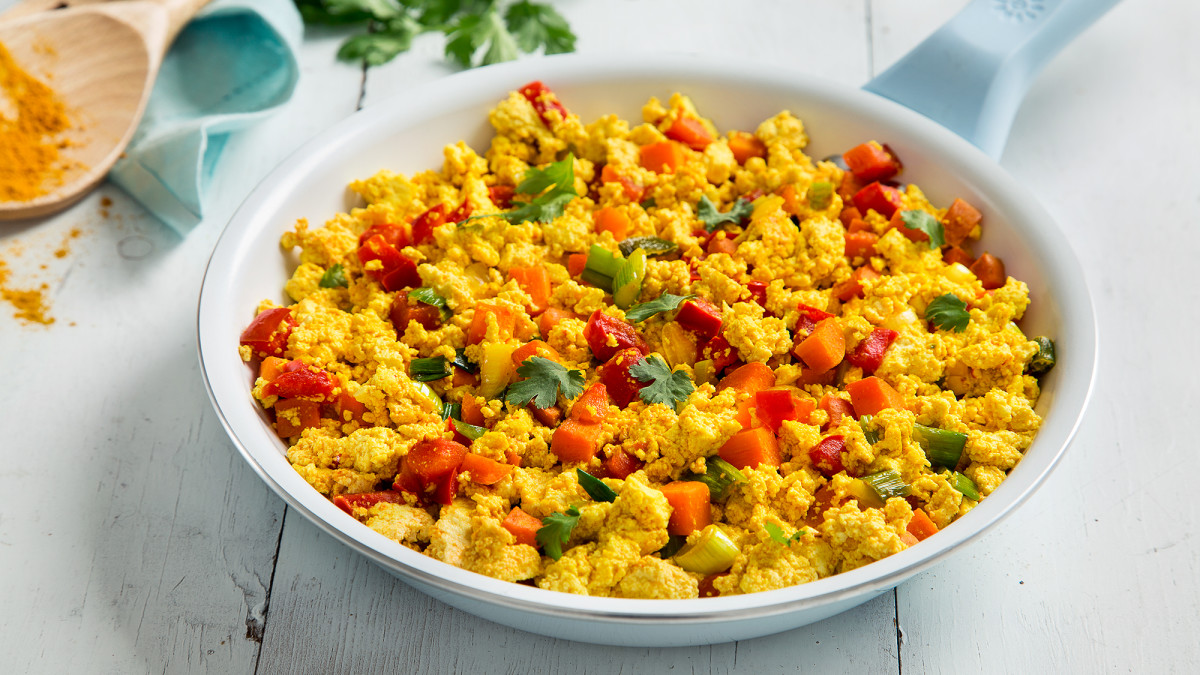 Cooking magic turmeric turns tofu yolk yellow and garnish in your plate with a big smile.
Ingredients:
2 14- ounce blocks extra firm tofu.
2tsp vegetable oil.
1 small chopped onion, finely chopped green bell pepper and red bell pepper.
½ tsp ground coriander, cumin.
1 ½ ground turmeric
1 15-ounce black beans rinsed and drained.
¼ cup coarsely chopped fresh cilantro.
Kosher salt and ground pepper.
4-6 whole wheat tortillas
Garnish: salsa, chopped avocado, sliced scallions and hot pepper sauce.
Directions:
Place tofu on a plate lined with several layers of paper towels (to absorb liquid). Using a fork or potato masher, smash tofu.
Heat oil in a large skillet over medium-high heat. Add onion and peppers; cook, stirring occasionally, until softened, 3-4 minutes. Stir in coriander and cumin; cook until fragrant, about 1 minute. Stir in tofu, then turmeric. Add beans; cook, stirring often, until heated through, 1-2 minutes. Stir in cilantro; season with salt and pepper.
Serve scramble with tortillas and garnishes, as desired.