OYO Rooms
OYO what does that stand for? what is the full form of this abbreviation? It stands for "on your own" rooms. It is a chain of hotels in India which are modified and that means they charge you less than what a normal budget hotel in a two or three-star hotel charges.
At present, there are 14000 rooms under this scheme in 80 cities across the country.
According to Ritesh Agarwal founder of OYO rooms the scheme aims to Standardize on points of hospitality services like free wifi, flat screen TV a beverage tray, free breakfast, branded toiletries 6inch shower heads spotless white linen etc. The standards are audited regularly and required changes made so that quality is not compromised.
With investors like Lightspeed India, Sequoia Capital and Greenoaks Capital OYO are on a fast track growth rate. They plan to offer 50000 rooms in 200 cities by the end of this year. Through research conducted and feedback is taken it has also been observed that in small towns OYO rooms have gained so much popularity that people rent them when there is a power shortage or water crises in their homes. The traffic and demand of these rooms increase when there are cricket matches going on, as people come from nearby places to watch the matches and even the regular crowd prefer staying in OYO hotels instead of going back home after the matches as the houses are at greater distances.
Enjoy Great Stay With Affordable Budget With Fabhotels Coupons
Sincerity and Thanks
The first step towards achieving this is their honesty towards their patrons and in their services to them. Secondly, they like to share their success with the people who trusted them. For this, they have floated a lot of OYO Rooms offers like OYO Rooms Coupons and OYO rooms deals.
Various OYO Rooms offers are as given below.
Flat 25% off + 50% Extra OYO money.

Get Flat 28% off + OYO money (App only) 50% extra.

Flat 25% off + 50% Extra OYO money OYO prepaid exclusive offer.

Exclusive OYO offers flat 28% off + 20% OYO cashback.

Flat INR 750 across India.
OYO Rooms Promo Codes
OYO Rooms Promo codes room offers INR 400 off.

OYO Rooms cash Back offers Flat INR 300 Mobikwik Supercash @ OYO rooms.

Flat 30 OYO money redemption + 30% cashback + 30% flat off Now that is what is called OYO Blast offer.

ON all hotels across India Flat INR 270 off (Visa Card offer).

Flat 28% off on all Hotels in all cities OYO rooms Grab On exclusive. This is an App Only Coupon.
Mentioned above are only some of the many Oyo Rooms Coupons, OYO promo codes offer and OYO rooms deals.
There are many OYO rooms credit card offers too like the latest Grab Flat 25% OFF On All Subsequent Bookings Via HDFC Business Credit Card.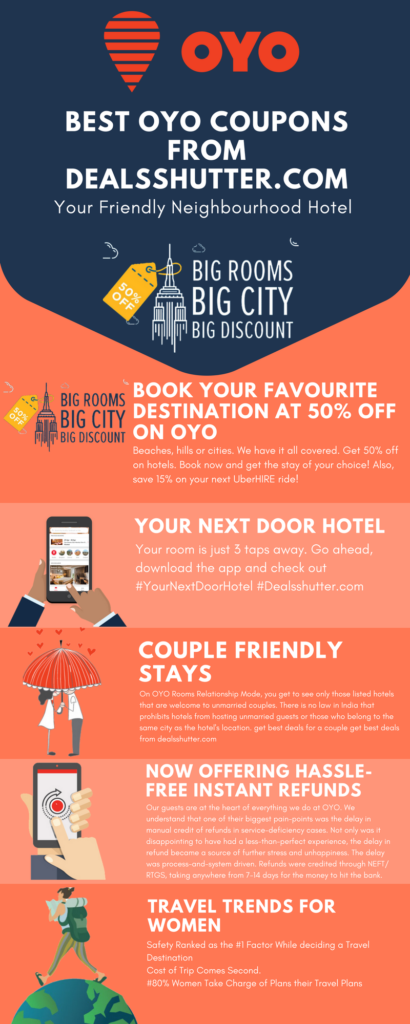 A way to say Thank you
All these offers and coupons and deals show that OYO is honest business entrepreneurs who believe in acknowledging the fact that they should thank their patrons for showing trust and in them and be vociferous in showing their appreciation for the kind of service OYO offers.
The will to Serve
India is a land of small towns and cities and the people in these places know the value of money they have just started indulging in luxuries which they rightfully deserve but which they had been denying themselves since long. These people are learning to spend but at the same time, they also are wary of being cheated. And when they see the reasonable price and the good services offered they become assured that these people are genuine and are not out for earning money. They offer much more than what people expect. They do not compromise on the quality.
All this speaks well of the facilities provided and the reasonable price charged by these OYO hotels. It also goes to prove that the future of these OYO rooms at reasonable rents is very bright.
Empathy
This group of young entrepreneurs (founder Ritesh Agarwal is not even thirty) plans big aims high and works hard at making OYO one of the top business houses in the country and they know that to achieve all this they need the goodwill and the good wishes of all around them.
As it is if we quote Ritesh Agarwal the founder of OYO he has said that the average Indian does not have to be satisfied with what the unscrupulous hoteliers offer them.
The shabby bedsheets, the unpainted unrepaired bathrooms the dripping tap haphazard room service, unhealthy food. Complacent hotel staff and exorbitant rates.
Hard Work
OYO stared in 2013 and has since been climbing the steps of success. They have now gone international with Malaysia and Nepal on their list. And if these places can have opted for OYO you can well understand the excellent services provided by the entrepreneur. Malaysia and Nepal are places that are thriving on the tourism industry so they require hotels which can cater to all kinds of budgets together with good service. Service which can lure people to coming back for more and this is where these countries have found OYO reliable. Oyo provides services at the budget price without any compromise. 
The various efforts put in by the OYO people are the introduction of new and innovative ideas in the process of being hospitable. They make the guest feel wanted and do not act complacent as most branded hotels do in their special attitude which at times even appears insulting.
OYO has introduced a special category of staff called the "Captains" who interact with guests personally enquiring about their needs and the services provided. They have at the moment 230 captains who have been trained to respond to whatever the needs and demands of the guests. The motto here for these Captains is "there is nothing that OYO captains can't do".
Far Sightedness
If we try to look at the history of OYO and how it came into existence we find that a young entrepreneur from Odisha who was studying for the IIT entrance exam decided that he had other things to do some kind of startup which would help him make a name, money and also make him do something with a philanthropic streak. His aim was not only money making but doing something which could help and bring a smile on the face of the people who work hard to earn money and yet cannot indulge in any kind of luxury mainly because of the exorbitant price that luxuries charge. He had traveled widely as a student what with coming to Kota to prepare for his entrance exam all the way from Odisha and then traveling to Delhi he discovered that people were handed a raw deal if they wanted a budget hotel. This was when he decided upon a startup and OYO.
Lucrative Offers
At the age of nineteen, he was selected for the Thiel Fellowship the only person from India and has since never looked back.
He has a certain streak of honesty and a liking for hard work which have always stood by him.
His aim is to take OYO rooms to the greatest of heights.
His style of sharing the profits and saying thank you to his patrons is by sharing with them the profits in the form of various benefits like discount coupons as mentioned above. Some more of his discounts and coupons are mentioned below which are truly innovative and away from the usual offers.
Get up to 30% off on Hotels with no minimum transaction limit —called OYO Mega Savings Offer.
Flat 30% off on first 3 bookings offer. This is called OYO HDFC Bank Offer.
BIG50 Code Offer
Fiery 4 pm sale when every day at 4 pm one thousand (1000) rooms are given at flat 75% discount.
Use code: BIG75
Refer & Earn Rs 1000 OYO Money
OYOs for Weekend Getaway: Get Best Price
Min. booking amount Not required. Get Flat 28% up to Rs.2000 off + 20% up to Rs. 2000 Cashback on OYO hotel booking. Offer is valid for bookings made until 31st Nov 2017. Coupon can be used once per person.
Flat 25% Off on Domestic Hotels Flat 30% Off Prepaid Hotels Rooms Starting at Rs. 999 Budget Hotels Flat Rs. 500 Off Room Bookings OYO Rooms Coupon Codes & Promo Codes.
1. Get 28% off + 20% Oyo Cashback on hotel bookings.
Per-user only once.
On mobile app only
2. Get flat Rs. 600 off on minimum bookings of Rs. 2000.
mobile app only.
Only once per user.
3. 20% Oyo cashback + flat 28%off on hotel bookings.
Per-user only once
4. On hotel bookings of INR 2600 an above Flat Rs. 750 off.
Only once per user.
Booking validity: 30th November 2017.
Download the App for more
With OYO around and its App with you, you need not worry about finding rooms whenever you want to travel. The App sees to it that you do not face any problems. As you know OYO is India's biggest hospitality company. It takes you only 5 seconds to book your room where ever you want OYO is spread all over India and neighboring Nepal and Malaysia.
This App helps you get rooms, cabs, room service and even does your payment for you and of course, the rooms provided by OYO will have all basic amenities like TV, Ac, Clean Bed < and hygiene.
These Apps help you save money as they help you check on all the deals available. This is also the fastest App. all amenities like parking facilities, geysers or heaters in rooms, payment methods are all listed in this App and there are relevant pictures and specifications to help you browse.
The App has the facility of ordering for beverages for room service and also pay through mobile wallets.
These people have an innovative feature which is the first of its kind that their check-ins start at (6 a.m) six in the morning. This is called sunrise check-in and is available in 8500 hotels across 230 cities.
Add to this the fact you can access Google maps and follow the directions to reach your accommodation.
There is also a one tap facility which can help cancel your cancellation. (meaning if you have canceled your booking by mistake then you can use the one tap facility to restore your booking)
In case of a last minute plan for an outing, you need not worry the app will book your room.
Acumen
Thus we see that an enterprising mind, together with his honest and hardworking team can work wonders. They rightly say that "where there is a will there is a way" and this is proven amply by the likes of Ritesh Agarwal who opted out of college, to follow his dreams of making it big in the business world and has become a leading name in India's Hospitality Industry, which is a very competitive field. His OYO services have even got his business spread across international boundaries to neighboring Nepal and Malaysia.
OYO rooms was also a product of the hardships Ritesh felt when he used to stay at hotels during his college days and it was this experience which gave him the idea of starting a business which was the need of the hour and which would flourish as these days tourism as well as travel for jobs and business is growing at a fast pace. Thanks to his acumen.
With such an enterprising and hardworking group of entrepreneurs with so much farsightedness and a sincere team, OYO has just begun it is destined to go places.