In the new study conducted by HowToBet, it is revealed that WWE fan has the highest IQ level in the sports world became the most Intelligent Sports Fan In US. Working with professionals to dispel the old myths and evaluate the intelligence level of sports fans, HowToBet partnered with the team of professional psychologists and test the IQ level of 1006 US sports fans across six sports.
The detailed study of each sports on the basis of 4 different skills (verbal, mathematics, logic and visual), male vs female, least vs the most intelligent sports fan is shown below-
IQ Level of US Sports Fan Across Six Sports
The IQ level was of 1006 US sports fan were tested across six sports. It is observed that Wrestling fans are the most intelligent ones and the NASCAR fans were the least intelligent ones with 95.20 IQ. Fans of the upcoming Qatar World Cup are probably at the middle. The IQ level of each sports is mentioned below-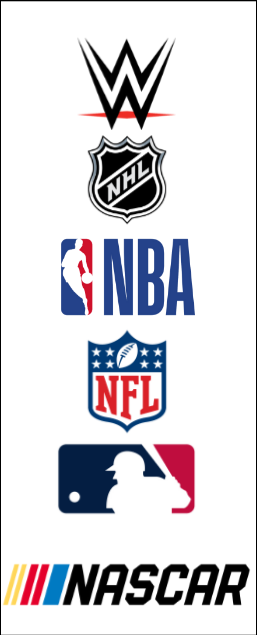 1. Wrestling (WWE) – 112.60 IQ

2. Ice Hockey (NHL) – 112.30 IQ

3. Basketball (NBA) – 110.70 IQ

4. Football (NFL) – 105.90 IQ

5. Baseball (MLB) – 101.30 IQ

6. NASCAR – 95.20 IQ
Most VS Least Intelligent Sports Fans
To get more detailed figures HowToBet the study continued to determine the IQ level for specific team and individuals (not on the basis of sport as a whole).
It is found through the analysis that Roman Reigns fans were on first positing on the basis of most intelligent sports fan in US with a very high and impressive IQ score of 126.4. The IQ score above 116 is considered under the category of Above Average.
On the other hand, if we talk about the least intelligent sports fan in the US on the basis of team player fan or a team then Joe Gibs racing was in the last position with an IQ score of just 78.2 that lies within an average score. If we considered the average IQ score of NFL across US sports fans then we will observe that they are scoring the least IQ level with just 85.1 scores.




Male Sports Fan VS Female Sports Fan Study
Next, they jotted down their analysis to study the IQ level of female VS male sports fan. It is administered through the study that female sports fans had higher IQ level on an average than male sports man with the score of 109.6 which was more than the score of male sports fan i.e. 105.5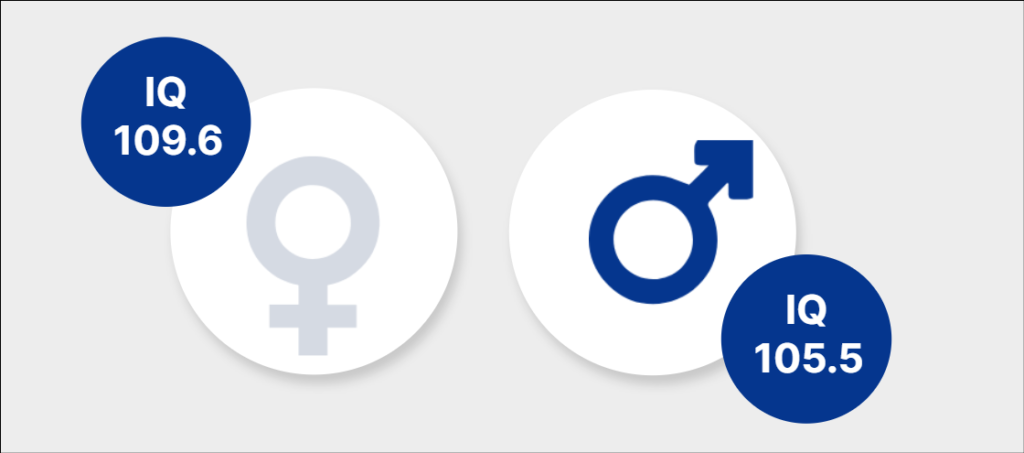 Also Read: 10 Best Fitness Apps: Download Today For Daily Workout
Methodology: Testing Skills in 4 Different Ways
The team of academic psychologists administered intelligence study tests of 1006 US sports fans who supported the study of at least one sport from the six (Football, Baseball, Hockey, Basketball, Wrestling and Motor Racing)on the basis of 4 different testing skills:
Verbal Intelligence
A reading, writing, and comprehension test to measure the participant's capacity for learning and problem-solving.
Mathematical Ability
A test conducted to analyze the arithmetic and problem-solving skills and to determine a general baseline of intelligence.
Logical Reasoning
A puzzle-based test is conducted to measure the participant's capacity for lateral thinking and creativity.
Visual Reasoning
An "odd one out" test that measured a participant's capacity to measure and process visual material
Here's the result!!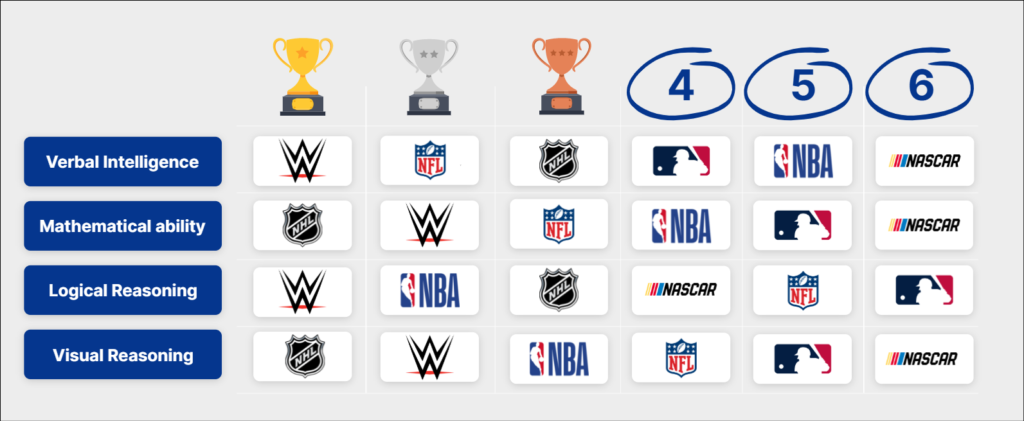 Most Intelligent sports fan study also done across four sections of intelligence where men and women were tied. Women sports fan performed excellently in mathematical and logical reasoning ability, on the other hand, men outperformed in verbal intelligence and visual reasoning skill.

Conclusion
Psychologists after administering the test have suggested that people watching wrestling, keeping up with the wrestling characters, storylines and wrestling moves are more likely to increase their intelligence in some capacity.