The summer has arrived in India. It's high time to give a full swing to your style statement with Korean summer fashion trends. Korean fashion is being warmly welcomed by Indian audiences due to the immense popularity of K-Pop & K-Drama. People are more leaning toward Korean food, culture, and the Korean language as well. Bold colors and daring combinations are the foundation of Koreans that make them stand out in the fashion industry. This is the reason why Korean fashion trends are influencing Indian wardrobes as well.
Let's make a quick look at widely popular Summer Korean fashion Trends 2022!!
1. Crochet Tops
If you are looking for sustainable handmade fashion options then crochet clothing is amongst the top summer fashion trends. Crochet can be worn in any form be it crochet tees, crochet tops, crochet tank tops, and more. Summer is the new way of welcoming crochet into your wardrobe. Check out some of the Korean crochet tops, these are my personal favorite too.
This blue & off-white Daisy crochet top by Mango(Brand) is indeed stunning piece to wear in summer and the best part is, it is available on Myntra. You can it at discount price with the use of Myntra Coupons.
---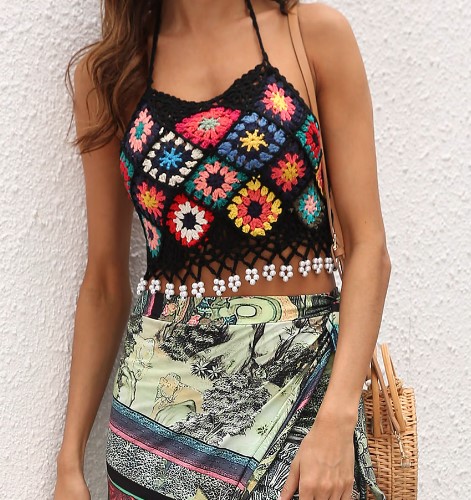 Complete your beach holidays look with this another impressive Crochet Cami top for women inspired from Korean summer fashion trends. It costs just 712 INR from Urbanic. Apart from this, Urbanic has range of crochet tops to offer. If you are influenced with Korean summer fashion, then have a look at Urbanic.
---
2. Korean Pleated Plaid Open Skirts- K Pop Skirts
K-Pop drama has just made the youth crazy about these Korean pleated plaid open skirts. These skirts are open from one side. It can be carried with long t-shirt or skinny shorts. Korean pleated skirts are worth buying pieces to add in your summer wardrobe.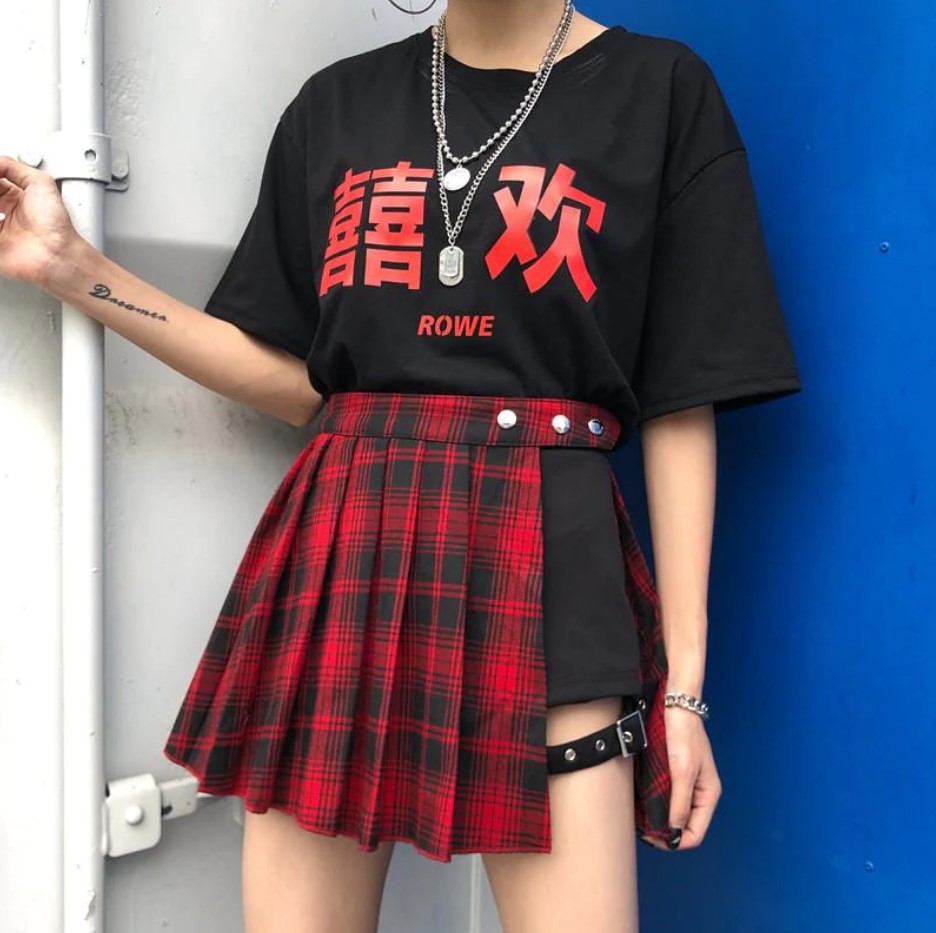 ---
3. Masculine Military Boots
Military boots are being popular amongst the youth after getting influenced by Korean summer fashion. These military boots look bit masculine but can easily be integrated with summer outfits. Both men and women can carry these boots with grace. All green checks in terms of style, designs, comfort, and ease to wear.
In summer, women can carry these military boots with short dresses, denim pleated skirts or with high waist straight jeans. Military boots are available in numerous colours and styles. But I recommend you to look the exclusive range of Forever 21.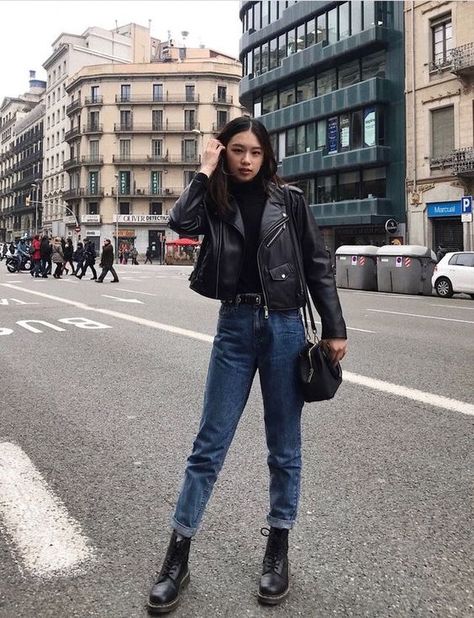 Give an astounding and complete look to your bold outfit with Military Boots. This outfit is extremely easy to carry in winters as well as summers. In winter you can add a black leather jacket to complete your look. If we talk about winters then these boots can be carried out with high-waisted skinny jeans and a skin-fit top.
---
Another classy way to add a masculine element to your whole look is to carry military boots with baggy jeans. Tuck the denim it into the boots from the bottom. Pair up it with a solid color skin fit t-shirt or a boxy t-shirt, whatever you like.
---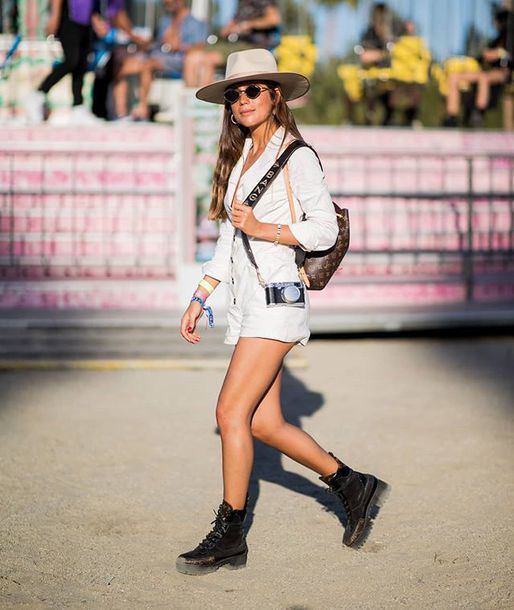 Check out this outfit idea with combat boots that are comfy and stylish at the same time. Many celebrities are giving serious style goals to all of us by carrying these boots with ultimate grace.
---
4. Boxy T-Shirts
Pandemic made all of us make used to ease, hence it promoted some comfy yet very stylish fashion styles. What else can be better than these Boxy T-shirts influenced by Korean summer fashion? These graphic tees are extra large in size and can be paired up with straight jeans or baggy denim shorts. Few such kinds of pieces in your closet makes you all ready for arriving summer in India. Shop some cool summer t-shirts from Myntra.
---
5. Baggy Denim Shorts/ Jeans
Simplicity, comfort and style are the foundation of Korean fashion. That's why this clothing style is becoming so popular among teenage girls. The trend has just shifted from baggy shirts and sweaters to baggy pants and shorts. Well, you need to worry about the shopping. I can help you on that. I suggest you to get some exclusive ShopperStop Coupons from Dealsshutter and get extra cashback on your shopping. Here are some best examples with which you can pair up your baggy denim shorts/jeans.
If you have a straight loose fit baggy denim then best fashion trend is to pair it up with a skin fit solid color crop top and a long overcoat/shrug. A matching heels or combat boots is a plus and results in aesthatic look.
---
A rugged baggy denim with body fit crop top and sneakers at the bottom is enough to stand out at top in terms of fashion sense.
---
Another baggy jeans outfit idea is to pair it up with a crop tank top and white shoes. You can also add a sling bag to complete your look.
---
Korean baggy denim shorts is one of the most popular Korean summer fashion trend. For a comfy yet stunning look you can pair your shorts with a loose tee. This kind of outfit goes well for a day out picnic or beach holidays.
---
6. Korean Style Loose Dresses
Another summer fashion trend inspired by Korean is loose dresses. This is again a very comfortable outfit to wear and keeps you well ventilated in warmer weather. Loose dresses perfectly go with flat sandals or sneakers. These dresses come in various lengths and styles. This summer season beat the heat by shopping for Korean-style loose dresses. I personally want to suggest you all some of my favorite and best picks in Korean styles loose dresses-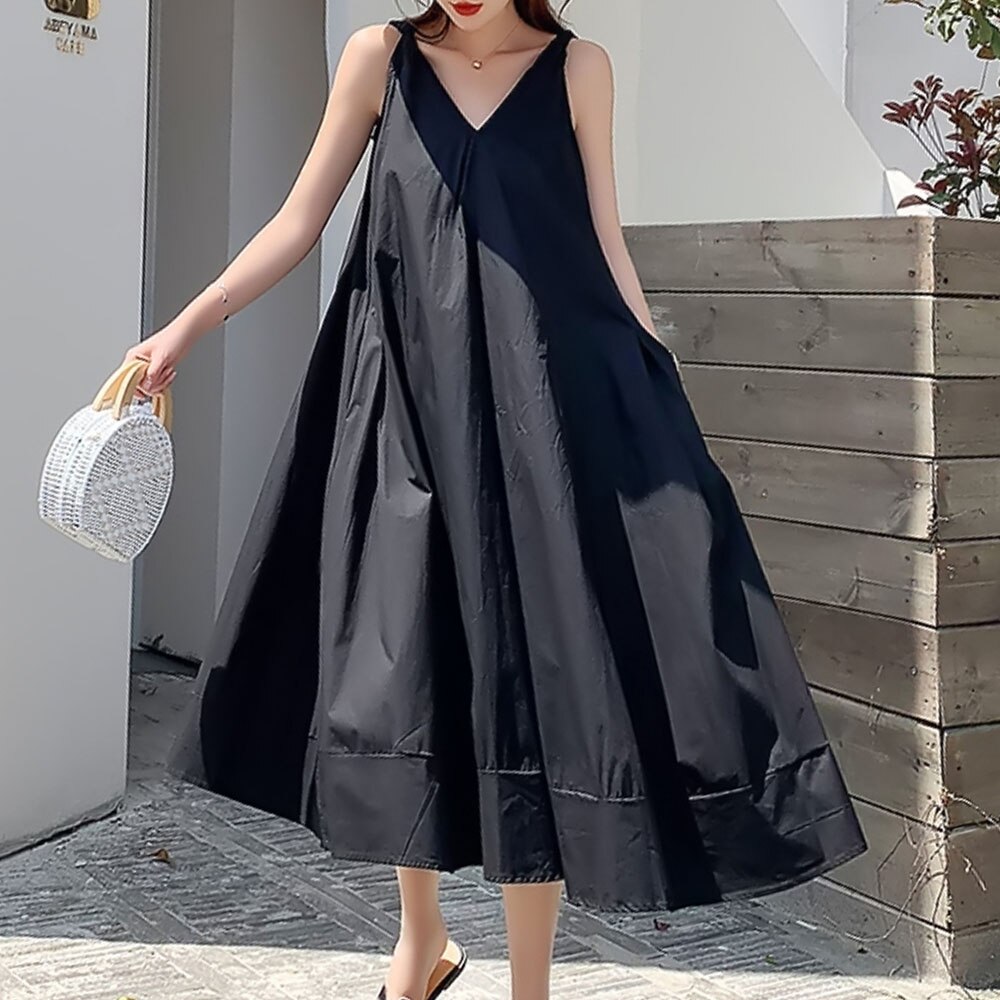 ---
7. High Waist Linen Pants
High waist linen pants are yet another very popular summer fashion trend from Korea. Internet is flooded with high-waisted linen pants to make you feel airy and comfortable in the scorching sun. These pants are available in countless colors and a very decent number of styles. No matter whether you are hitting a beach for holidays, going to the office, or just hanging out in the city with your friends. Linen pants fit in every occasion if you have the right fashion sense. Well, I can help you a bit with that. Here are some best ways to wear Linen Pants.
This summer get a cool and fresh look with korean fashion trend of staright linen pants. You can carry it with cotton top/ t-shirt and a open tote bag. You can go for this look if you are just walking around the city.
---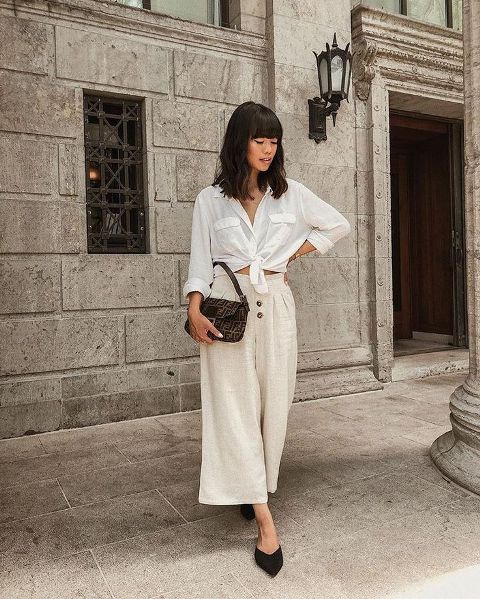 You can also go for wide linen pants an excellent sweat absorbent. The complete look is to wear with it a ice cream shade shirt or go for flats to make the outfit more comfortable for summers.
---
This look is bit formal yet very comfortable one. In this, a white brown- buttoned linen pant is worn with floral top and block heels. Block heels makes your look perfect for a office meeting or any event.
---
8. Korean Styles Dresses- Ruffled/ Front Bows/ Fully Buttoned
Love for Korean summer fashion trends is seen among the audience. Korean dresses are pretty, elegant, and classy. There are countless available options on multiple fashion hubs but a common pattern observed in Korean dresses is ruffled, front bow, and buttoned dresses. Ensure a distinct and charming look in every special event of your life with Korean dresses. Check out some of the best outfits and from where you can shop.
This beautiful light floral printed ruffled dress influenced from Korean Summer Fashion trend looks stunning in scorching sun. Ruffled dresses enhance your charm and help you to stand out among the crowd. Shop beautiful pieces of Korean dresses from Myntra.
---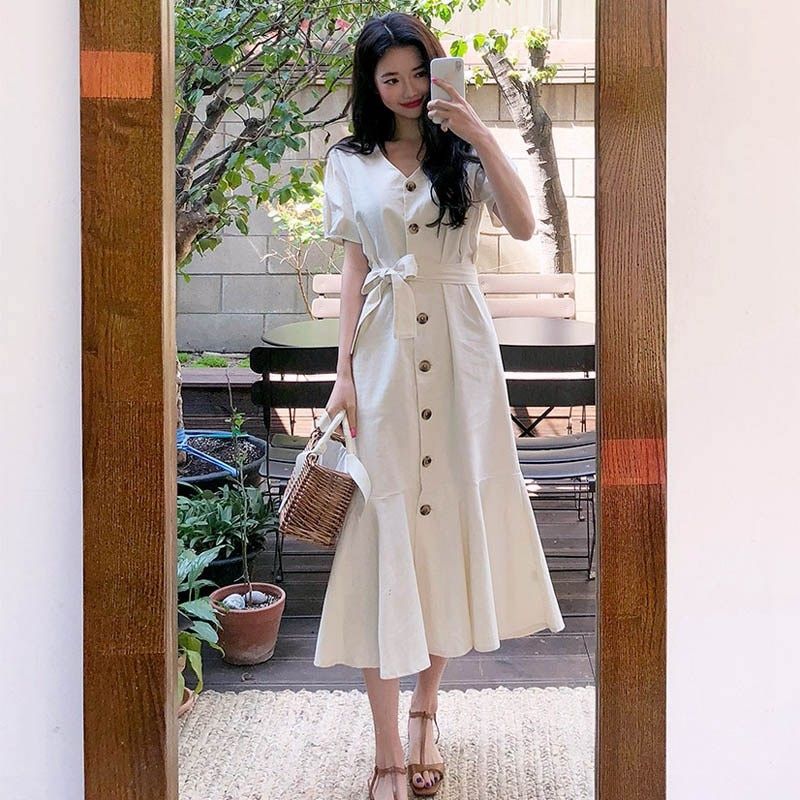 This look is great for a weekend when you are on your week off and want to spend your day in a comfortable yet very gorgeous outfit. You can pair up buttoned Korean dresses with flats and complete the look with a jute handbag.
---
Another very trendy variation of buttoned dresses is square neck with puffed sleeves. This can be paied up with sleek neck piece or choker & flats at the bottom.
---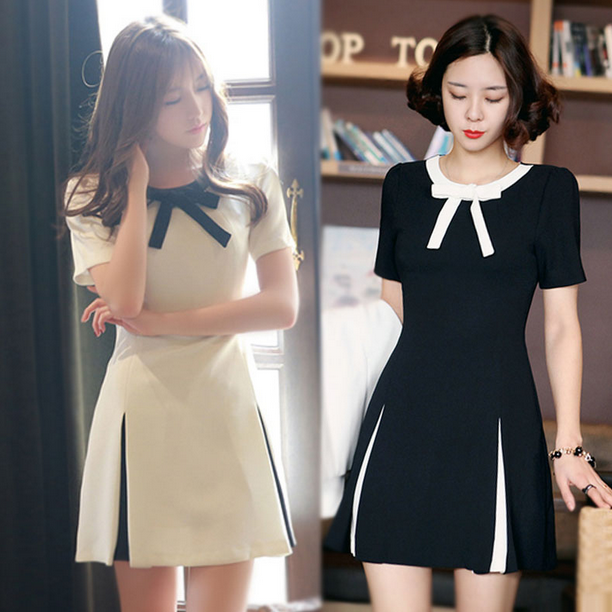 Front bow & collars are the mark of Korean dresses. However now the trend of front bow dresses is seen all around the globe. These dresses looks a bit formal. So for office wear you can handpick some of the best pieces from Korean style dresses.
---