Aarogya Setu App is India's COVID-19 tracking mobile application developed by National informatics centre on the orders of Government of India. It was launched on 2nd of April by Narendra Modi Indian government for the welfare of citizens of India. Aarogya Setu connects essential health care service with the citizens of India in order to provide latest updates over COVID-19.
App aims augmented initiatives of Indian Government and healthcare ministry for informing accurate, latest and relevant advisories to the people of India regarding Coronavirus prevention.
Over 50 million downloads have been done by the population which is almost equal to the population having smart phones.
India Defeated COVID-19 – Aarogya Setu
| | |
| --- | --- |
| Available In | 12 Different Languages |
| Requirements To Use | Bluetooth & Location Tracking |
| Available For | iOS & Android System |
| Helpline Number | 1075 |
How To Start With Aarogya Setu App?
Firstly download the app from Play Store. App is available for iOS operating system and Android systems.
On opening the App it will ask for access of your data and some terms and condition agreement. Click on OK button.
It will further ask for Bluetooth and location tracking access from the user. Now the process will go for other by asking general questions like your name, age, gender, occupation and more.
It's time to give self assessment test. It is a procedure in the chart form where user is asked various question in order to know his or her health updates, travel history or or are they facing any kind of symptoms related to corona virus?
Then your status will be updated that whether you are in Danger or Safe.
COVID-19 Updates By Aarogya Setu
Latest corona virus infected people, recovered people and decreased people accurate count will be updated in Aarogya Setu app in tabular form.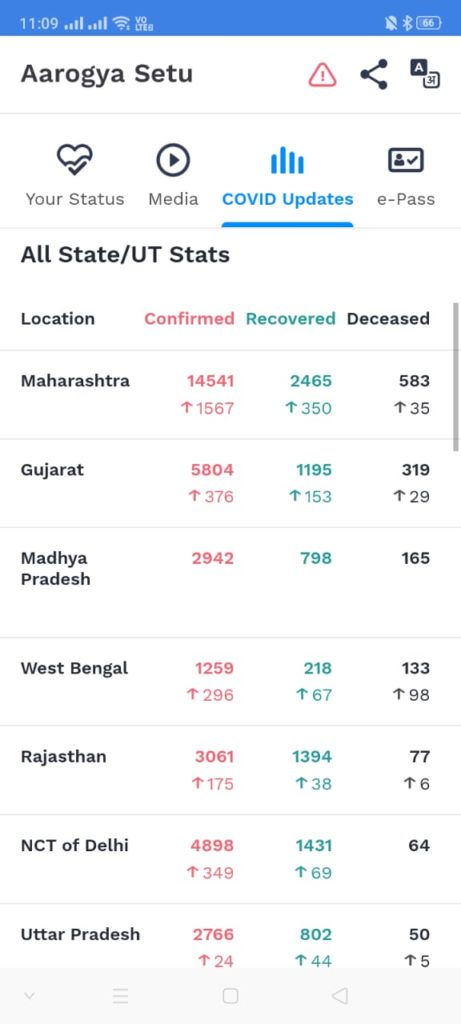 Indian State and Union Territories wise Coronavirus infected people updates will be provided to user
How It Will Protect You From Pandemic COVID-19?
Media In Aarogya Setu App
Beware Of The Fake News!!!!
Aarogya Setu app is one stop solution for all corona virus update prevention and steps to cure yourself and your family from this corona virus crisis. It shows that India's fight against corona virus is strict. Aarogya Setu depicts the best use of leveraging Technology by providing accurate information to the citizens.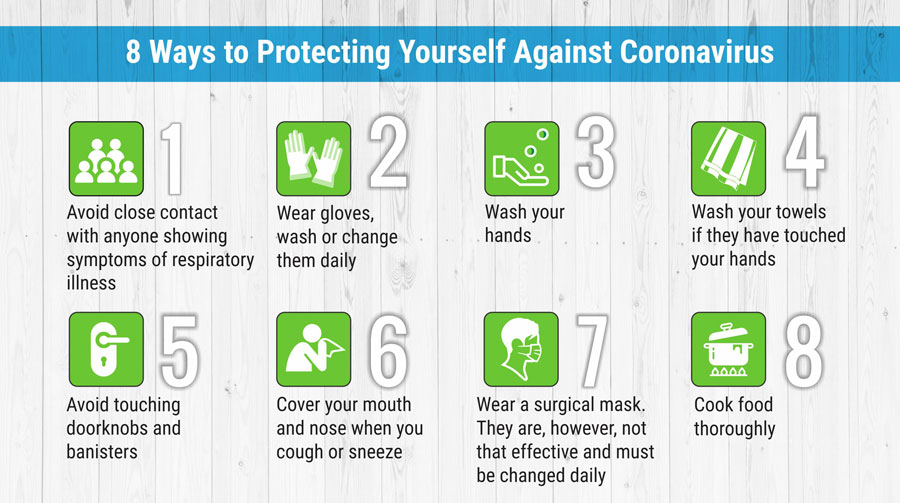 The media in Aarogya Setu App consists of –
Valuable tips given by the experts, ways to take

Preventive measures need taken at home or in public to defeat Coronavirus in India

DIY tips for making mask at home

Kadha recipe for boosting your immunity

What doctors want to say on Coronavirus in India
Collectively Aarogya Setu contact tracing app is working to provide relevant information among the population.
What Red Alert Symbol Says In The Aarogya Setu App Dashboard?
In contact tracing Aarogya Setu's latest update red alert symbol is added in the applications dashboard. Many of us became worried about what this symbol defects and what it wants to say.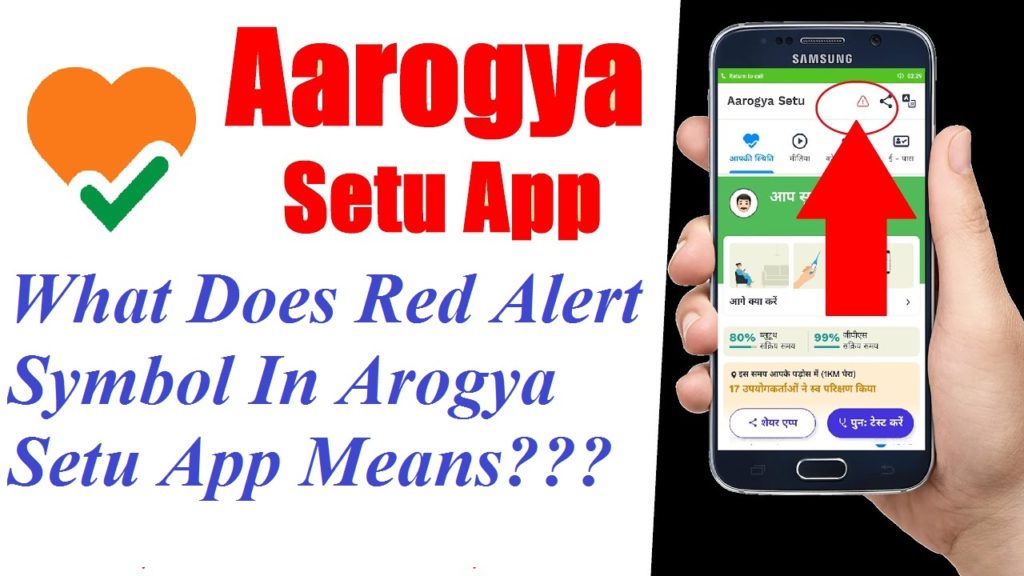 On clicking on the red alert symbol in Aarogya Setu app you will see two options-
Sample Collected For Testing

Tested Positive For COVID-19
Your approval and click of any one of these option will update the data in the service of the government. Various future decision and policies will also plan to fight against Coronavirus with information provided by the users.
So make sure you click on one only and only if your samples are collected for testing or you yourself is tested positive for COVID-19.
Donate In PM Care Fund Through Aarogya Setu
Donate in PM Cares fund for collective fight against Coronavirus COVID-19 pandemic in India. It is for the strengthening of equality of treatment for Corona virus and research for finding Coronavirus vaccine.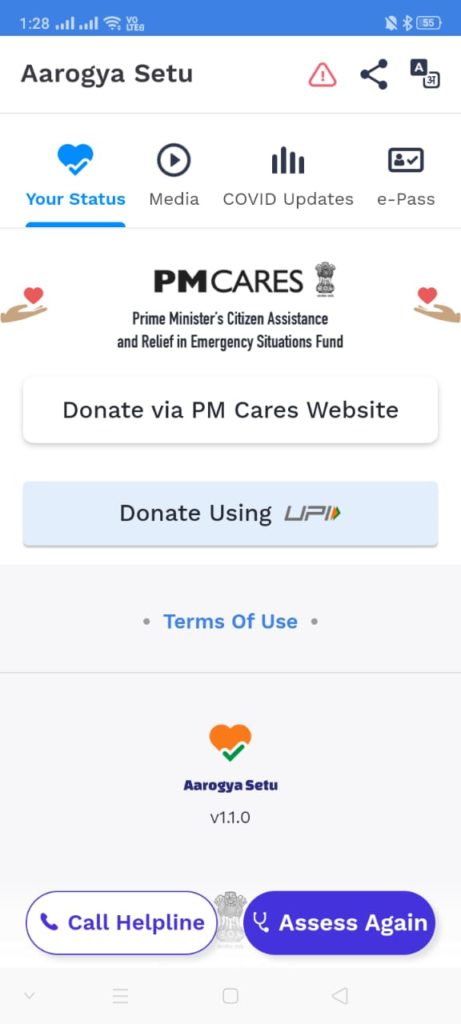 One can donate using UPI or directly donate through pm care website. The Prime minister is the chairperson of the trust. It's time to take one step carry forward by showing your effort in helping to get relief Coronavirus crisis.
E-Pass Feature In Aarogya Setu App
E-Pass facility is provided only to those citizens of India who are working in essential services like medical care, police, media services, water department and much more.
However one can Apply for E-Pass from the various mediums. Once your E-Pass is generated it will be shown in your Aarogya Setu. By just clicking on the E-Pass option in the dashboard. Answer to your various queries is given within the app Aarogya Setu.
Aarogya Setu App Encourages For Regular Self Assessment Test
Just answering to simple questions one can does self assessment test. As per the guidelines the information provided to this chart is used for monitoring and management of current health crisis and to fight against Corona virus in India. It is requested to user to answer the question with complete honesty in order to maintain the accuracy of the data.
Self assessment test is taken in chat light format and you have to answer simple questions. Once the test is done it will show your status at last that are you in the risk of infection? Or are you safe?
Concerns Related To Aarogya Setu App
Giving a says of location and Bluetooth long with some private information like bank details, Aadhar details and more; Aarogya Setu app has given rise to many concerns and issues.
Rahul Gandhi in his recent tweet stated Aarogya Setu as–
"Sophisticated Surveillance System outsourced to private operator with no institutional oversight"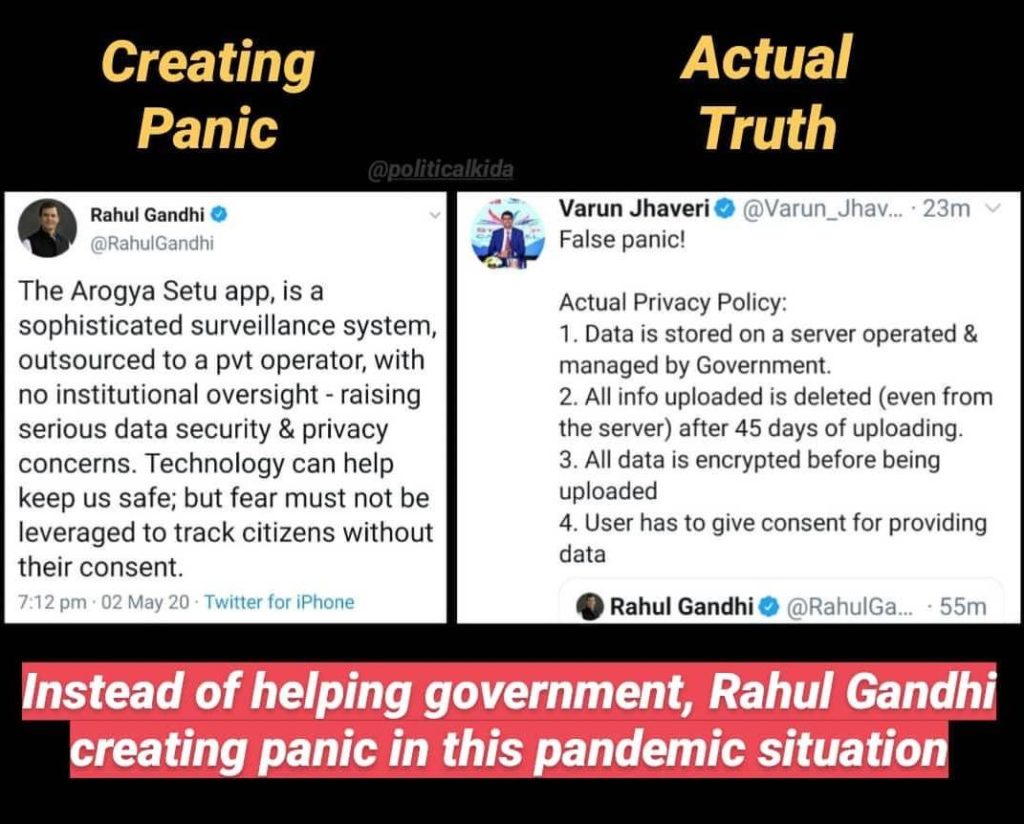 In the revert of this CEO of Ayushman Bharat Varun Jhaveri clarified the apps policy and terms and Condition by a tweet Saying-
"All info uploaded is deleted (even from the server) after 45 days of uploading"
Answer to the question is still remained unrevealed that which government authority is managing the data of UPI donations, epass details and much more given in the app.
Coronavirus Tracking App In Different Countries
| Coronavirus Tracking App | Country |
| --- | --- |
| Aarogya Setu | India |
| Corona 100 M, Corona Map | South Korea |
| Trace Together | Singapore |
| COVID Safe | Australia |
| HaMagen | Israel |
| Smittestop | Norway |
| Stop Korona | North Macedonia |
| Immuni | Italy |
| GH COVID-19 Tracking App | Ghana |
| eRouska | Czeh Republic |
In other countries it is voluntary allowed to install over tracking app. In India it is mandatory for every private and public employee to download Aarogya Setu app for the sake of health of citizens of India.
Applause For This Collaborative Effort Of Indian Government!!