The Indian current population is 1,376,640,878 as of April 2020, according to Worldometer. Total cases in India till now are 3265 and the death toll is 80. "This is a fight against coronavirus". The first three coronavirus cases were reported in Kerala, who were students and had returned from Wuhan, China.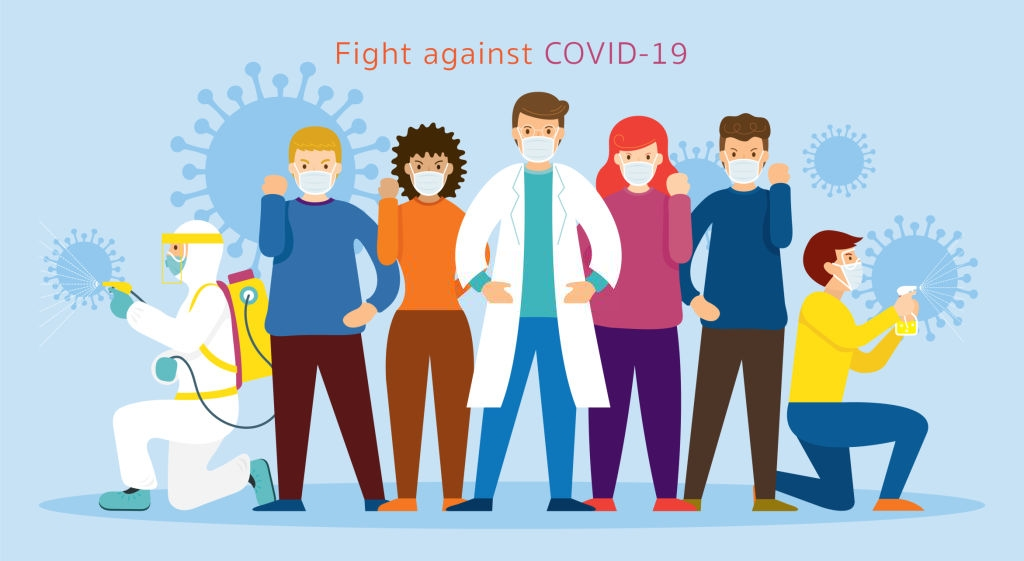 The transmission escalated in March 2020, after various COVID-19 cases were reported all over the nation, most of them were linked to people with a travel history. If you are observing any kind of relevant symptoms, then you can book online doctor consultation on Medlife as well as get medicines at your doorstep.
Measures Taken By the Government To Fight Against Coronavirus Outbreak
➤ Avoid/Postpone Mass Gatherings
The Indian government has appealed to the residents to avoid or postpone mass gatherings; moreover includes the cricket tournament, the Indian Premier League.
➤ COVID-19 Tests
Free Tests are conducting by the government only in government hospitals. Around 53 labs can test COVID-19 disease in India.
➤ Travel Restrictions
India announced the suspension of "all existing visas" till April 15, 2020. No more visitors will enter in India.
➤ Quarantines
After the COVID-19 attack in India, The first quarantine idea was set up on January 31.
➤ Shutdowns
In India, all colleges, all schools, cinemas have been shut till April 14. Many private companies have provided work from home to their employees to prevent coronavirus.
---
Government Efforts To Break the Coronavirus Chain
➠ Janta Curfew
On 19 March, on the live telecast, Indian Prime Minister Narendra Modi asked all Indians to observe 'Janata Curfew' (people's curfew) from 7 am to 9 pm on 22 March.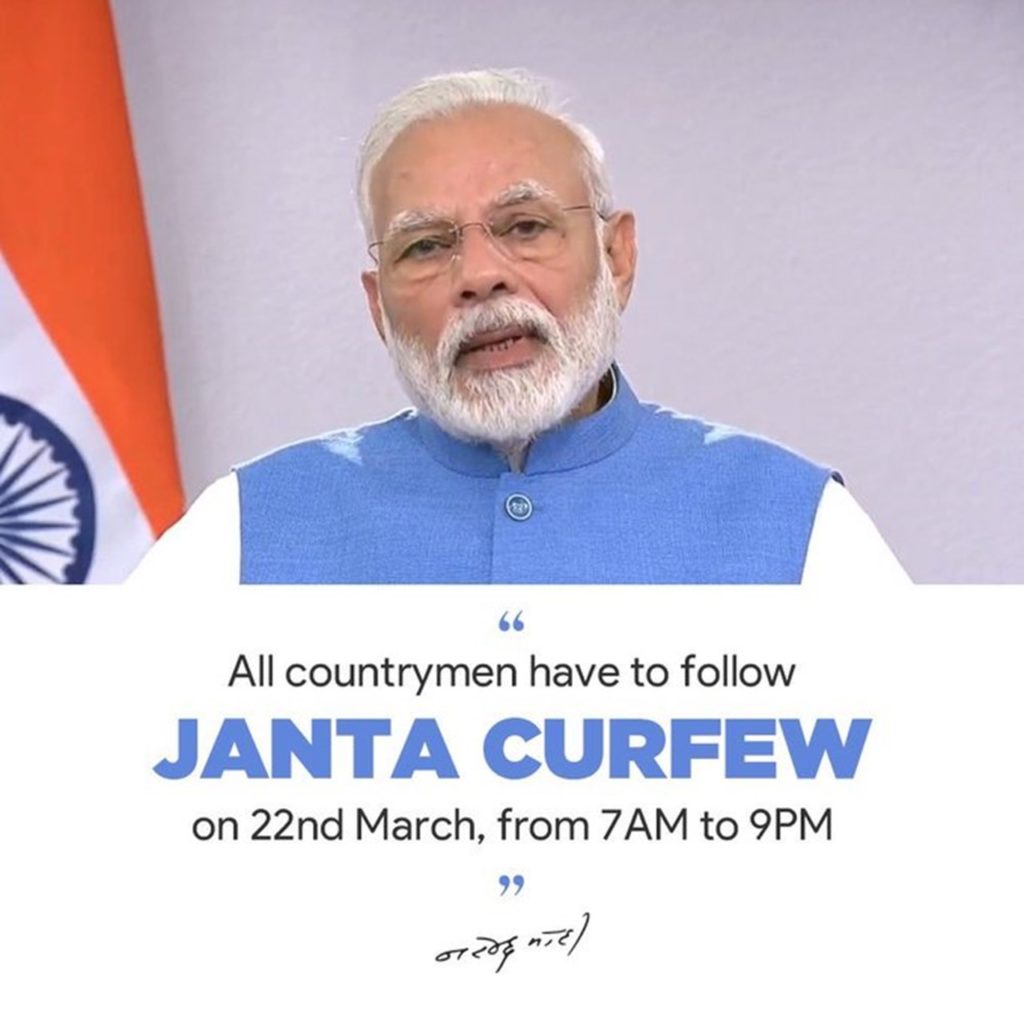 During this curfew, he asked:
✔ Stay at home.
✔ Avoid routine medical checkups.
✔ Elective surgeries to reduce the burden on the health departments.
✔ Appreciate the work done by various sectors by standing in front of doors, windows or balconies at 5 pm and applaud them for five minutes.
✔ Announced a nationwide lockdown for 21 days.
✔ 15,000 crore aid for the healthcare sector.
✔ On 3 April, PM Modi requested to the nation to turn off the lights for nine minutes and lighting the candles on 5 April.
➠ Preventive Measures
✔ Helpline – Union and state governments have provided national and state helpline numbers.
➠ Travel and Entry Restrictions
✔ On 3 March, the government of India stopped issuing new visas.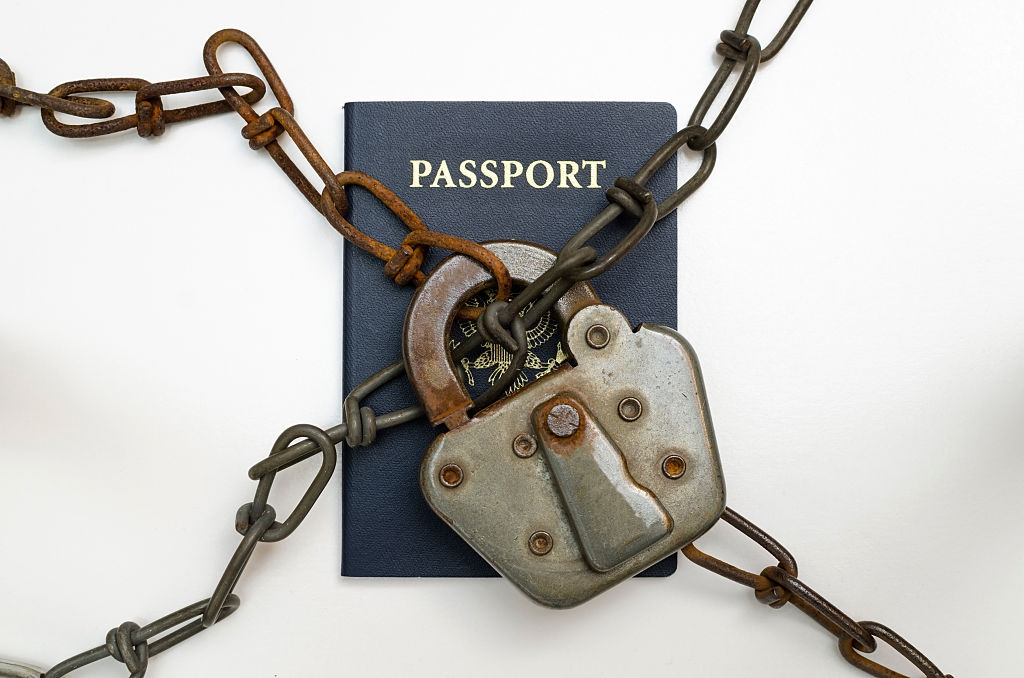 ✔ On 4 March, Dr. Harsh Vardhan(the Minister of Health and Family Welfare), announced a compulsory checkup of all international passengers arriving in India.
➠ Closedown and Curfews
✔ Delhi government on 5 March announced that all primary schools would be closed till 31 March to prevent infection.
✔ On 10 March, Kerala announced the closing down of all schools and colleges in the state till 31 March.
✔ On 12 March, the Chief Minister of Delhi Arvind Kejriwal said that all schools, colleges and cinema halls in New Delhi would remain closed till the end of March.
✔ Chandigarh higher authorities ordered to shut shopping malls, cinema halls, gym, and nightclubs, coaching institutes, reaches, and video game parlors till 31 March.
➠ Lockdown
✔ On 24 March, PM Narendra Modi announced a nationwide lockdown, starting from that day for 21 days.
➠ Situation
Panic Buying
✔ After hearing the Modi's speech, people got people and started buying essential home products.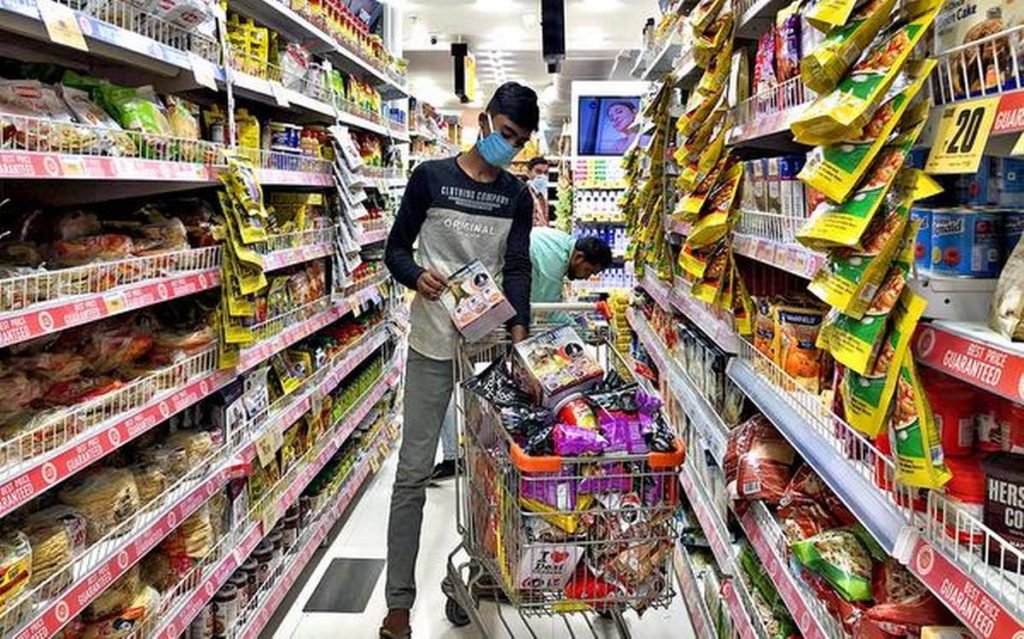 ✔ Retailers increased the price of well more than double on 19 March as consumers rushed to buy essentials.
✔ In response to this, Modi assured the citizens that we have enough food and ration and advised Indians against panic buying.
➠ Escaping of Suspected People
Some of the infected people escaped from the quarantines and hospitals:
✔ Punjab
26-year-old women infected with the coronavirus have been reported to escape from the hospital in Punjab.
✔ Chhattisgarh
35-yr-old man hail from Tagapani, Dhamtari was in isolation by the health dept. after returning from Tamil Nadu, he commits suicide.
✔ Gujarat
90 people have broken self-isolation rules. FIRs have been filed against them.
---
How India Inc. has Come Together To Fight Against Coronavirus?
➠ Measures Taken By Common People:
■ Punjab Police have been distributing food packets across the state amid the COVID-19 crisis.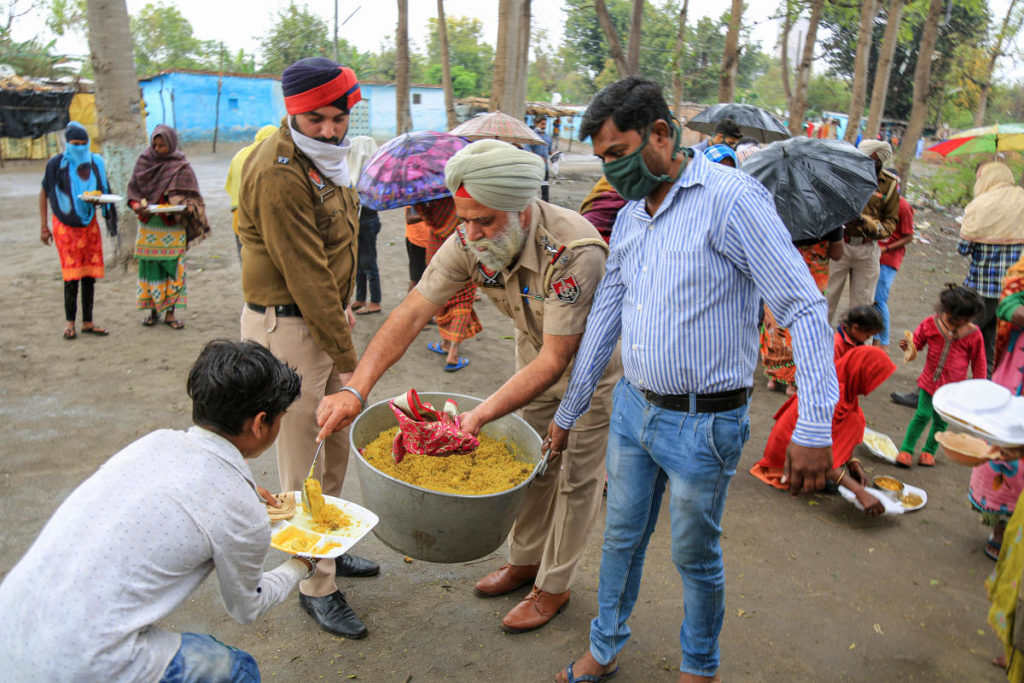 ■ Some Health workers sanitize their partners after disinfecting the place near the Nizamuddin mosque.
■ A vendor sells face masks at a market during the lockdown due to coronavirus outbreak, in Jabalpur.
■ A police person raises his baton on masses for not obeying lockdown guidelines, imposed due to coronavirus pandemic, in Karad.
■ A worker sprays on the truck to disinfect while entering the APMC grain market, because of coronavirus pandemic, in Navi Mumbai.
■ Consumers maintain social distance while standing in a queue to receive food and ration during the lockdown in the wake of coronavirus, in Mathura.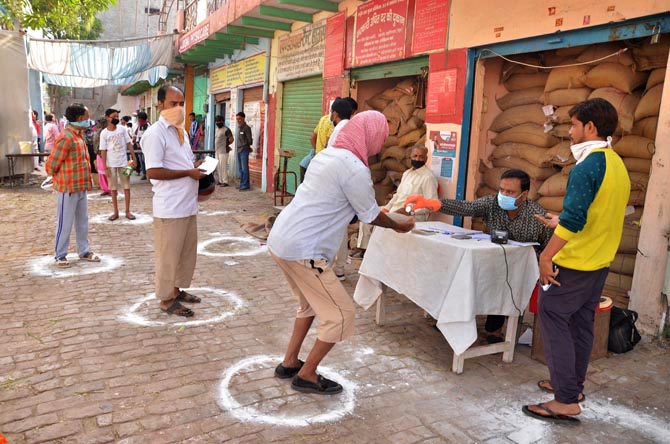 ➠ Centre Forms Some Teams To Fight Against Coronavirus Pandemic
The Centre has made 10 different groups including bureaucrats and specialists to ensure proper implementation of the government measures to fight against coronavirus.
Here are the groups:
1. Medical Emergency Response Team – To ensure the availability of a doctor or doctors and medical staff in the pandemic coronavirus hotspots.
2. Regular Supply of Medical Equipment – To ensure the availability of required equipment such as masks, sanitizers, and ventilators.
3. Enough Hospitals and Quarantine Facilities – To provide medical and quarantine facilities across the country
4. No Shortage of Food and Medicines – A separate group has been formed to provide food and medicines across the nation
5. Coordination With The Private Sector and International Organizations – It has been made for performing response-related activities.
6. Economic and Welfare Measures – It is for people suffering from pandemic coronavirus attack.
7. Public Grievances and Giving Suggestions – It has been made for improving the measures for tackling with COVID-19.
8. Data Management – It is made for managing the data for the pandemic.
➠ Government Informatics Centre Developed App For Latest Coronavirus Updates
Aarogya Setu App is developed by the National Informatics Centre in order to provide relevant and updated information to the users. Indian Government has launched this COVID Tracking App on 2nd April. Read Out Aarogya Setu Step By Step Guide with all its working and latest features.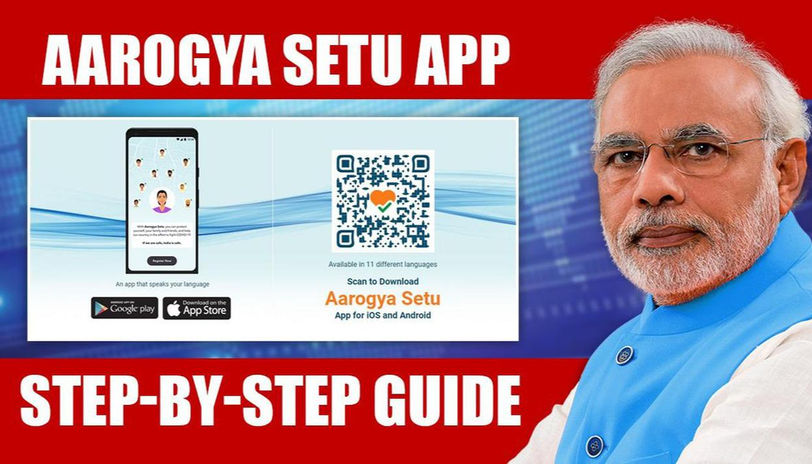 Downloading of the Aarogya Setu app is mandatory for Public and Private Sector Employees. Know Your Status now!!!
➠ Finance Minister Announced a Series of Measures to Fight Against Coronavirus
On 26 March, the Indian Finance Minister announced a Rs 170,000 crore package under a new scheme, the Pradhan Mantri Gareeb Kalyan Yojana (PMGKBY).
Nirmala Sitharaman(FM), at a press conference in the Delhi(Capital), announced multifarious measures
✔ Food transfers at free of cost

✔ Concessions on government schemes

✔ Cash for vulnerable segments
Beneficiaries of These Measures Include Those Below the Poverty Line
➤ Farmers

➤ Women

➤ Elderly citizens

➤ Physically challenged

➤ Construction workers

➤ Workers in organized and unorganized sectors

➤ Sanitation staff

➤ health care personnel
The PMGKY had two broad components: food availability and income support:
✔ First – (Farmers under Kisan scheme) Sitharaman said that the next installment Rs 2000 would be given immediately to the farmers.
✔ Second – (workers under the Mahatma Gandhi National Rural Employment Guarantee Scheme (MNREGS) Daily wage of worker has been increased by Rs 20, now they will get Rs 202.
✔ Third – (poor widows, citizens above the age of 60, and the physically challenged) will get an extra amount of 1,000 that will be given in two installments.
✔ Fifth – (women self-help groups (SHGs) were eligible for getting a loan up to Rs 10 lakh. Now, the loan amount is up to Rs 20 lakh.
✔ Sixth –(organized workers) The government will give both the 12% share of the employees, and the employers. So a total of 24% per month for three months will be given to employees to ensure there is no break in the continuity of EPFO contributions. This will apply to a salary of less than Rs 15,000 per month.
✔ Seventh – (construction workers) state governments get directions to utilize 31000 crore to provide help to construction workers to protect them.
✔ Final – This announcement was for requesting state governments to utilize these funds to supplement medical testing and screening activities to fight against coronavirus.
---
India needs to take these steps immediately in order to fight against coronavirus:
➤ Private medical labs are banned from conducting coronavirus tests currently. The private sector must be allowed to test the virus.
➤ Many international testing kits are banned in India. Other countries like the US and Europe have used these testing kits.
➤ In hospitals, People are infecting each other while waiting in a queue. The people standing in a queue must stop as they should provide a number of collectors.
➤ The government must have a large number of funds to make the testing free.
➤ Private hospitals must be insisted to take coronavirus patients and create isolation. World Health Organization is urging countries to take initiative to take COVID-19 testing, but the Indian Government believe doing so will increase 'more fear, paranoia, and more hype'