Bringing a dog for the first comes with great responsibility- the responsibility to provide top-notch food, timely check-ups, and your time to that little creature. Having a pet is no easy task when you do not have any prior knowledge and experience. So, we came up with the best dog food brands to weigh off your shoulders. Only just about brands, we will educate you about the types of dog food and will add a dog feeding chart here.
Good Nutrition is the requirement of all living creatures, no matter whether it's a human or a dog; everyone has the right to get a nutritious diet. Providing good quality diet to your dogs will improve their health and will increase their life span. There are many dog food brands that manufacture the perfect amount of protein and nutrition in the food. But one question may strike in your mind 'How much should I feed my dog'. To answer that we have made a dog feeding chart according to the dog's weight.
| | |
| --- | --- |
| Adult Dog Size (lbs) | Dry Food Feeding Amount (cups) |
| 3 to 12 | 1/3 to 1 |
| 13 to 20 | 1 to 1 -1/3 |
| 21 to 35 | 1 -1/3 to 2 |
| 36 to 50 | 2 to 2 -2/3 |
| 51 to 75 | 2 -2/3 to 3 -1/3 |
| 76 to 100 | 3 -1/3 to 4 -1/4 |
| 100+ | 4-1/4 plus 1/4 cup for every 10 lbs of body weight over 100 lbs   |
This is a very basic chart for dry dog food; you can consult a doctor or take help from the guide given at the back of a pack.
Best Dog Food Brands
Drool
Drool is a popular dog food brand in India that doesn't add any antibiotics or chemicals to affect hormones. It is made with pure chicken and digestible protein. Drool dog food strengthen the bones of your dog and gives the energy from within. Moreover, it promotes shiny and healthy fur on the dog which doesn't shred by rubbing the hand.
---
Pedigree
Pedigree food fits dogs of all breeds, sizes and age groups. It is rich in proteins and uses the finest quality chicken. It has a huge variety of products for both dogs and puppies. All the food by pedigree has a good amount of crude fibre which is required to maintain the gastrointestinal health of the dog. It is the best dog food brand in India.
---
Royal Canin
Royal Canin is prominent due to its affordability and variety of food. It makes food based on its nutritional value. It supports the small business by picking the raw material directly from the manufacturer and provides to small suppliers close to production units. This promotes and supports the local economy and promotes work to the people. The products of royal canin are rich in antioxidants.
---
Fidele
Fidele produces dog foods that ease their digestion, provides the right amount of protein and includes all the required fatty acids. This underrated brand uses chicken, rice, turmeric, coconut oil, ginger, flaxseed, etc. which is a perfect blend of new and old dog food recipes. This company is so dedicated to their work that they donate part of their sale to stop animal cruelty.
---
Meat up
Meat up is a dog food brand that works against adding any artificial preservatives, colours, or flavours and is GMO-free. All the products of meat up are well stored with chemicals. It has a huge demand in the market. This company also manufactures dog supplements and has a huge range of dog treats and foods in the world.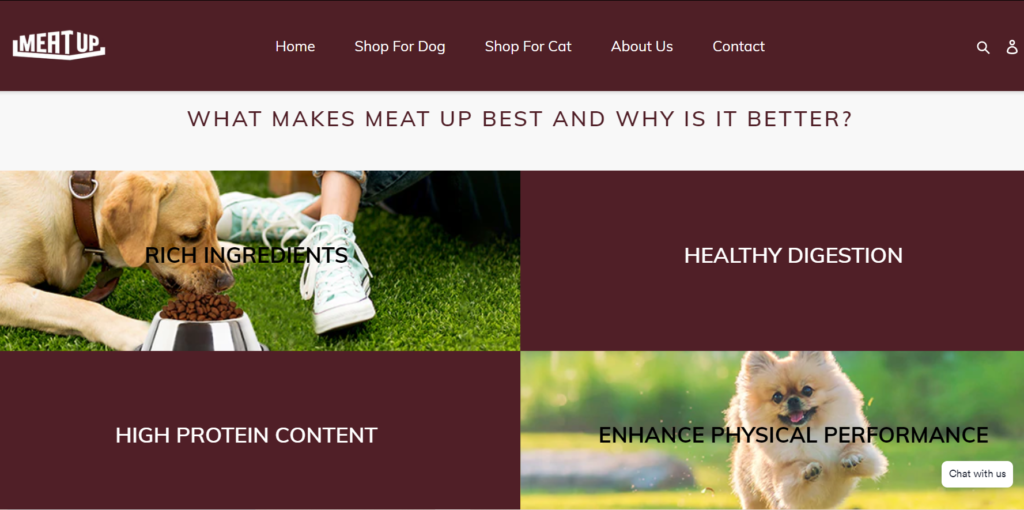 ---
Purepet
Purepet manufactures products that do not use grains, corn, gluten, soy, beef, or pork. All these products can put a bad effect on the health of your dog. Choosing the best company and best product is very a confusing yet important decision. You can order food online from sites like Amazon and use amazon coupons for additional discounts on the bills.
---
Orijen
Orijen has a strong policy against using artificial preservatives. They do not add chemicals and only use the right amount of protein. The brand has a premium feel and is the most luxurious and top-notch Indian brand. However, it is also the most costly so middle-class families skip using this.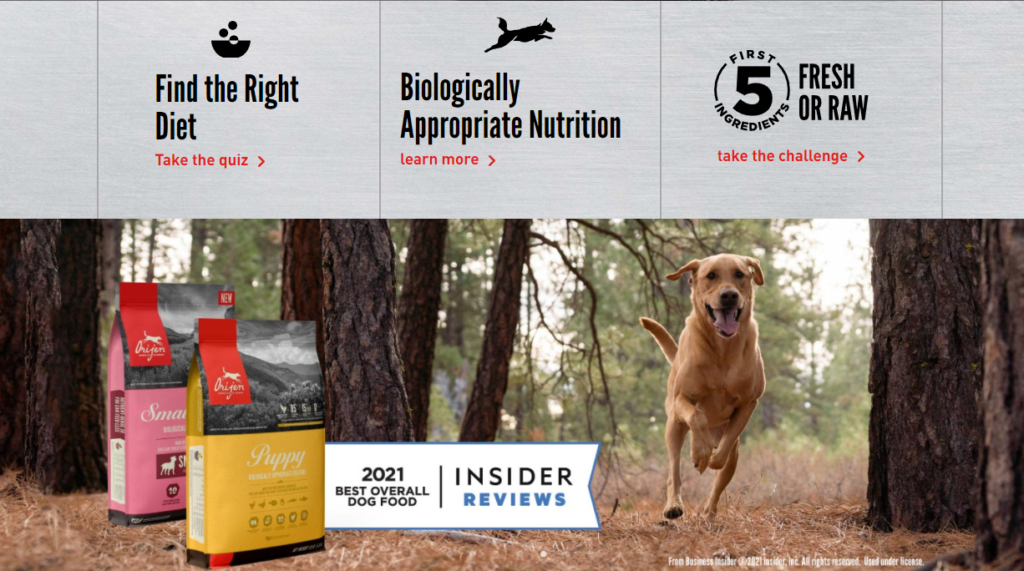 ---
Taste of the wild
Taste of the wild is popular for the unique combination of the composition of food which they try. Their food tastes different due to differences in the number of products added. The best selling product of Taste of the Wild is Pacific Stream. The premium choice food of this brand is Taste of the Wild Prairie Grain-Free, Canned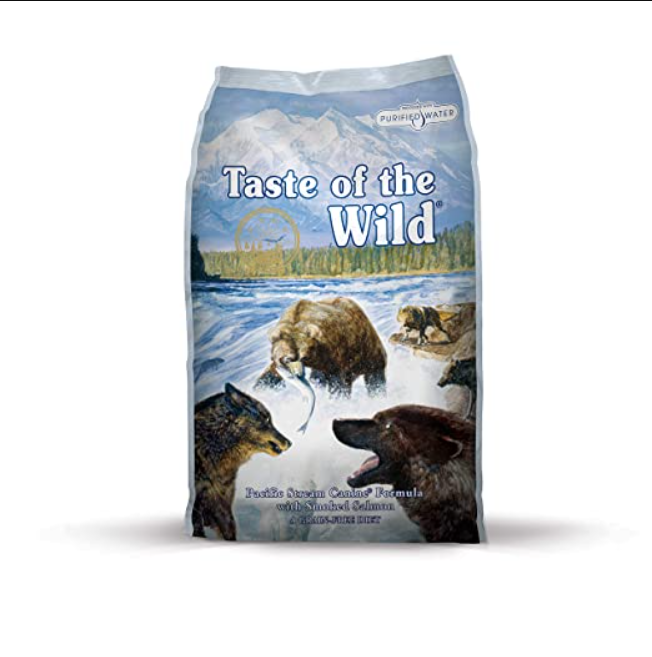 ---
Chappi
Chappi falls under the category of cheapest dog food in India but that doesn't compromise on the quality of raw material which is being used. It is made without adding eggs, soya, dairy and red meat. Also, it is quite suitable for Pugs, Beagle to Labrador, Golden Retriever & German shepherds. Chappi dog food has CA and P to support healthy bones. It is very light-weight so you might have to serve multiple times.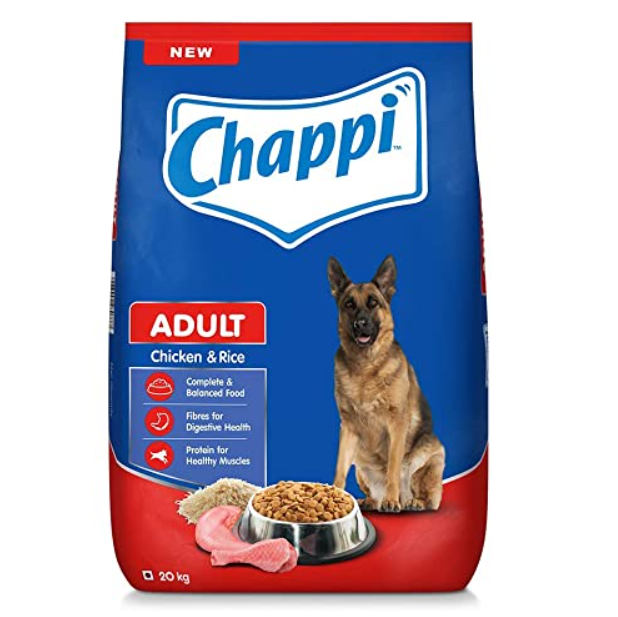 ---
Wag and love
Wag and love is a dog food brand that uses fresh, deboned Dutch chicken, Norwegian fresh salmon meat, fruits, vegetables, ayurvedic herbs, and natural oxidants. This company preserves the nutrients, flavour and palatability of the food by using nitrogen flushed packages and metal-coated packaging. This brand is very vigilant towards the nutritional extracts of the food and is working toward preserving every bit of it.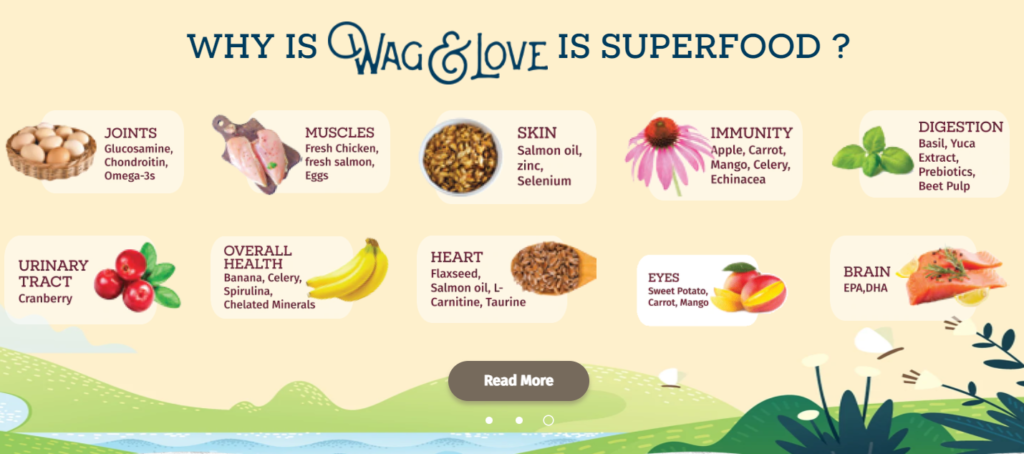 ---
Types of Dog Food
We have just read about the dog food brands but do you know there are multiple types of dog food. We will be learning more about it below.
Dog Biscuit
Dog biscuits are made with hard material which leads to the exercise for the jaws of the dogs. It is like a supplement in their diet and works as a snack instead of proper food. It promotes canine oral hygiene and almost all the brands make this product. It is a part of the dry dog food list.
Wet Dog Food
Wet dog food resolves a major problem in the dogs and that is dehydration. These kinds of foods are rich in water level but consist lesser amount of nutrients as compared to dry dog food. It is best suited to the younger dogs/ puppies, especially those who are choosy. The smell of wet dog food makes it even more desirable and it has a thick consistency, which is loved by dogs.
Semi-Moist Dog Food
Semi-moist dog food is more expensive than dry dog food. It consists of more than 50% of water in the plate. However, it has all the benefits of wet dog food but it tends to have more preservatives than dry food and it is much easier to digest as well. This food may not suit all breeds of dogs because it contains a few amounts of sugar and salt. Sugar is kind of unfit for dogs.
Dry Dog Food
Dry dog food is the perfect fit for all kinds of dogs and dogs too, like eating this kind of food. It comes in a huge variety, but if your dog's water intake is less then this food can decrease the water level and leads to dehydration.  Dry dog food is also known as kibble. This food is not difficult to serve the dogs and you can give it multiple times without any mess for the dogs. It is better for their oral health which is not taken care of in wet or semi-moist food products.
Canned Dog Food
Dogs prefer canned food over dry food due to the larger portions of food. They love this type of food and prefer it over dry dog food. But this food contains few preservatives which can lead to some harmful side effects to the health of your dog.
Food for Puppies
Puppies should not be given adult dog food because the puppy food is specially made according to their growth. The puppy food contains approximately 22% protein because they are yet to grow but dog food contains 18% protein in the food composition.
Vegetarian Dog Food
Many people do not eat meat and do not want their dogs to eat meat either. For them, vegetarian dog food is the ideal choice. However, a vegan diet may lack the amount of protein and few nutrients which are required for the dog's health. But this way you can protect your dog from getting the disease that occurred due to meat, for instance, rashes or fleas. It is the best dog food in India.
Also Read- Best Vegetarian Protein Sources