Diwali is a festival of lights, colorful decorations, and Diwali Sweets. Indian festivals are almost incomplete without sweets. Diwali is the most auspicious occasion for Indians. In Hinduism, Diwali is celebrated due to Bhagwan Ram's arrival in Ayodhya after 14 years of exile. It is also celebrated by non-Hinduism communities. Diwali is known as the festival of lights as Deepmala on Deepawali symbolizes the inner light that protects from spiritual darkness. We usually share gifts and sweets with our friends, family, and neighbors.
Check out the 20 Unique Diwali Decoration Ideas At Your Home
Here, we are going to share top 5 diwali sweets recipes that can easily be made at home. Prepare and share the recipes with your friends and family.
Top 5 Diwali Sweets Recipes
Jalebi
Jalebi is one of the most popular desserts of India that makes it appearance on various special occasions and festivals. This tasty, crispy, and delicious dessert is also very easy to make. Learn these Diwali sweets recipes that can easily be made at home.
Jalebi is basically fermented flour batter that is poured in hot oil in spiral form and fried until it turns golden brown. Then, dipped in sugar syrup for sweetness. But the tricky part to make jalebi is the consistency of the batter. If your batter is made correctly then you can expect a perfect Jalebi.
Recipe to make crispy instant Jalebi at home
✔️ Starting with the sugar syrup, add sugar to the pot along with ¼ proportion of water.

😋 Boil it till one string consistency

✔️ Now add 1 tsp lemon juice, saffron, and cardamom to the sugar syrup and set it aside.
Making Jalebi Batter
✔️ In a mixing bowl, mix ½ cup maida, 1 tsp cornflour, 1 tsp curd.

😋 Then add half tsp vinegar and water.

✔️ Mix well in round circular directions for 4 minutes.

😋 Now add baking soda and give a gentle mix.

✔️ Now pour this batter in the bottles having a pointer like sauce bottles carefully.

😋 Heat oil in a pan and add 1 tbsp of ghee.

✔️ Squeeze the bottle and make round spirals with the batter.

😋 When one side is partly cooked, turn over and fry the other side.

✔️ Fry till the jalebis are a light golden.

😋 Then immediately drop the fried jalebis in the warm sugar syrup for 30 seconds (1 string consistency).

✔️ Finally, serve jalebis hot, warm or at room temperature.
Recipe Credit: Hebbars Kitchen
---
Rasgulla
Rasgulla is a soft and spongy dessert made with curdled milk and sugar syrup. It is one of the most popular Bengali diwali sweets recipes. It is also one of my favorite and popular recipes that I am going to share with your guys. Also, check for the quantities of the ingredients carefully.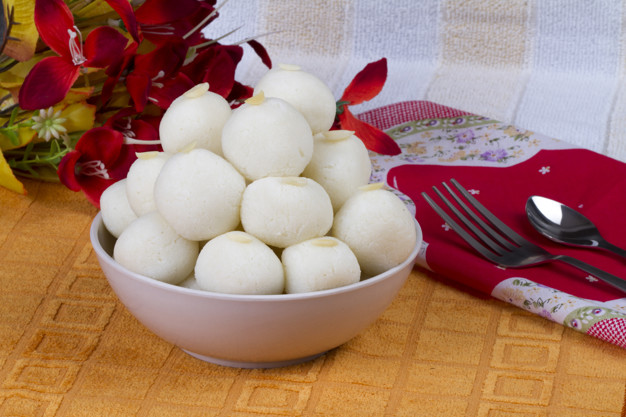 How to make white Rasgulla?
😋 Take 1 litre of whole milk in a pan and keep it to boil on a low to medium flame.

✔️Keep on stirring the milk at intervals so that the froth is not formed on top and milk does not get sticked to the bottom and leave a brown shade.

😋 Add 1 to 3 tbsp lemon juice. Stir after adding the lemon juice.
Substitute of Lemon- One can use Vinegar or Yogurt if lemon juice is not available at the moment.
✔️ Now pour the curdled milk in the cheese cloth/muslin lined strainer or bowl.

😋 Gather the muslin from the sides and rinse the chenna or coagulated milk solids very well in running water. This will low down the flavour of lemon from chenna and also chenna's temperature.

✔️ Now squeeze the muslin with your hands firmly, so that excess water is drained from the chenna.
Tip– Squeeze it firmly so that no excess water remains in chenna otherwise the Rasgulla will break down while cooking.
😋 Add 1 tsp unroasted sooji or rava into the chenna. You can also add an all-purpose flour/maida. Both of these ingredients works as binding agents.

✔️ First mix the sooji with chenna and then begin to knead with the heels of your palms. while kneading chenna, if you see that it is moist or watery, then this means that there is more water.

😋 Knead to a smooth ball of chenna which should be able to come together without breaking or falling apart.

✔️ Cover all the chenna balls with a moist muslin cloth keep aside.
Sugar Syrup
✔️ In a large pan, take 2 cups of sugar and water in a wide pot.

😋Stir so that the sugar gets dissolved. Add cardamom pods to keep the sugar syrup clear.

✔️ Now bring it to a boil and add some rose water to it. Remove cardamom pods and add chenna balls into it at medium flame.

😋 Keep the pan covered for 9 to 10 minutes. Heat and temperature od the pot steady for spongy Rasgullas.

✔️ Keep the pot covered and turn off the flame. After approximately 10 minutes when the pot has came to room temperature open the lid. Serve it chilled.
---
Gulab Jamun
A classy Indian sweet that is often counted as the best Indian desserts. Also, one of the popular Diwali sweets recipe. It is made with khoya, milk powder, cardamon and rose water primarily.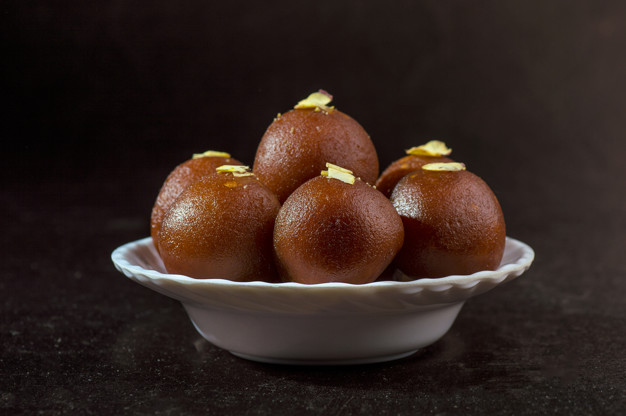 Gulab Jamun Diwali Sweets Recipes
😋 Take 1 cup khoya or mawa (200 grams) in a bowl and mash it well with your palm.

✔️ Then add ¾ cup or 100 grams grated paneer, fine Rava (semolina), 2 tablespoons all-purpose flour, ¼ teaspoon baking powder, and ½ teaspoon cardamom powder to the mashed khoya. Mix well.

😋 Add 1 tablespoon milk and gather together to form a dough with milk. Don't knead. just gently mix. Cover the dough and keep aside for 30 minutes.
Sugar Syrup For Gulab Jamun
✔️ Mix 1.75 cups (250 grams) sugar in 1 cup water.

😋 On a medium-low flame, heat the sugar solution till it becomes sticky. You just need to switch off the fire before the syrup reaches a one thread consistency.

✔️ Add rose water and stir.
Frying Gulab Jamun
😋 Make small balls from the dough without cracks.

✔️ Heat oil until it is medium hot.

😋 Once they start to have tiny golden spots, keep on rotating them in the oil, so that the Jamun are evenly browned.

✔️Then place the hot gulab jamun in the sugar syrup.

😋 When all the gulab jamun are placed in the sugar syrup, then keep the whole pan on a low flame for 1 to 2 minutes, till the Jamun become soft. Heating helps the Jamun to absorb the syrup and become soft.

✔️ Serve Gulab Jamun warm or at room temperature.
Recipe Credit: Veg Recipes Of India
---
Rasmalai
Rasmalai is basically a Bengali sweet delicacy that is prepared with the combination of paneer balls with rabri. It is the best sweet dish for satisfying the want of your sweet tooth. Also, very easy to prepare at home. Delight your guests with your extraordinary skills of making it with perfection by just following the given easy Diwali sweets recipes.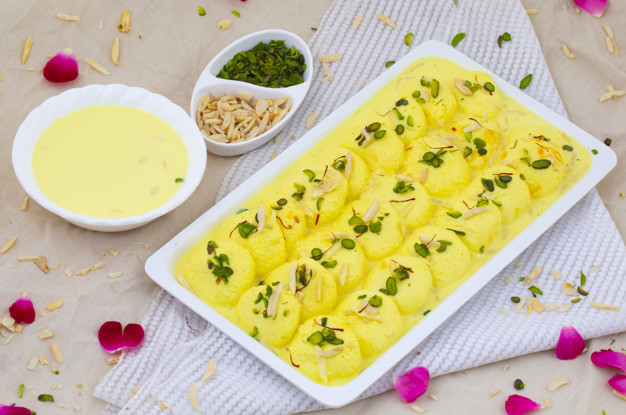 How to prepare Chenna for Rasmalai?
✔️ Firstly, boil milk 1 litre full cream milk.

😋 Additionally, add lemon juice and stir till milk curdles completely.

✔️ Drain the curdled milk and squeeze off excess water.

😋 After 30 minutes, start to knead the paneer for 10 minutes.

✔️ Make small balls from the kneaded dough and flatten. Keep aside.
Sugar syrup recipe for Rasmalai
😋 Firstly, take 1 ½ cup sugar with 8 glass of water.

✔️ Boil the syrup for 10 minutes.

😋 After that, drop the prepared paneer balls.

✔️ Cover and boil for 15 minutes.

😋 Then, squeeze of sugar syrup.
Rabri Recipe
✔️ Firstly, heat milk and get to a boil.

😋 Once a layer of cream is formed over the milk, stick it to the sides of the vessel.

✔️ Repeat the process for at least 5 times or till milk reduces to one-third.

😋 Further, add sugar, cardamom powder, and saffron milk.

✔️ Mix it gently and get to boil.

😋 Scrape off the collected cream from the sides and give a good stir.

✔️ Now, refrigerate it for 2-3 hours.
Rasmalai Recipe
😋 Firstly, pour the chilled rabri / rabdi over the squeezed paneer balls.

✔️ Finally garnish with few chopped nuts and allow to absorb for 2 hours.
Recipe Credit: Hebbars Kitchen
---
Besan Ladoo
Besan ladoo is a traditional Indian recipe made by generations on the festive season. These are delicious sweet balls made with gram flour, sugar, nuts, and ghee. It's aromatic and melting factor makes it the most prepared and best of all Diwali sweet recipes. Learn how to make it quickly at home.
Best Diwali Sweet Recipe Besan Ladoo
😋 Firstly, in a large kadai heat ½ cup ghee and add 2 cup besan.

✔️ Roast on low flame until the coarse besan with grainy texture is well combined with ghee.

😋 Continue to roast on low flame. After 20 minutes, the besan starts to release ghee.

✔️ Continue to roast until the besan turns golden brown and grainy. It may take approximately 30 minutes.

😋 Transfer the mixture to a large bowl, allowing to cool slightly.

✔️ Meanwhile, dry roast 2 tbsp melon seeds and 2 tbsp cashew at low flame.

😋 Add the roasted nuts to roasted besan ghee mixture.

✔️ Take 1 cup sugar and 4 pods cardamom and blend it finely without water.

😋 Once the besan is cooled (slightly warm) add in powdered sugar.

✔️ Mix well making sure everything is well combined. Do not add sugar if the mixture is hot, as it will melt the sugar and makes the mixture watery.

😋 Prepare a ball sized ladoo adjusting sugar as required.

✔️ Finally, enjoy besan ladoo for 2 weeks in an airtight container.
Recipe Credit: Hebbars Kitchen
---