Planning to have the best coffee this weekend? Dunkin Donuts is the right place to land. Dunkin Donuts provides you with best of coffees and baked goods at their outlet. The company is famous for its expertise and creativity that leaves you spellbound whenever you have any of its goodies. Dunkin Donuts is a market leader in the hot regular/decaf/flavored coffee, iced coffee, donut, bagel and muffin categories. Dunkin' Donuts has earned the No. 1 ranking for customer loyalty in the coffee category by Brand Keys for nine years running.
1. About Dunkin Donuts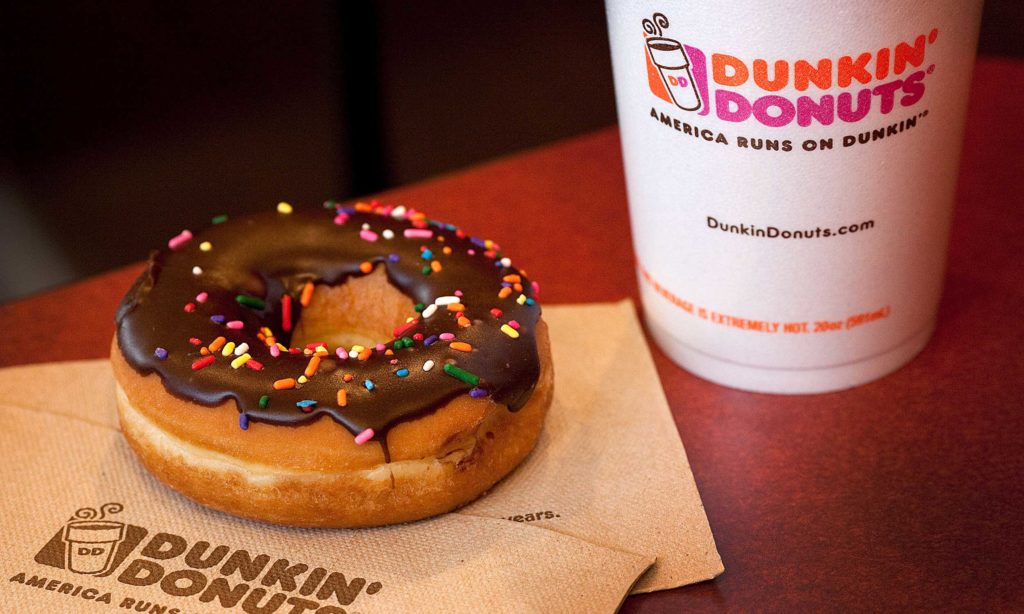 Dunkin Donut is a US based company having its headquarters in Quincy, Massachusetts. No company turns out big overnight. It passes through an immense struggle to strengthen its roots in the market. The same story goes for Dunkin Donuts. Its journey has been enumerated below:
In 1948, William Rosenberg opened Open Kettle, a restaurant selling donuts and coffee. He came up with an idea to start up a coffee and donut café at a construction site where he saw this was the primary demand. At that time the major player in this field was Mister Donuts having various outlets in the US.

In 1950 Bill Rosenberg opened the first Dunkin Donuts restaurant in Quincy, Mass., with the goal to "make and serve the freshest, most delicious coffee and donuts quickly and courteously in modern, well-merchandised stores."

Rosenberg licensed the first of many franchises in 1955.

In February of that year Mister Donut, the major competitor was acquired by Dunkin Donuts' owner Allied-Lyons. After this big acquisition, all the outlets in North America were given the chance to change their name to Dunkin Donuts.

In 2006. The new CEO Jon Luther took up the charge. He decided to shift the focus of the company from just doughnuts to coffee. In order to sustain in the market, it is very important for the company to bring in new goodies side by side. To revitalize the position of the company, he took up the charge to add coffee as its major expertise.


The slogan "America runs on Dunkin" was launched; Luther brought espresso beverages to the menu, hired a new team of chefs, and redesigned stores with a focus on java. His hard work paid off. Over the next seven years, the company nearly doubled their number of stores and sales increased 66 percent.

In 2014, the ownership of Dunkin Donuts transferred to Baskin-Robbins who previously owned Togo's chain.
2. Success Rate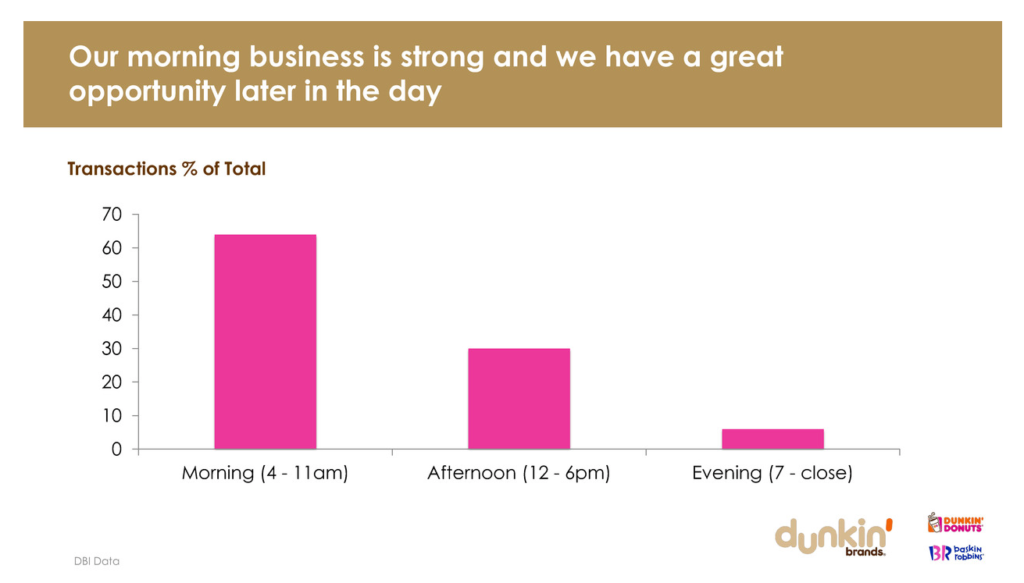 In India, Dunkin Donuts made its entry pretty late. Since its launch in 2012 in India, it never looked back. Today Dunkin Donuts has become a favorite brand for Donut, Coffee and Burger lovers across the country. The company has more than 12,000 restaurants in 45 countries worldwide. Dunkin Donuts serves on average of a total three million customers a day. It serves a lot of iced, glazed and sprinkled fried dough.
3. Major Recognitions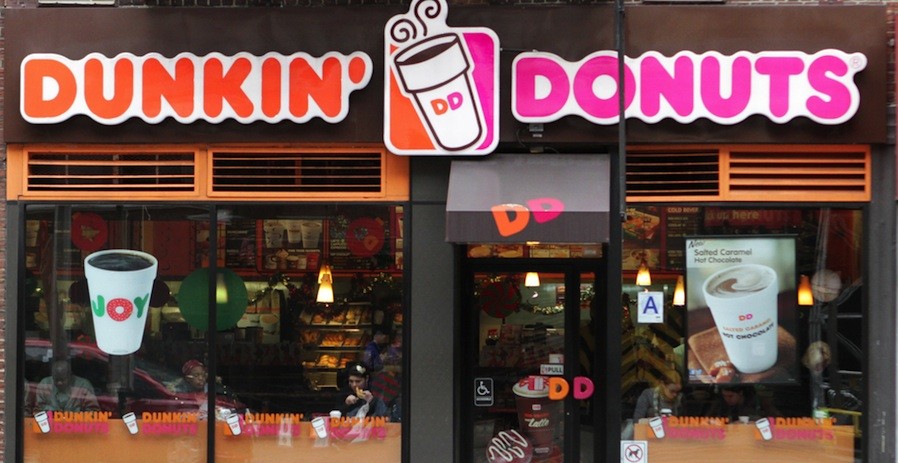 The company provides with the large variety of variants that will leave you spellbound. They are:
iced regular/decaf/flavored coffee

hot regular/decaf/flavored coffee

cold drinks include iced tea and "Coolatta"

lattes, and macchiatos

butter pecan

peppermint hot chocolate

donut category

bagel and muffin category

breakfast sandwich servings

Maple Sugar Bacon Sandwich

Burgers, big joy burgers, etc.

Wraps

Espresso beverages

potato wedges

Customer loyalty in the coffee category since 2007, according to Brand Keys.
Nothing pairs better with coffee like a donut. Try from a delectable range of donuts like Death by Chocolate, Alive by Chocolate; it's a Mistake, Break-up Party Éclair, Ugly Strawberry, Boston Crème or the Classic Glazed Donut.
The company is known for its wide range of coffees Jamaican Rum n' Almonds Dunkaccino will intoxicate your taste buds, and our Mocha chip Dunkaccino will put the pep back into your step. When you need that extra punch go with the Tough Guy Cappuccino.
Cool-off with the Virgin Mojito Coolatta, satisfy cravings with a creamy Latte, treat yourself to some Hot Chocolate, or add a spin to the Spiked Iced Tea. When you need a break from all the clichés, try one of Dunkin Originals. Hot or cold, they have got something for when life plays you hot n' cold. Discover a new favorite today from the wide range of offerings from DunkinDonuts.
Sandwiches are the next that comes to the row. Dunkin provides you with best morning sandwiches in most exotic flavors. You can find your favorite combination of croissants with garden fresh veggies or paprika chicken salami.
Burgers are the next line up on the menu. It provides you with a wide variety of burgers to satiate your hunger and to provide your taste – buds with a never – before experience. You can even pair up a coffee with some crispy Tex Mex Potato Wedges. You can always try the Wicked Wraps that will give a fresh start to you and will leave your taste – buds on a roller – coaster ride!
4. Sale Proportion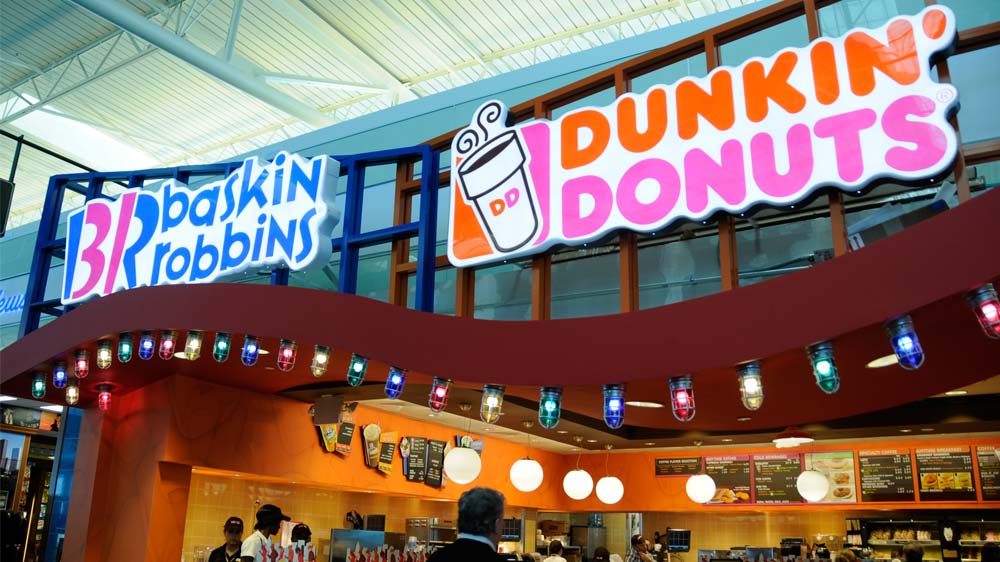 Dunkin Donuts has several varieties of donuts. Other bakery goods and sandwiches include bagels, cookies, muffins, donut holes under the brand name "Munchkins". Still, donuts are not the one that holds the major proportion of the sale. Only 8% of the chain's sales are donuts; 65% are drinking, and 27% are other food items.
5. Original Coffee Bend Recipe
The franchises across the world still use the same original coffee blend formula that William Rosenberg used at its local café Open Kettle. The formula is so marvelous that it helped the company to accelerate its sale worldwide. A sip of coffee early in morning leaves you spellbound, fresh and energetic throughout the day. This is the major reason why Dunkin Donuts is able to give a tremendous competition to other major tycoons in the market.
6. Coffee – Major Expertise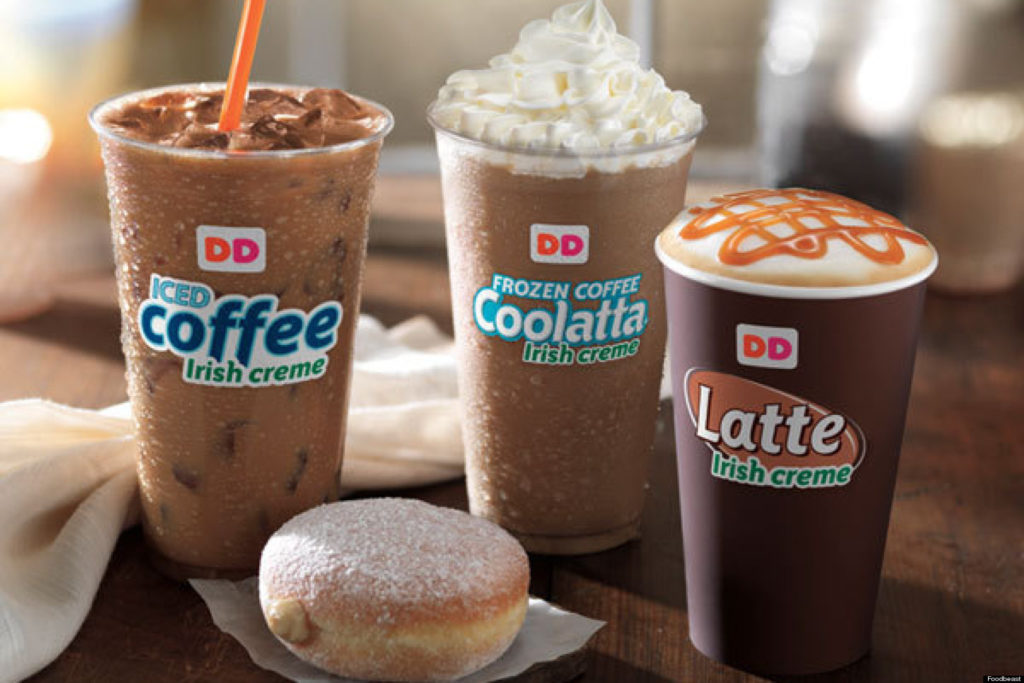 The company has its roots held strong in coffee, espresso market. Dunkin Donuts is known for selling about 30 cups of coffee every second world. That amounts to 1.7 billion cups of hot and iced coffee globally every year. All of these coffees are taste-tested by Dunkin coffee experts who try 200 cups of coffee every day.
Thereby, Dunkin is a brand known for its quality which helped the company to attain customer loyalty across the world.
7. Dunkin And Christmas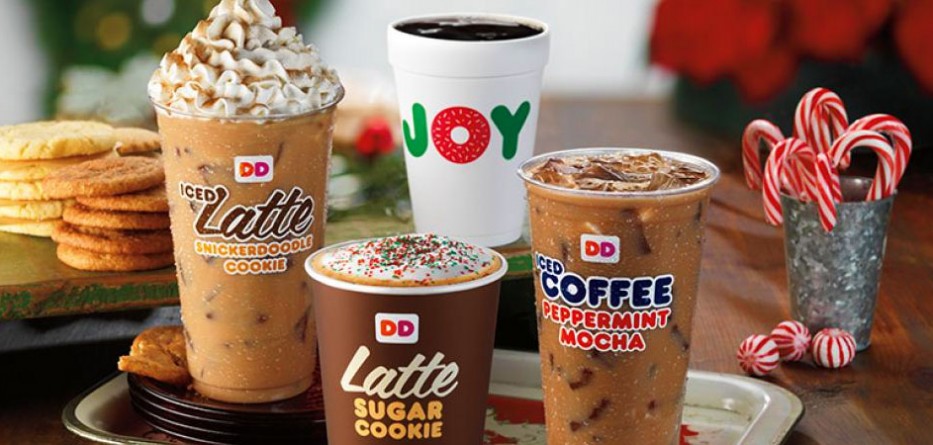 Donuts have a special connection with Christmas Eve. Baking is what done in every house during Christmas. In between Dunkin even came out with its egg-shaped donuts during Easter where people can buy cartons of egg-shaped donuts at much less price of $1.46. The eggs were chocolate-covered and topped with sprinkles, and though the price eventually went up to $1.99 in the '80s, that was still cheaper than a dozen Munchkins.
8. Croissant Doughnuts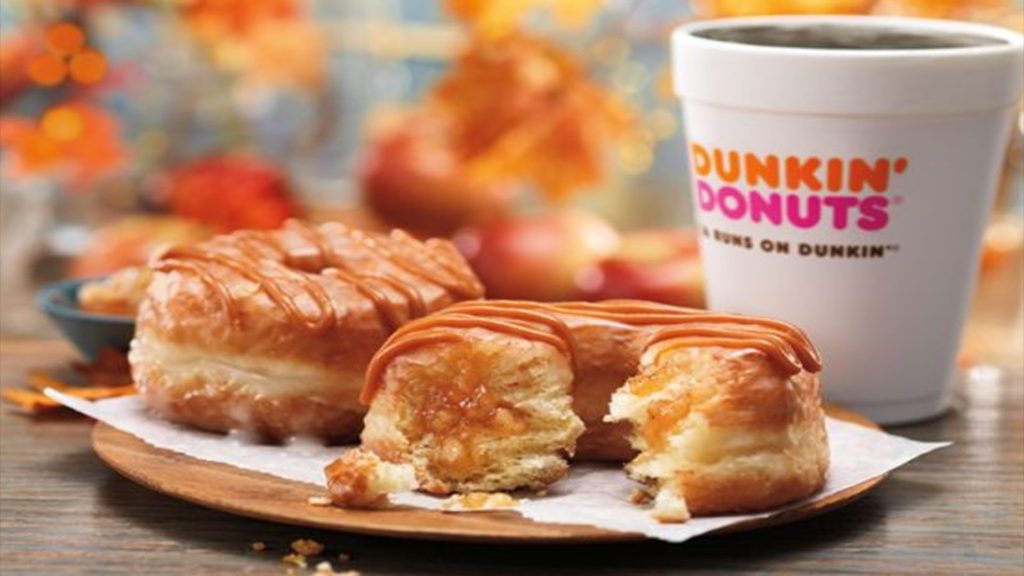 In its first three months after the debut, Dunkin is known for selling about 8.5 millions of croissant donuts worldwide. Based on the Cronut invented by New York's Dominique Ansel Bakery, Dunkin introduced their croissant-doughnut mashup in November 2014 as a temporary menu item. But over time it proved to be such a smash hit across the world that was even not expected by the company itself. It has stayed on Dunkin menus across the country ever since and still is one of the major demanded doughnuts by the customers.
9. It's 65th Birthday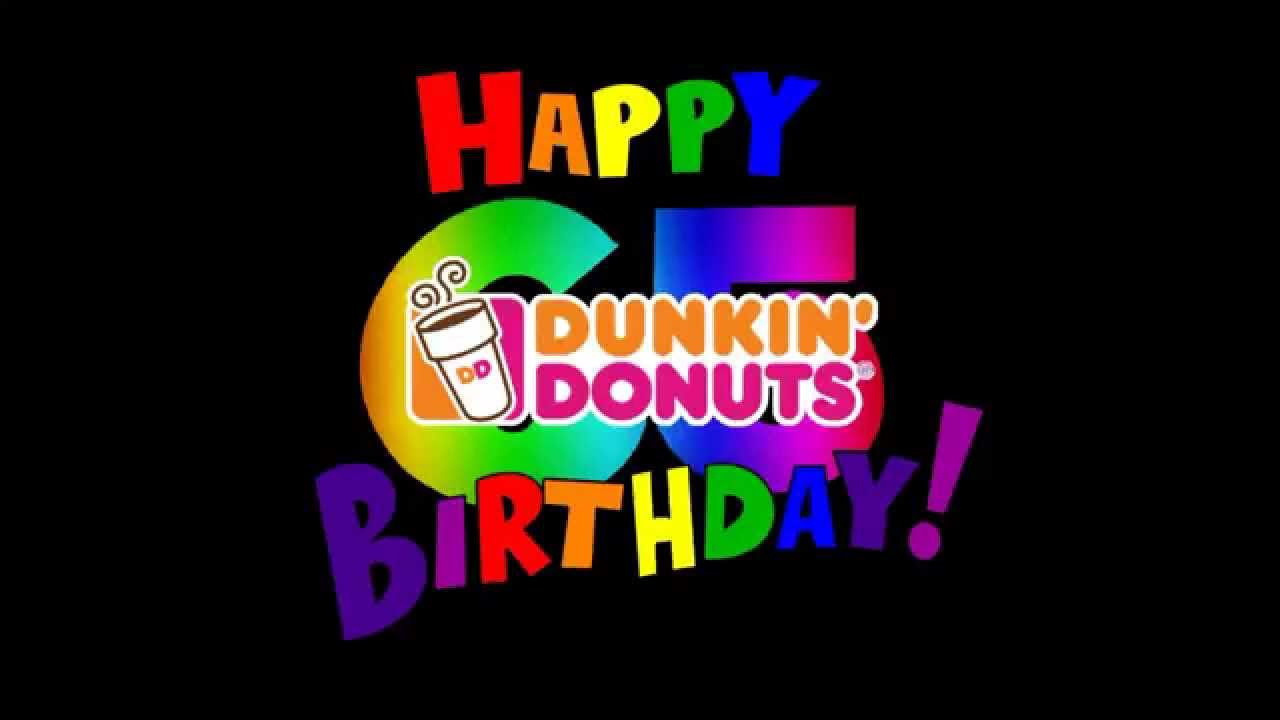 In 2015 Dunkin Donuts celebrated its 65th birthday. In past years the company worked hard to fulfill each and every commitment made to the customer. It served their customer with the finest and strongest coffee ever. Each blend is carefully selected to ensure the richest, smoothest flavor possible. No compromise on quality is made by the company throughout its journey. The major aim always remained to add more and more customers to the chain!
10. Dunkin Online Presence
Beforehand, Dunkin used to operate only through its outlets. But in order to survive in such a competitive market, the company has to expand its market. All major companies allow their customers to place the orders online. In such a market, if the company doesn't work on its online presence, then it will lag behind in the race of becoming the best option for the customers.
Thereby, now you can even place an order through online Dunkin Donuts Site or App. You will be provided with your order right at your doorstep!
11. Dunkin Donuts Christmas And New Year Offers
The festive season is a major time when the companies can work to make their sales charts upward trending and accelerate their profit in a short span of time. For a company like Dunkin Donuts, which specifically work in the area of donuts, coffee, and beverages; things become little harder.
Donut is one of the things which are majorly demanded by the customers during Christmas. People serve the relatives and friends visiting their house on Christmas Eve with fresh cakes and doughnuts. Thereby, the company comes with exclusive offers for the donut lovers during Christmas and New Year season. The company even comes out with various coupons so that you save a good amount whenever you order through Dunkin. Dunkin has introduced new products for its upcoming festivities. They are:
Cookie lattes

Cookie – flavored coffee

Snicker cookie latte's

peppermint mocha coffees

flavored cookies
Dunkin Donut cards are also been provided. Dunkin is offering themed based cards. The company provides the best winter, new year, Christmas themed cards at many affordable prices that can be given to your relatives, friends, and co-workers to bring a smile to their face!
If making payment through particular wallet having an association with Dunkin, you can even enjoy unlimited cash backs on every order you place.
12. Coupons And Offers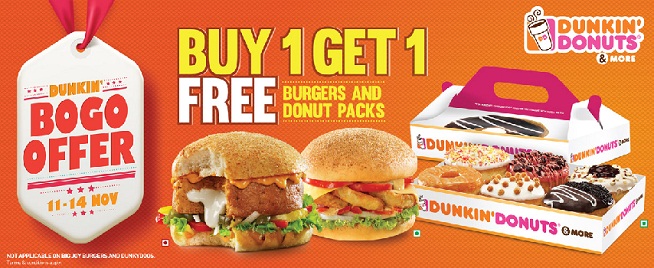 The company comes up with day to day exclusive offers to make their customer place more and more order. Some of them are:
Combo big Joy chicken Burger @ 99

Donut box of 9 at Just Rs. 99

BUY ONE GET ONE FREE: On every purchase of donut. This offers keeps on coming exclusively. You need to keep eye on its offer chart.

Donut Party Day: Buy 6 Get 6 Donuts Free

Get 25% OFF on the order of Rs. 400 and above

Weekend Offers: get Rs. 100 Off on Dunkin Donuts Order.

Get Rs. 100 OFF order of Rs. 400 and above

Flat Rs. 24 OFF on donut box of 6

Special hour offer: Buy 4 donuts, get 6 donuts.

Dunkin extra hours: get 50% extra donuts every day. (8:00 pm onwards )

Paneer Burger: Buy 1 Get 1 Free

Get Munchkins FREE on the order of Rs. 300

Get the FREE pack of DunkyDoos On the Orders of Rs. 400.

Dunkin Donut Offer: Buy 9 take home 12

Save Rs. 231 on Donut Box of 12

Dunkin Donuts Price: Donuts of all variants starting @ Just Rs. 62

Dunkin big joy burger @ just Rs. 55

The Dunkin meal at just Rs. 135

Chicken Burger starting at Rs. 65

Dunkin Donut Combo Offers: Big Mayo Burger Combos @ just Rs. 149

Dunkin Donut weekend offer: burger combos @just Rs. 149
All these exclusive offers help you to save much amount in every order you place. This encourages the customer to buy again and again through Dunkin.
Also on being a regular customer, they provide with special offers. Thereby, they provide best of their offers to their Loyal Regular Customers.
Conclusion
This Christmas and New Year, grab best offers at Dunkin Donuts. Make your festive season more colorful with plenty of beverages offered by the Dunkin. Add best of delicious mouth-watering Donuts to your Christmas Eve. Go for the best of coffees, iced teas, espresso to give a kick start to your morning. Have a sandwich or a wrap as breakfast to give a healthy start to your day!
Also Read: Check Out These 20 Exquisite Wedding Jewelry Collections for Bride