Bookmyshow day by day giving the best feature to their customers. Bookmyshow is now giving to their customers Bookmyshow Ticket Refund feature. Before starting talking about this feature I want to discuss previous featured of Bookmyshow offered to their customers My Wallet Recharge Locations.  My wallet recharge location is people can recharge their wallet from nearest wallet recharge station it can be a recharge shop, CCD, banks and many more locations from you can locate from the given below URL.
Source:- https://in.bookmyshow.com/mywallet/store-locator  
You can check your nearest location with your zip code from where you can recharge your wallet. So Bookmyshow comes with unique user-friendly feature now user can shift movie plan or cancel their plan. They can change their mind to watch movie other time. This big step of Bookmyshow is beneficial to their users. Because user thinks twice before booking the movie ticket and finding too many Bookmyshow coupons or deals on many coupons websites to book his or her movie tickets or in a group booking in very less amount after applying offers code and using deals. Now user can cancel their plans or postponed their plans with movie cancellation feature. 
About the offer
1. Now enjoy flexible movie plans at select cinemas.
Now user can shift their ticket to other days with the refund feature. Before this feature, if booking once was made you get no refund on cancellation the movie ticket. But now user can get the refund on the cancellation of the movie ticket.
2. Cancel your movie tickets up to 1 hour prior to the show
If you plan to change, or if you want to cancel the movie ticket.You just need one thing keep in your mind. Before canceling the movie ticket.Please check the timings of your show make sure 1 hour left in starting on your movie show. If your show time is about to begin within 1 hour less time you cannot cancel your movie, or you cannot get the refund on your movie cancellation according to t&c.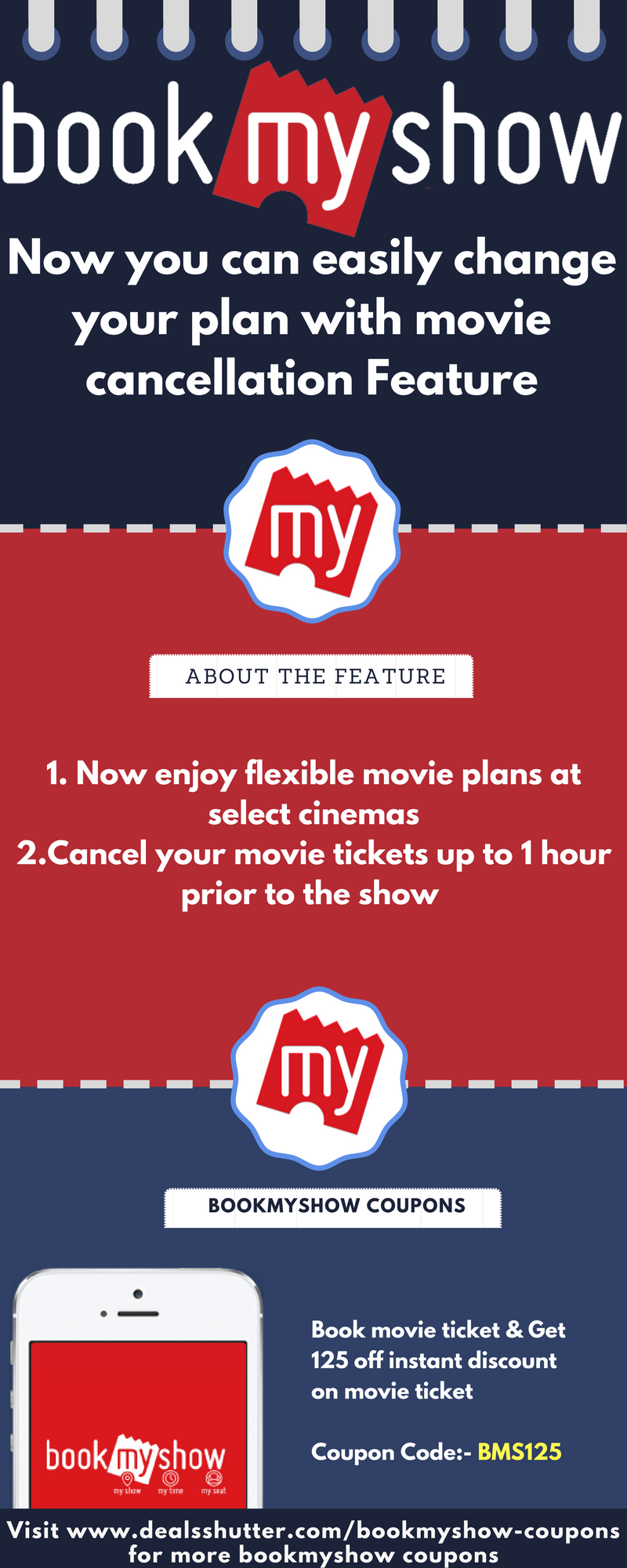 Now it's time to know how to use this Bookmyshow refund ticket feature.
Start from very basics of going to purchase of movie ticket booking. Goto in.bookmyshow.com or you can buy the ticket from Bookmyshow app once you open the website you can select your city after selection your city go to cinema selection after picking your cinema, e.g., PVR Mumbai, where they have cancellation option, or Bookmyshow shows their cinema allows ticket cancellation. Selection the cinema after this selects the show time and goes to the selection of seat layout. After seat selection and a user can buy food online while purchasing movie ticket along with user can buy food combos next step come to the payment page. You will be notified of the cancellation policy before booking. Please read cancellation policy carefully. After reading the cancellation policy complete your transaction.
After the booking, if you plan is changed, and you want to cancel the movie ticket till cut-off time which is communicated in the cancellation policy.You can cancel your movie ticket from purchase history.
On purchase history section you can see a cancel button in your transaction against your purchased ticket.
When the user clicks the cancel button.He will be redirected to cancellation summary page.where he or she saw his or her cancellation charges and refunded amount.
On the summary page, a user can select refund sources. A user can choose one of two refund sources one is a Bookmyshow wallet or other sources of booking payment like net banking or other wallets sources like Paytm and many more. One more import thing is to understand is you can cancel the whole transaction only you cannot cancel one ticket or two tickets in the transaction you can cancel only entire transaction of your booking.
Most important Part of this post Bookmyshow Terms & Condition of this feature.
Movie Cancellation option as I said in selection Cinemas only where you can cancel your movie ticket.

A user could not cancel the movie ticket if user applied any discounted Bookmyshow coupons code, payback points, and any other loyalty points which come with your debit or credit cards.

When you cancel your movie ticket you cannot get the refund on your internet handling charges, Bookmyshow smiles donation and payment gateways charges (if applicable).

User cancellation can be made up to 1 hour. Before show time.

On the cancellation of the movie ticket, 30% of base ticket price will be deducted as cancellation charges fees, and the remaining amount of your booking will be refunded to your source as per on your refund selection source.

If a user selected Bookmyshow wallet for the refund. The refunded amount will reflect under 4 hours in the user wallet.The user can use it without capping full of the amount can use it for the next booking on Bookmyshow app or web.

If a user selects other refunded sources like Net banking, debit card, and wallets, it may take 3 to 10 days. According to me, Bookmyshow wallet is best option to get the refund amount in Bookmyshow wallet.

Bookmyshow reserves the right to cancellation of this feature at any time.

Split ticket user will not be eligible for Cancellation.
Related Post:- BookMyShow Offers and Promo-Codes