"Always half an hour a day where it's just me & my yoga mat."
I'm sure you don't want to ruin this special meeting with yourself by making a wrong choice.
Throughout this article, we will guide about the best yoga mat in India differentiated on the basis of brands, sizes, thickness, and more aspects that you need to check for making the right choice.
Yoga & meditation are performed on a flat surface. This makes your posture accurate and gives you stability while posing for Yoga asanas. A good yoga mat is a much-needed thing these days and also it is suggested by your yoga teacher. It not only gives you a flat surface to perform but also gives you a good grip and stability ultimately preventing you from any kind of injuries.
Personal needs must be taken into consideration while choosing the best yoga mat for yourself. So, in the given article we have given our personal recommendations on the basis of our research on the best yoga mat in India.
So, without any delay, let's begin!
1. Sanglobal 100% Cotton Yoga Mat
Sanglobal 100% cotton yoga mat is a premium yoga mat at Amazon. It is quite expensive for those who have budget constraints but the price is justified with its quality. The upper material of the mat is very soft. It does not slip even you jump or perform burpees on it. Shop with the use of Amazon Coupons.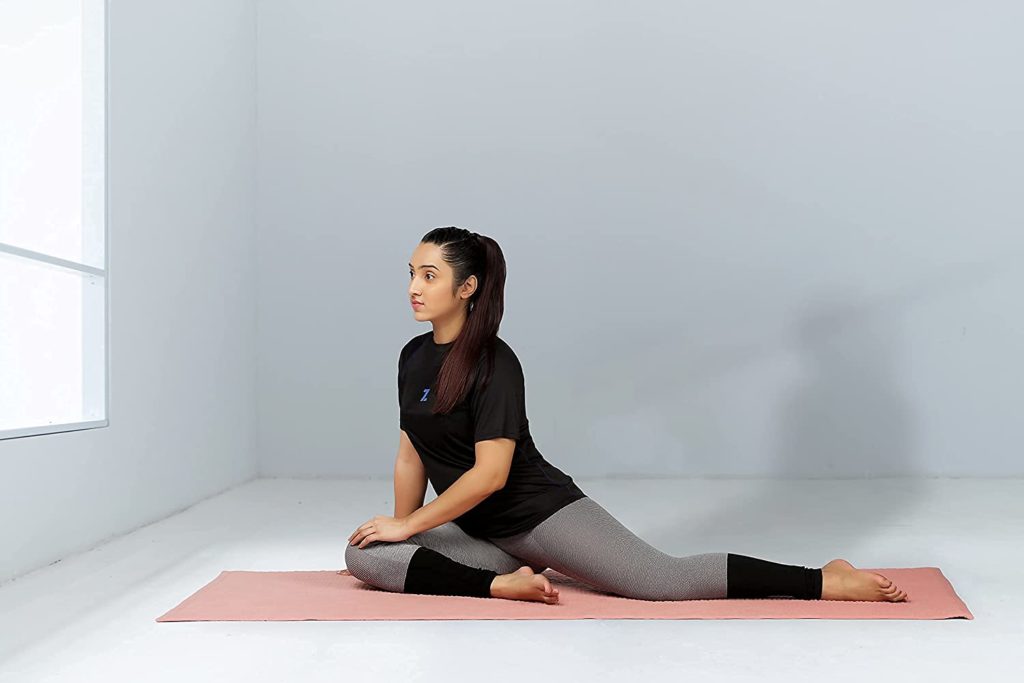 Salient features of
Made with Natural Rubber
Anti-Slip Bottom
Easy to wash
Natural Cushioning
Biodegradable
Free Cloth Bag for carrying
High quality rubber
Cons
Expensive
Cloth bag in which it comes is not qualitative
---
2. Amazon Basics
Shop from Amazon Basics mat from Amazon. Yes, it's THE BEST in the category of yoga mat under 1000 INR. This mat is 13mm thick which is a little more than the usual ones. The thickness of the mat supports your knees, elbows, and wrist while doing yoga. Amazon Basics are form-based yoga mat that comes in different colors, extremely lightweight, and easy to carry. For better traction and stability, we recommend its usage on a textured surface.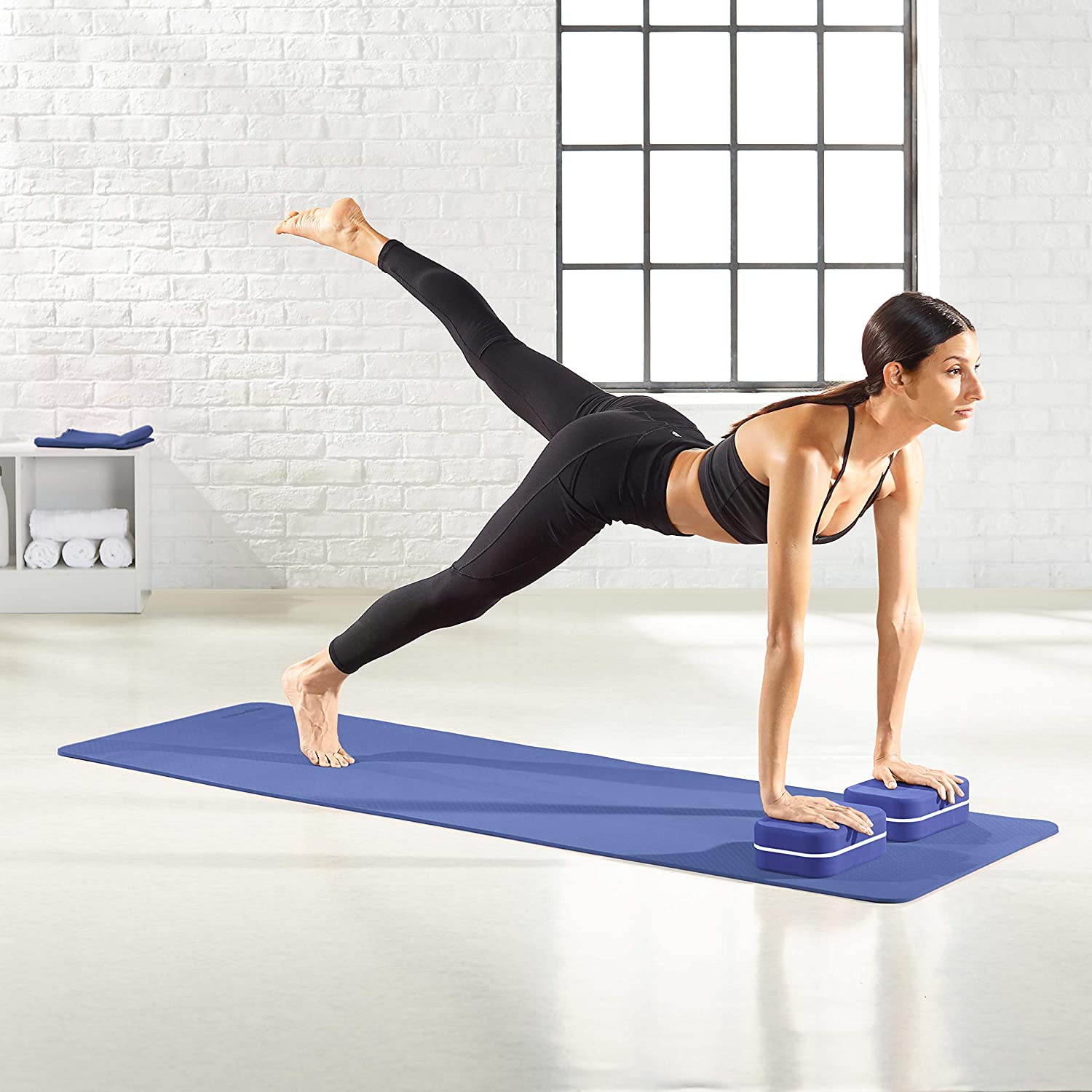 Salient features of AmazonBasics
Comfortable to do tough yoga postures on it due to its extra thickness
Contain carrying strap for easy grip to carry
Available in different colours
Affordable
Made of lightweight durable foam
Cons
Not scratch proof
Slippery on plain surfaces
---
3. BoldFit Yoga Mat
BoldFit is suitable for both men and women yogis. It is 10mm thick, 2 feet wide, and 6 feet long. With a better both-side grip and anti-slip technology, it comes under the category of best yoga mat India.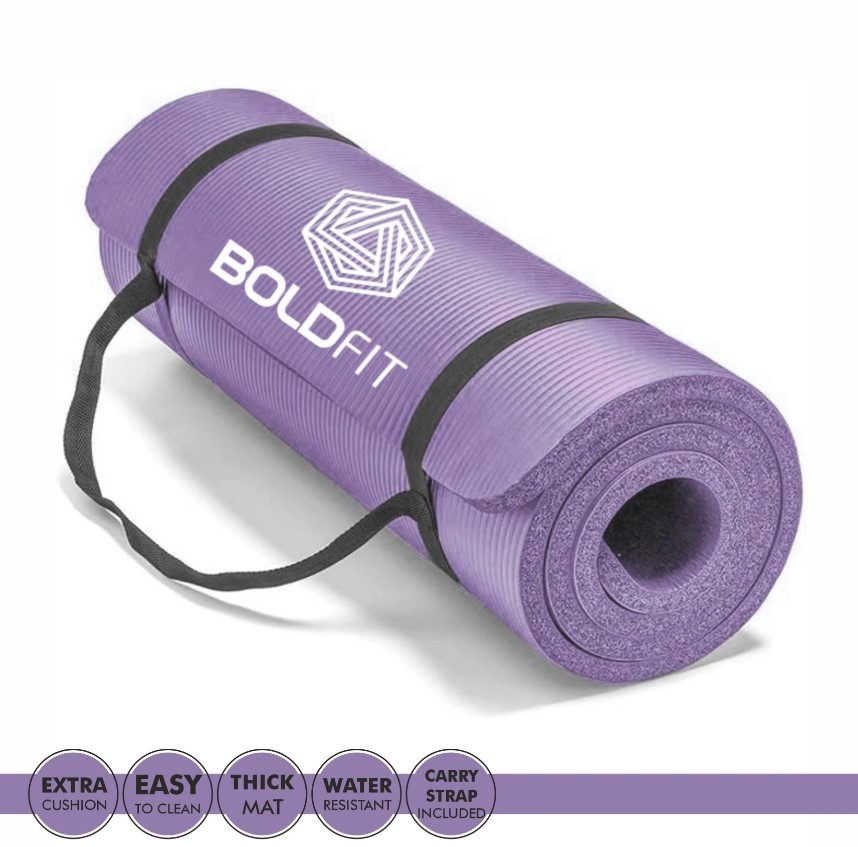 Salient Features
Sweat resistant which means does not absorb sweat and easy to clean off
Eco friendly
Durable & lightweight
The NBR material used in BoldFit makes it a good impact absorbent
Economical
Double sided non slip surfaces
Cons
Not suitable for heavy grip and stretching exercises such as planks.
---
4. Decathlon Yoga Mat
Decathlon has a wide range of Yoga mats such as yoga mats for beginners, yoga mats for kids, thick yoga mat,s and more. Today I am going to list the decathlon yoga mat bestsellers suitable for various yoga needs. Buy with the use of Decathlon coupons.
As the name implies, this yoga mat is suitable for beginners. It comes with good grip and two elastic bands on its sides for ensuring its easy transport. This yoga mat is made with 100% polyethylene. And yes, it is affordable as well. It costs 600 INR.
If you are searching for a thick cushy comfort yoga mat then your search ends here! Decathlon comfort yoga mat is soft and comfortable. It comes with 8mm thickness and various plain and printed options. The mat is designed in such a way that it promotes traction on the floor while doing yoga. It is also easy to transport mats here and there with the use of the strap. A comfort yoga mat is easy to clean with normal or soap water.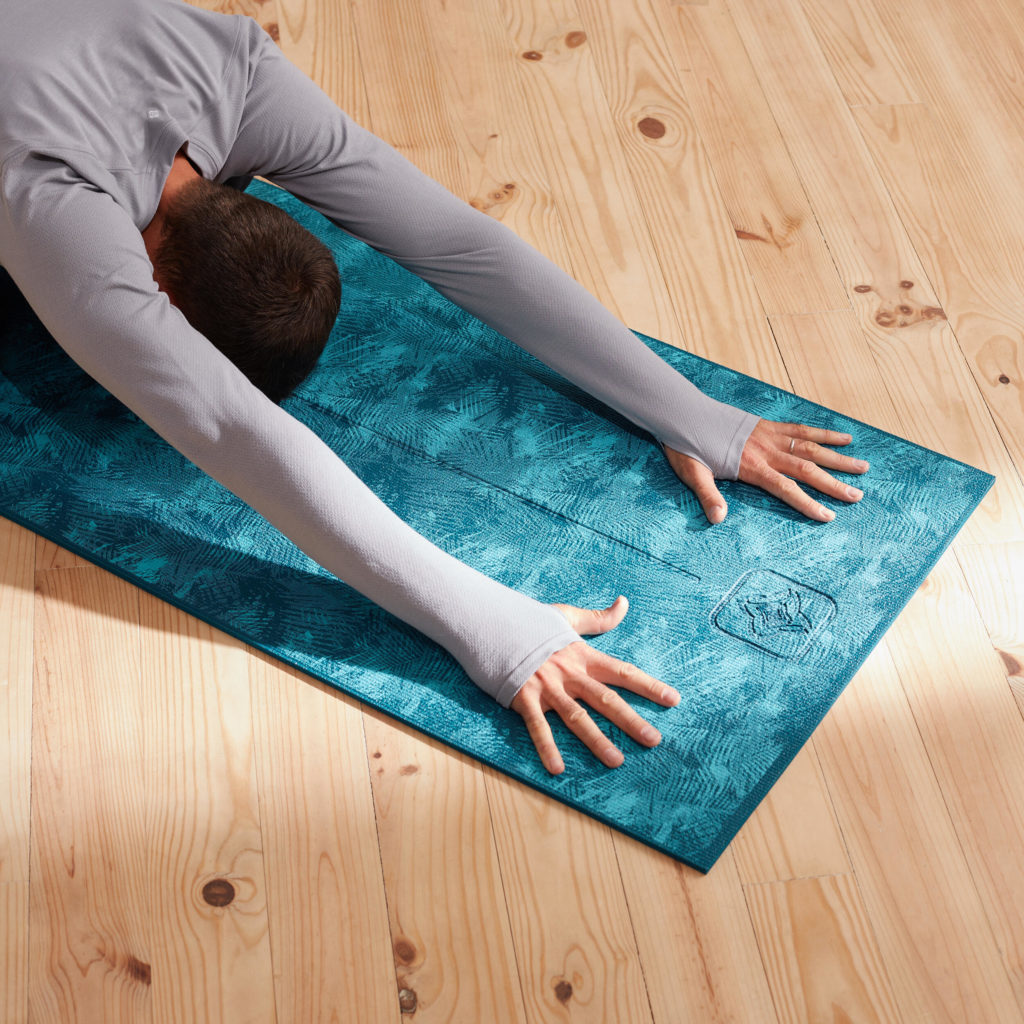 Want to go for yoga with your kids? For making your kids learning fun, we recommend you buy kids yoga mat from decathlon. Animal print on yoga mat makes yoga a fun and relaxing activity for your child. Soft fabric with a thickness of 5mm. The strap with the mat makes it easy to roll and carry.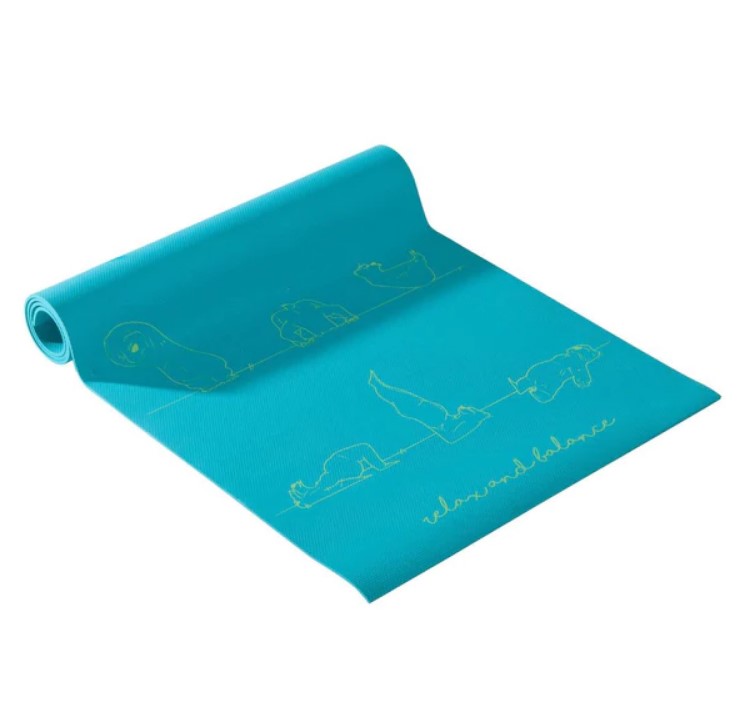 ---
5. Puma Yoga Mat
Puma is not a new name for fashion enthusiasts and sneaker freaks but let me tell you that it also comes in the list of best yoga mat brands in India. Perform and practice yoga asanas on Puma soft yoga mat. The best thing about it is that it is reversible with an anti-slip surface on both sides. It has an adjustable strap and is easy to carry around.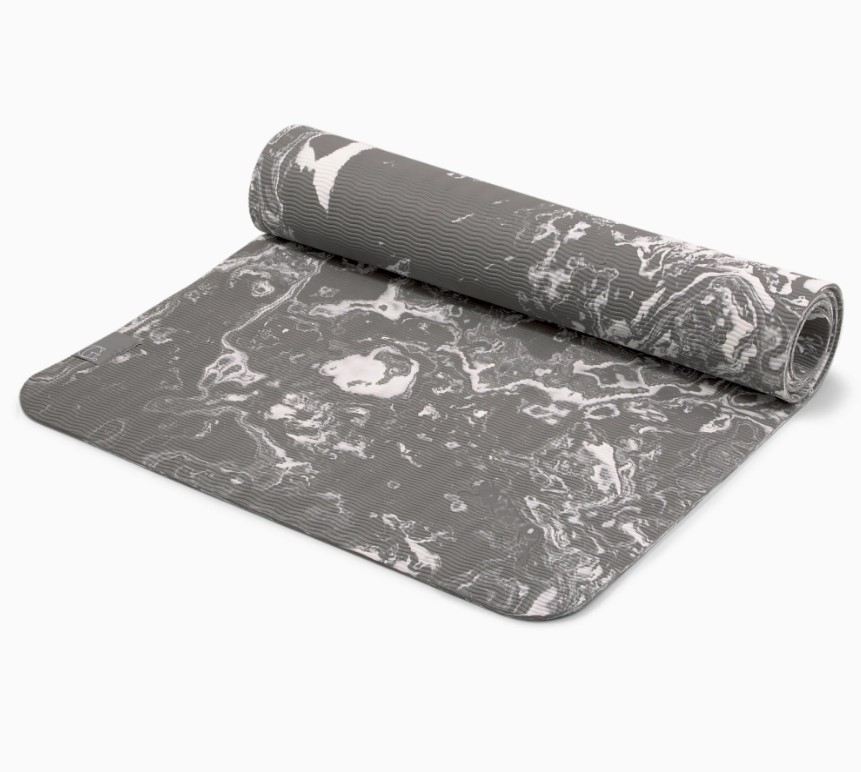 Salient Features
Foldable & compact
Easy to carry shoulder strap
Easy to clean
Reversible
Anti-slip feature
Suitable for indoor & outdoor features
Lightweight & soft
Made of TPE and EVA
6mm thickness
---
Make your yoga alignments and postures perfect with Tego yoga mat. One is soft smooth and guides alignments and the other side is a honeycomb pattern ensuring ultra-traction. The building of the mat is done closely gripped with a more dense honeycomb pattern. The thickness of the mat is 5mm. It provides stability and a superior level of grounding.
What makes it unique?
GuideAlign's design makes it unique from another yoga mat in India. The center point consists of a Centre-point Mandala, a Straight Line running through the middle of the mat, and 45 degrees references to keep your posture in check.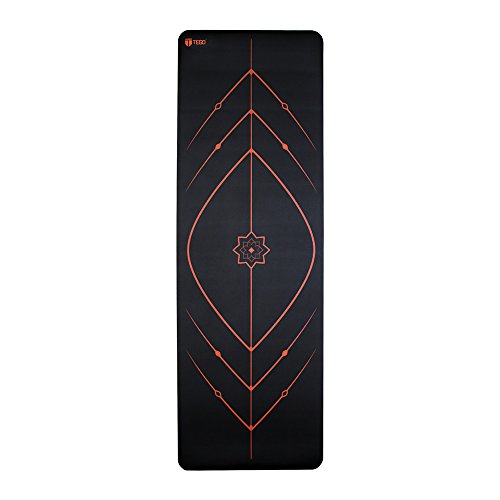 The stance mat is delivered with its own bag that keeps the mat protected from outerwear and tear. It also makes it easy for you to carry a mat wherever you go.
Salient Features
Superior Cushioning
Honeycomb Pattern
Closed Cell Construction
GuideAlign Design
Premium Mat Bag is delivered along with the mat
Superior Grip & Stability
---
Dr. Trust NBR yoga mat provides you comfort and support while doing Yoga. The mat is double side textured, one has soft and extra cushioning and the other ones provides grip and stability while performing yoga asanas. It is recommended for daily usage. The mat is suitable for both men and women yogis. The superiority and price of the mat are justified by its long and consistent use.
The thickness of the mat is 12mm with high rebound resilience quality. Dr. Trust NBR weights in 1.1 KG. The mat is made up of fine quality nitrile butadiene (NBR material), a man-made rubber that is known for elasticity and is extremely lightweight and oil-resistant.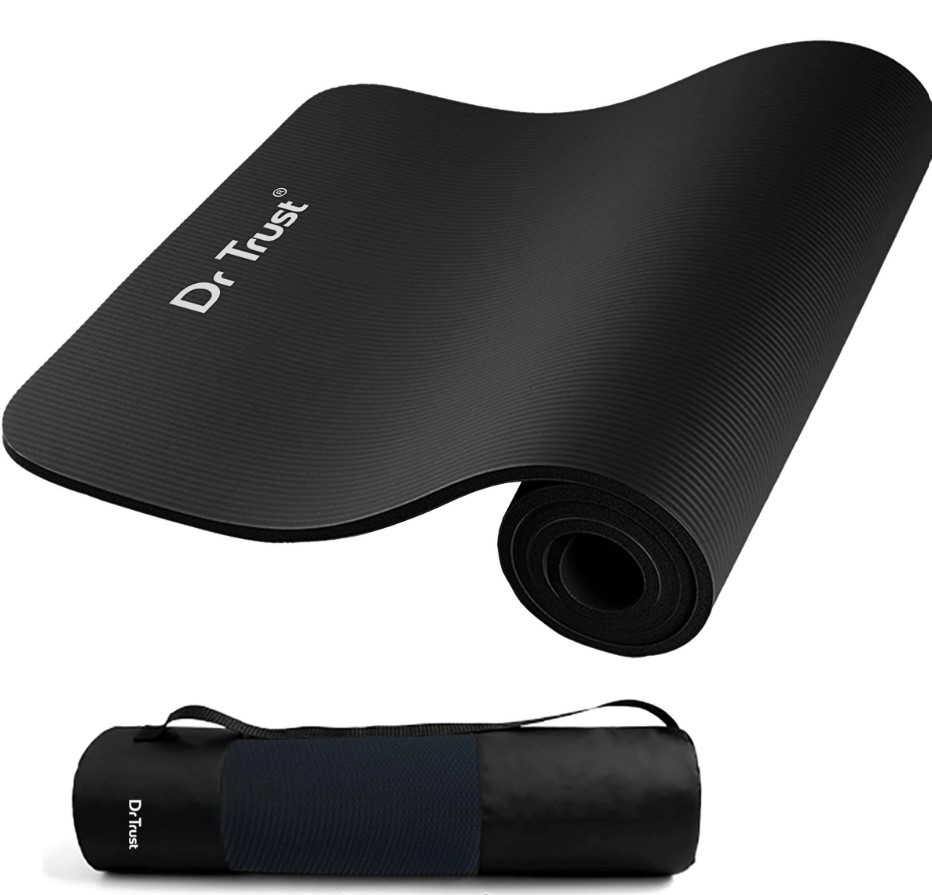 Salient Features
Anti-tearing Property
Wide, Thick & Non- Skid NBR Multi-Purpose Mat
Comes with a stylish carry bag
Extra Large Size
Suitable for travelling
Easy to transport
Easy to clean
Eco-friendly Design
---
Kosha yoga mat has a premium range of mat. The mat is built with a honeycomb construction that provides grip and stability to perform yoga. All kosha mats come with a carrying strap for easy transportation. The thickness of the mat is 4.5mm- 5.5mm with 72in x 24in dimensions. Kosha mat weight lies from 2.6 KG-2.9 KG.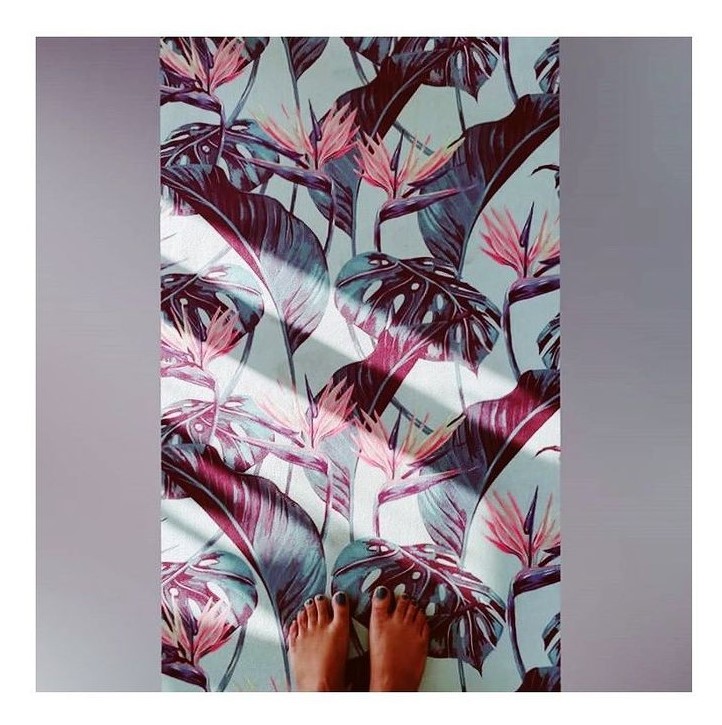 Salient Features
Eco-friendly
Sweat Absorbent
100% Anti-Slippery Material
Perfect Cushioning
Beautiful Designs
Easy to clean
Sustainable Material
No harmful chemicals used for manufacturing
100% natural rubber base
---
Reebok is indeed the best yoga mat brand in India. Get the most from each training session with the use of this yoga mat. It is super comfortable and built with anti-slippery properties. The carrying strip along with the brand makes it easy to transport.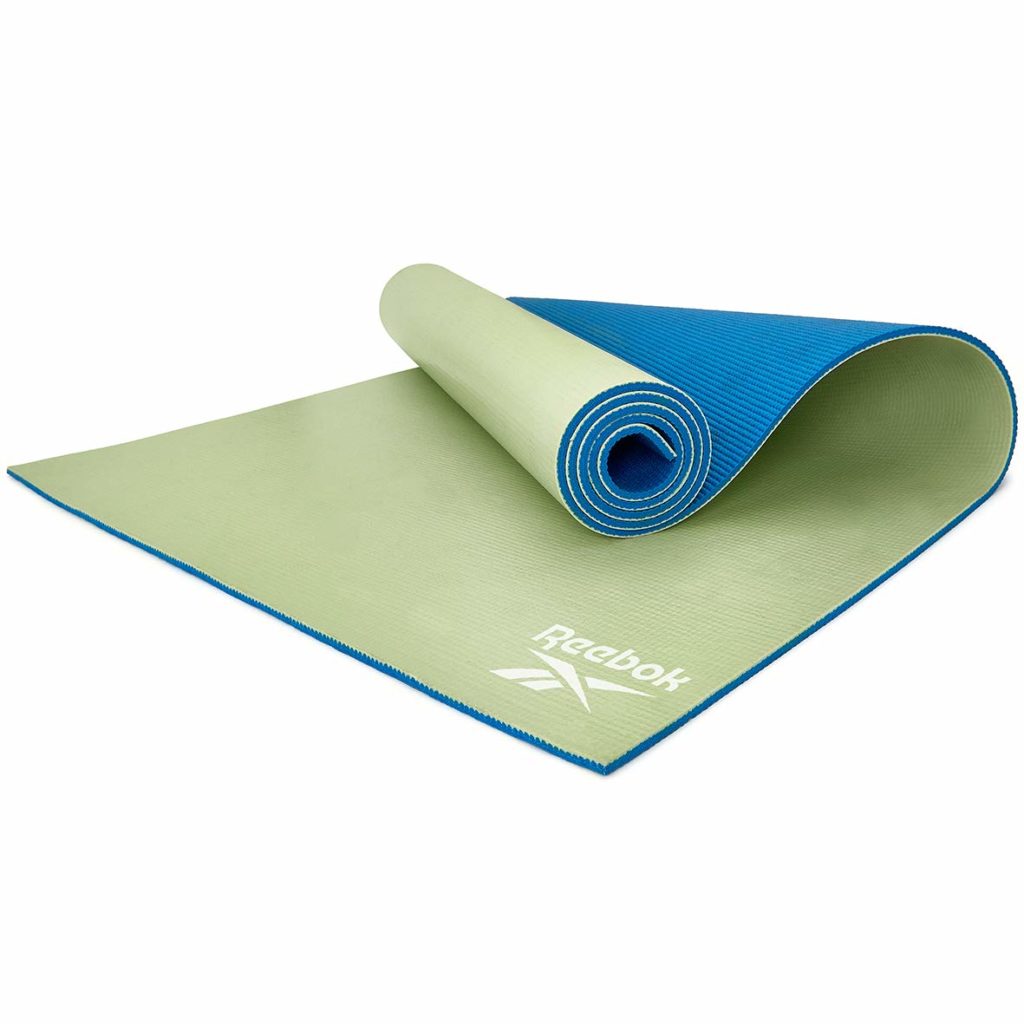 Salient Features
Built with grippy & anti-slip material
Foam provides comfort and stability
Easy to carry
Can be easily wipe with clean damp cloth when needed and air dry
Sweat does not stay over it
---
Addidas yoga mat is built for yoga, pilates, and ground exercise. The thickness of the mat is 8mm with dimensions 176 x 61 x 0.8 cm. It provides cushioning and stability. An Adidas yoga mat is lightweight and easy to transport. It is available in 5 colors. Like other mats it has a non-slippery texture and increases traction for stability.
Salient Features
8mm thick cushioning
Compact and rollable
Easy to transport & store
Grippy, non-slippery texture for added stability
Ideal for yoga and Pilates
Lightweight PVC-free material
---
If you are searching value for money mats in India then the HRX yoga mat is our preferred choice. It comes in different colors along with a bag which makes it easy to transport wherever you go.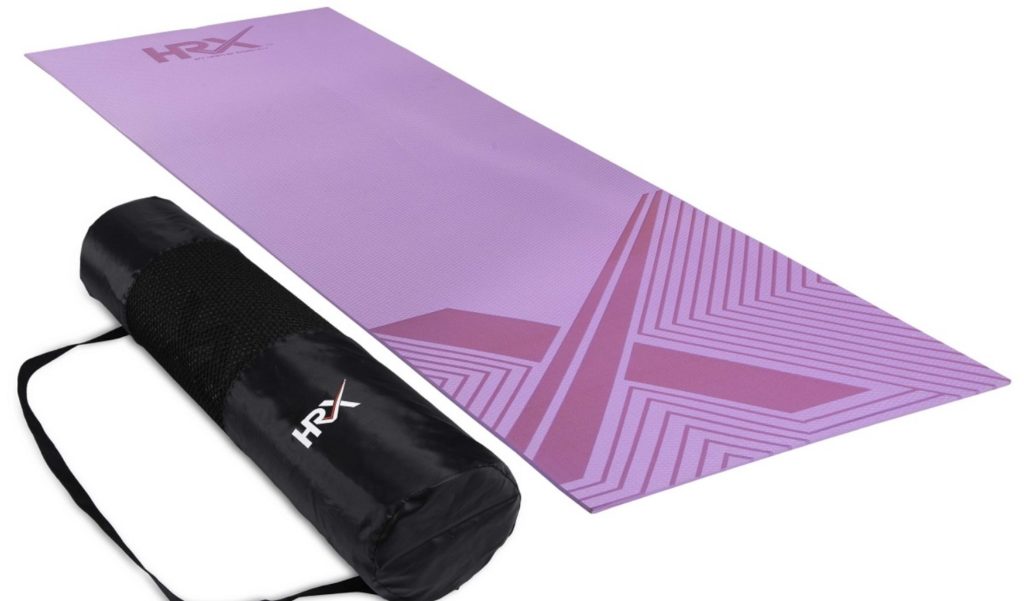 Salient Features
The wide and long surface
Eco-friendly mat with a solid grip
Suitable for women and men yogis
Lightweight and perfect for travellers
It provides higher density, resilience and durability than any regular yoga mat.