Online Shopping has been a part of our lives for so long now. From shopping garments and footwear online, we have taken a step forward. We can shop grocery and dairy products online in no time. This is all the development we have made since the trend of online payment and a comfortable lifestyle has entered our life. We are listing some best grocery apps which can deliver daily need products to our doorsteps.
Benefits of Online Grocery Shopping
Convenient
You don't need to stand or wait in the queue for payments. Also, there is no need to travel to the supermarket and you don't have to think about parking space. Hence, grocery shopping apps are convenient for all people.
Affordable
To flourish the business of these apps, the companies provide additional discounts in collaboration with online payment gateways, mobile wallets or other apps. You can use grocery coupons at our stores to get the best products at pocket-friendly prices. Also, grocery apps deliver directly from the manufacturing units which cuts the cost of the middle man and directly leads to a reduction in your shopping bills.
Cashless Payment
Online payment has become a part of our shopping behaviour. We can't think of shopping without using cards, or UPI like PhonePay. By getting the feature of paying online has become grocery shopping even more convenient and handy.
Multiple options
One store can hold the variety up to some extent but online shopping has reached far away than that. Grocery shopping apps have added almost all types of items so the buyer does not have to move from one place to another for getting what they want.
Time Saver
Nobody has the time of visiting the store, standing in billing queues and moving from one store to another for all the products. Grocery delivery apps have made that easy for buyers as they can use their time on something more productive.
No Need to Buy in Bulk
People have the habit of buying products in bulk so that they do not have to visit the store again. Usually, the products get expired and lead to a lot of wastage. Online Grocery apps protect you from doing that as you can place an order anytime and you will have items in no time.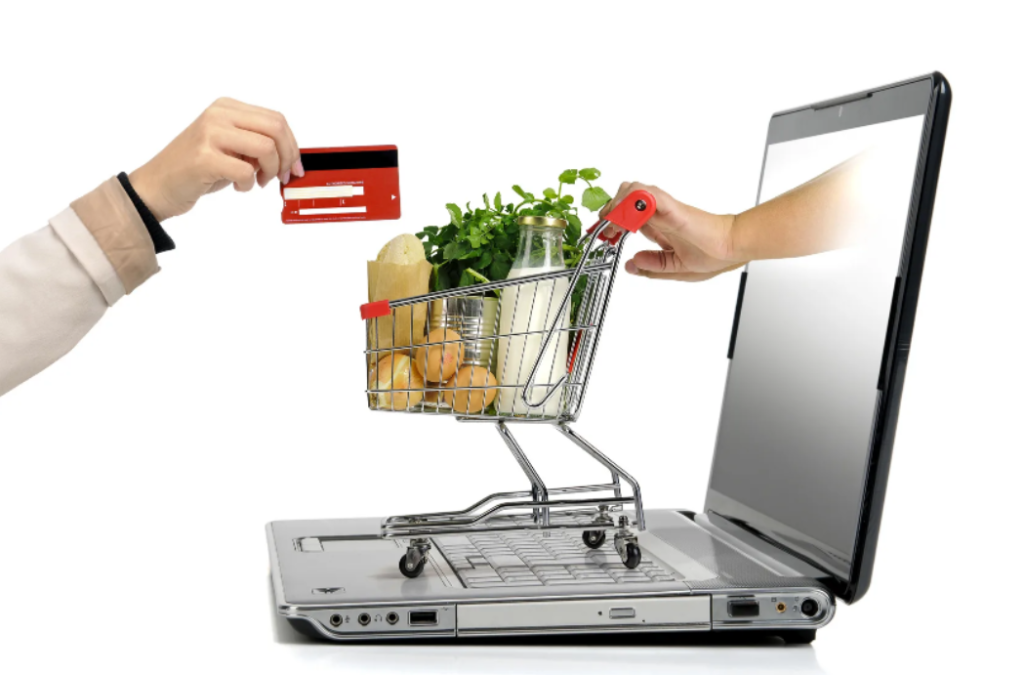 Best Grocery Apps in India
Blink it
One of the most popular and best grocery apps in India is Blink it, previously known as grofers. The services by blink it is available in many cities and they are trying to expand it as much as possible. Blink it is available in almost 6 languages. The app is available in the play store and the app store; you can download and start ordering.
Big Basket
The most popular online grocery store is the big basket. It started as a grocery store and now it is delivering an extensive range of products to the customers. Apart from fruits and vegetables, you can order baby care products, beauty related products too. You can pay through online modes and even COD is possible so it is much more convenient.
Spencer's
Spencer's is a popular grocery shopping mobile app which promises to deliver in the span of 3 hours. The delivery time slots are flexible which makes this app even better and convinces people to use it. Spencer's offers more than 10,000 products under various categories of fruits, home electronics, personal care and baby care etc.
Dmart
Dmart stores are one of the most popular shopping centres for people. Their delivery system is limited to a few cities for now. But their walk-in store is available in almost every city. All the Dmart products have prices less than the market and they offer all types of household items. From utensils to groceries, from clothes to footwear, everything is there.
Jio Mart
There are very few stores which deliver in almost every location of the country and it is one of them. Started by Reliance's Jio, this store gives special discounts to retailers. The affordability of this online grocery store has made it even more popular. Jio Mart has an efficient return policy which makes it easy for consumers to shop.
Amazon Prime Pantry
Amazon has been a top choice of people when they wish to buy something online. Now it has entered into this business where you can shop grocery in the comfort of your home. It is the fastest growing and the best grocery app we have right now. Amazon has every product which you can think of.
Dunzo
Dunzo was initially a Bangalore based app which is now delivering in 6 major cities of India. Google had once invested in this app and made this business even bigger. It delivers, fruits, vegetables, medicines and other products within 30 minutes. You can order from multiple stores in a single order and you will the products at your doorsteps.
Nature's Basket
This company has the aim to bring fresh and fine grocery products to your home. Nature's basket has a category of gift hampers where you can buy e-vouchers and gift hampers for your loved ones. The online payment mode at this site is quite easy and feasible. You can use various coupons to get additional discounts on your bills.
Star Quik
This is the newest grocery app which was launched by Tata enterprises. Currently, it is available in a few cities and is planning to grow into a big business. It has come up with a wide range of products to become a one-stop solution for all the needs. Tata has always been reliable so this Star Quik is definitely worth trying.
Ondoor
This Bhopal based online grocery app- Ondoor, is doing wonders by providing basic household essentials and grocery products to their home. 'Create value for our customers to build an ever-lasting relation' is the motto of the company. The cost of these items is quite reasonable and it is a good option to buy from. The grocery apps are transforming the way we used to shop for these products and it is becoming easier than before.
Conclusion
The online shopping app for groceries has entered this market for quite a long time now. People are also getting used to placing orders and getting them on their doorsteps. It not only saves time but also money and effort. For the people who don't get time to roam around the market for groceries, it is the best alternative. More and more apps are entering this field and offering you some better options. These are the best grocery apps in India right now. Check out the apps/sites, use services and share your experience in the comments below.