Being a mom is not a piece of cake, it comes with great responsibility. So why not have some fun before a mom actually enters a new phase of her life. A baby shower is an ideal excuse to celebrate this whole new chapter coming her way. It is the most memorable event for a mom-to-be before becoming a mother. Whether you are a friend or a cousin or a relative, this blog will take you to the cutest and most loving baby shower ideas to make her feel special.
You will get the most Charming ideas and answers to all your questions.
Baby Shower Decoration
A baby shower is popular for its theme decoration or colour-coordinated décor and that is a really great baby shower ideas. There are so many themes to choose from. We have listed a few of the top themes for the baby shower party.
Movie or Show based theme
There must be some shows or movies or scenes which new parents really like so why not use it as your party theme. You all can dress like the characters which will add even more fun to the party. If you are fond of Harry Potter then your venue can become Hogwarts and if you like FRIENDS then the venue should be Central Perk. Just like these, you can choose any scene or show.
Vintage Theme Decor
Old designs, laces, and pearls can never get out of style. If the new mom is fond of these vintage looks and finds them enthralling then it should be your baby show decoration idea. The elegance in the old style is just lovely.
Flower Theme for Decoration
Flowers symbolize refreshing and happy moods, so let's turn this party into the happiest one. Sunflower, Lilies, Orchids, Carnation or Hydrangea- you can choose any or even mix multiple flowers for the theme decoration for a baby shower.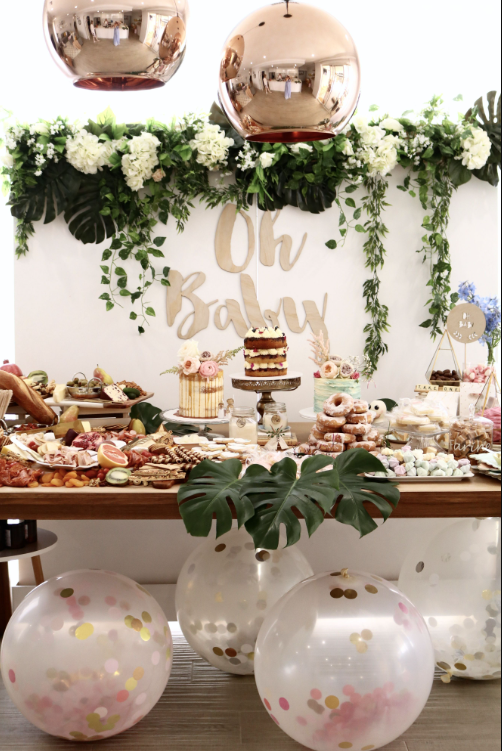 Minimalist Décor
It is the ideal choice for people who are not into loud decors. Everyone has their own choice and this shower should fit their taste. So this idea is meant to keep the decoration light and simple. You can use balloons, string lights or floral lights to beautify the venue. Just a tip here- if you planning this décor then keep your party in the evening or late evening. Lights can glow better and the venue would be magnificent.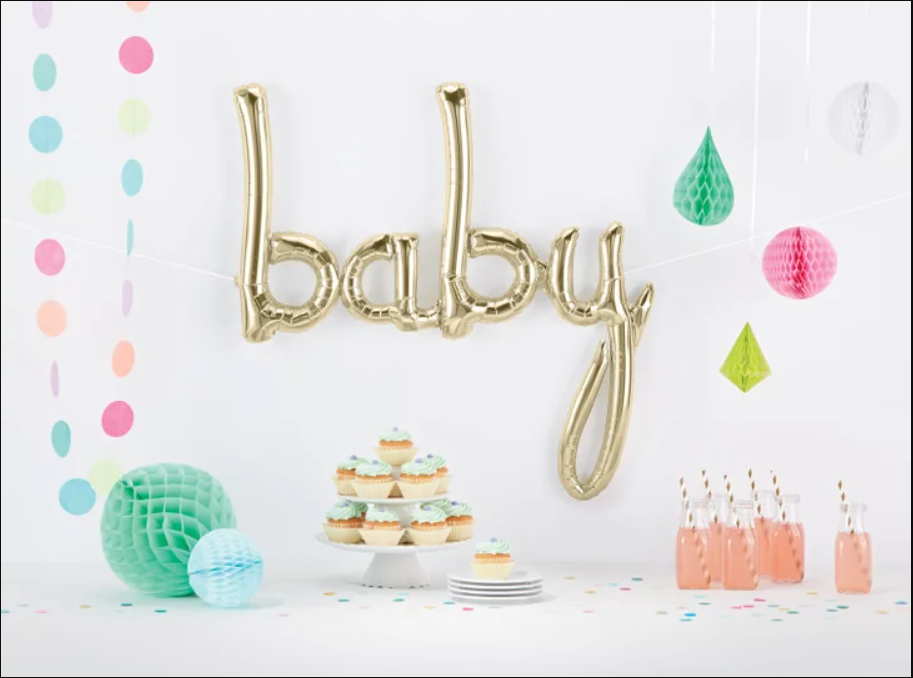 Color Coordinated Theme
Resolve all your confusion about the theme with this idea. No deep planning, no doubts nothing, just simple colour coordinated party décor which you might have done on kids birthday party too.
---
Cakes for Baby Shower
We couldn't think of any celebration without a cake. Baby Shower Cake is a must for the party. So here are some ideas for an amazing Baby Shower Cake.
Theme-based Cake
A theme party means that everything there should go with the theme and match that. So, the cake also needs to fit in your party. Customization is possible to any extent to get the cake according to the party.
Gender Neutral Cake
Many parents are not aware of the gender of their baby or they don't want to reveal it at that time. So, you can get a gender-neutral cake for mom-to-be, so it doesn't spoil their fun.
He/She Cakes
When people get to know about the gender of the baby, they start planning the party and gifts according to that. So, getting a cake designed for a baby boy or baby girl will be perfect for the party.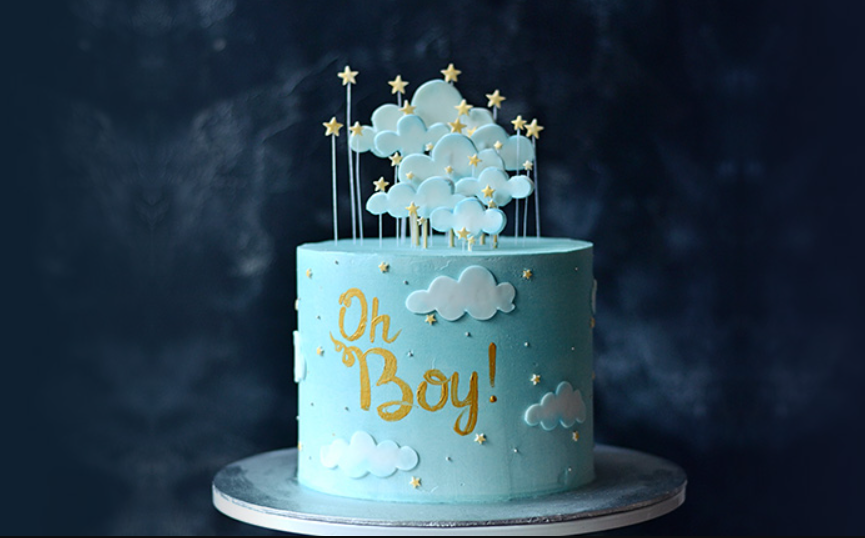 Mom-to-be Cake
It is a common practice of making the baby shower all according to the unborn child. But how can we forget the mother? So, there are these cake designs that are prepared just for mothers.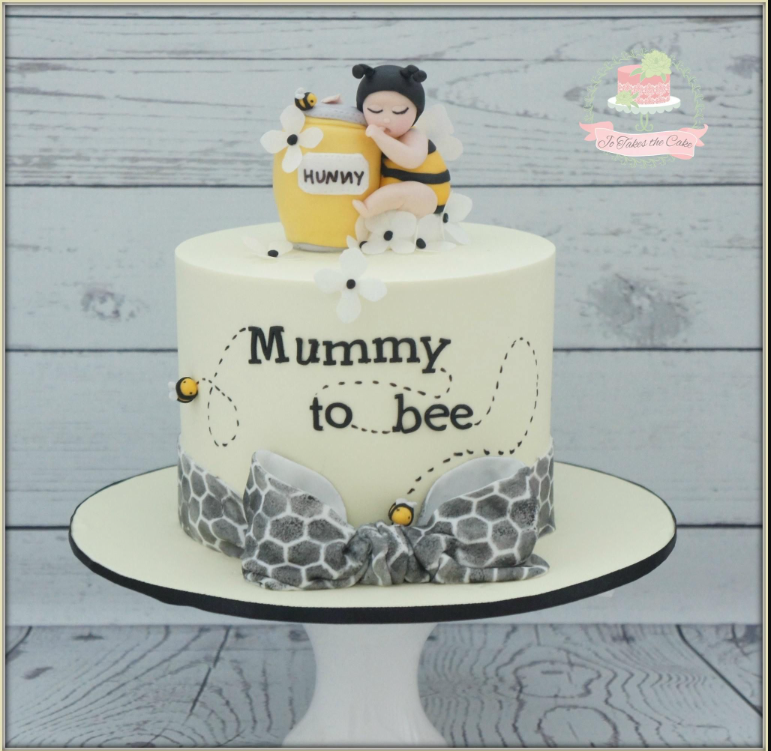 ---
Baby Shower Invitation
Let's Digitalize! Leave those boring ways of printing the invitations and inviting friends and family over a call. People get confused about inviting men to party so just think of your budget. If you are organizing a grand party at some special venue then, invite all the men too. If it is a small event in the house, then you can only ask the father-to-be to stay (if he wants to).
Invitation Design
The baby shower invitation designs are meant to be cute, whether you choose any design or theme, it's always cute. Download the design from canva or buy a template to make the most awesome invites. You can also make some motion images or videos if you are ready for that effort.
You can use the baby bump Image of the mother on invitations. All it needs is your creativity and efforts. Though there are readily available designs and fonts also.
What to Add
Just the required information will do the work. Add the timings, venue and date of the event. Other information which you can add is the theme of the party or colour of outfits or anything common which you need to have for the party. Don't forget to add RSVP and do not RSVP to the mom. Party is meant to make her day special, not to add her to the chores.
---
Baby Shower Gifts
This is the most exciting part of the Baby Shower; the mother gets so many gifts for the baby and for herself. Though there is nothing like a perfect gift, you can give anything you like. We have some useful online gift ideas which will make her say 'aww' after the party.
Also, You can buy these products online from ferns n petals or any another site too.
Parenting Books
Home Salon Coupons
Cradle for Baby
Medicine cabinets
Baby Mattress
Soft Toys
Games
Baby Milk Bottle
Handmade Blanket
Baby Names Book
Footie Pajamas
Socks and caps
Baby Photo Shoot Session
Baby Neck Pillow
You can check the smart baby products for easy parenting, and release your load of thoughts for the gift.
---
Baby Shower Photoshoot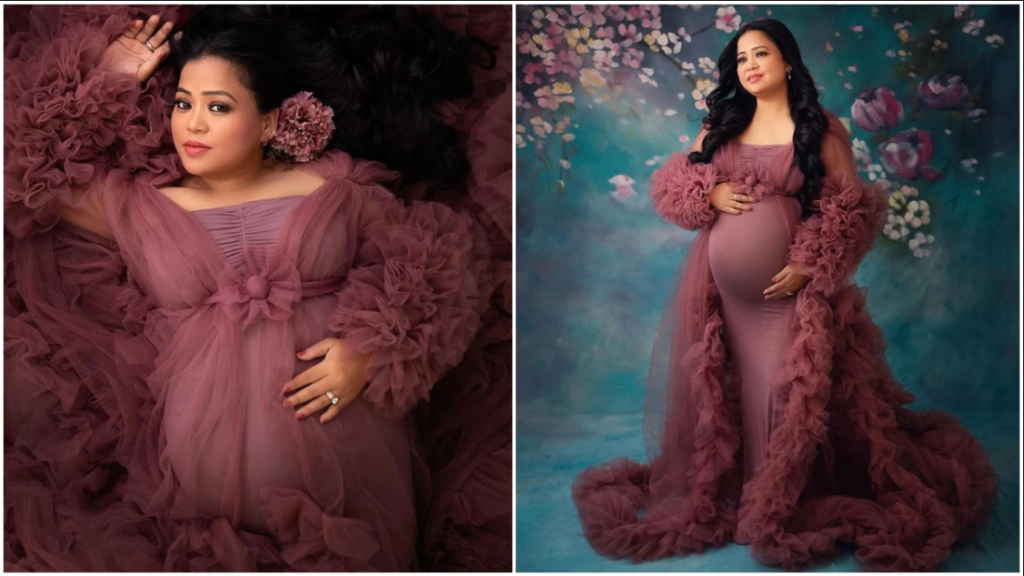 This is a new trend that is adopted by almost all the new mothers nowadays. As her friend or relative, you can organize this shoot for her. Celebrities have a huge role in turning this trend into a requirement. The memories turn into pictures and stay with you forever.
Furthermore, you can have some photoshoot area for the guest or some name tags, frames, and props to make the photos even more fun and memorable.
---
Also Read- Best Baby Care Products
Baby Shower Dress
The baby shower ideas also suggest what to wear so, the mother can wear anything until it is comfortable for her. Trapping in the dress while carrying a baby in your body is a big NO. You don't have to think about it much if it is a theme party. The theme party has all the dresses and colours planned but if it is not that, then it requires your thought.
Usually, mothers prefer long gowns which highlight the baby bump. She can also choose some lacy sleeves and off-shoulder dresses just like this one. Pastels colours and white colour is a good fit for this day.
You all people can colour coordinate with her dress and also, plan single coloured clothes. It reflects your love and affection toward the mother.
---
Baby Shower Party Activities
Plan some games or fun activities and add those to your baby shower ideas for an enjoyable party or otherwise, people will get bored of it.
Game 1-
Who Knows Mommy Best?
This tomfoolery child shower game has loved ones consenting to demonstrate who knows the most about the mother-to-be. It calls for almost no prep and is not difficult to play with a major group, making it one of the most amazing child shower games around.
What you want: Paper and pen for every visitor.
Prior to the party: Find out however much as could reasonably be expected about the mother-to-be's experience growing up. Record your inquiries and her responses on a piece of paper, and don't show anybody.
Instructions to play: Read your rundown of inquiries without holding back and have visitors record their responses on paper. Whoever has the largest number of right responses wins.
Game 2-
My Water Broke!
This is a work of art, and for a good explanation, it's a tomfoolery child shower game that is sufficiently simple to pull off and gets everybody at the party in question.
What you want: Tiny plastic child dolls (one for every visitor) and an ice 3D square plate (or other little holders).
Prior to the party: Put a plastic child into each block, then, at that point, load up with water and freeze.
The most effective method to play: Give every visitor a beverage with a child filled ice block in it. The object of this child shower game is to liquefy the ice and get the plastic child out in the manner visitors can imagine. Whoever gets their child out first yells "my water broke!" and is the victor.
People say: "It was enjoyable to watch the women etch their direction to their water breaking. Be that as it may, answer: Don't permit hot refreshments on the table during the game. Individuals can be wily!"
Game 3-
Blind Diaper Changing Challenge
As the advanced saying goes, "genuine men change diapers"- so put the abilities of your co-ed group under a magnifying glass in this quick-moving and amusing child shower diaper game.
What you really want: Two life-size child dolls, two blindfolds and one diaper for every visitor, in addition to two additional items.
Prior to the party: Place a diaper on each doll.
Instructions to play: Have visitors separate into groups. Each group gets a doll, blindfold and diapers. The principal individual in line for each group should put the blindfold on, eliminate the diaper on the doll and supplant it with another one. After the main colleagues are done, the following individual in line goes, etc. The main group to complete successes.
Game 4-
Hi, My Name Is…
While some child shower games try assisting visitors with learning each other's names, this one essentially does the specific inverse to entertaining impact. On the off chance that you decide to punish individuals a penny each time they goof, the child may very well wind up with little savings!
What you want: Name labels (one for every visitor), a marker and a stash.
Prior to the party: Mark each ID with a child-related word.
The most effective method to play: Have every visitor placed on an ID when they show up. During the shower, individuals can be called out simply by the label name. In the event that a visitor calls somebody by their first name, they need to place coins into a stash for the child.
---
Baby Shower Food
As such, there is not any ritual related to food but you can keep the menu according to the mother's choices. Keep the snacks and drinks light and do add the cute little cupcakes that all the people cherish.
Bagels
Macrons
Croissants
Pasta
CupCakes
Ice-creams
These are the light and party-type food you can organize.
---
Baby Shower Wishes
Baby Shower cannot be completed without the wishes of the guests. These are a few of the wishes which you can write on a paper or whisper in her ear and wish her luck.
Congrats on your new dear baby! We can hardly wait to see their wonderful grin.
May you have a protected conveyance and a rapid recuperation. All the best to your developing family.
Numerous congratulations to the unseasoned parents-to-be! Wishing you a long period of bliss with your new child.
Your child will be so adored and appreciated! Can hardly wait to meet the little one.
Wishing you loads of affection and satisfaction to you and your little marvel.
Congrats on this new experience! Being an extraordinary one's certain.
May your excursion be one loaded up with adoration, joy, and experience.
Welcome to the world, minimal one! You're as of now so adored.
May your life as guardians give you numerous favours and pleasure.
All the best on the appearance of your first child!
Use these baby shower ideas and tell us in the comments if you are planning to use any of them.
---