Trendy Outfits Ideas
Diwali is almost on your doorstep! There are festivities to attend and parties to show up at. Family time is the best thing among all when you'll be making beautiful Rangolis and decorating the whole house with lights. But are you guys ready to rock this Diwali in style? If not, check out 10 of the season's Trendy Outfit Ideas that'll bring the spotlight on you in parties.
1. Chic Crop-tops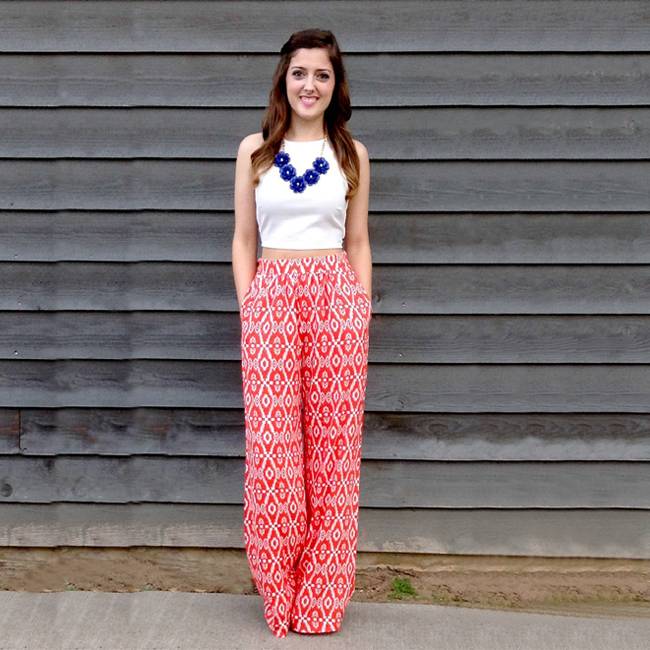 Crop tops are so amazing and comfortable and when combined with a printed Palazzo, this can be the go-to look for your Diwali party. Add a plain long ethnic jacket and a pair of tasseled earrings and you're all set to rock 'n' roll! Indo-western fusion is the new thing in town, girls!
2. The Harmony of Asymmetry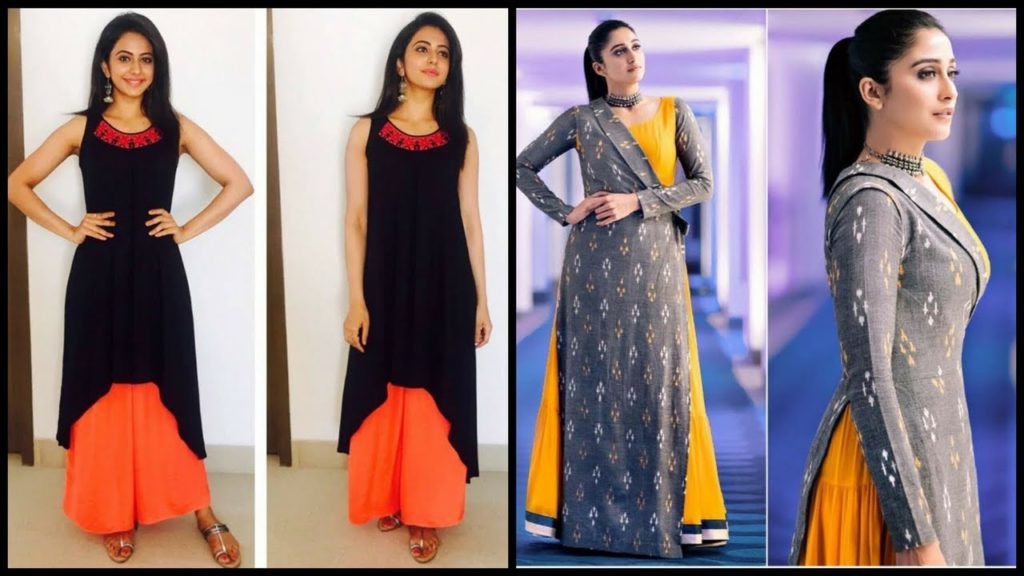 Asymmetrical Kurtis is something worth investing in as they are sure to stay here for a little while. A printed Asymmetrical Kurti paired with a bright-colored, plain palazzo is the dress to show up in, this Diwali. Put on a pair of Chand Bali earrings and give yourself a messy bun hair-do to round off the look nicely. All eyes on you, girl!
3. Desi Dress Kurti
The multi-slit, ankle-length Kurti paired with a flared skirt is the new rage in Bollywood parties. And why not, who wouldn't look just fab in them???? Wrap up with maybe some glittering pearls and a Smokey eye. Oh wait, don't forget your wedges, coz they ain't hurting and they ain't helping!
4. Cold Shoulder Tops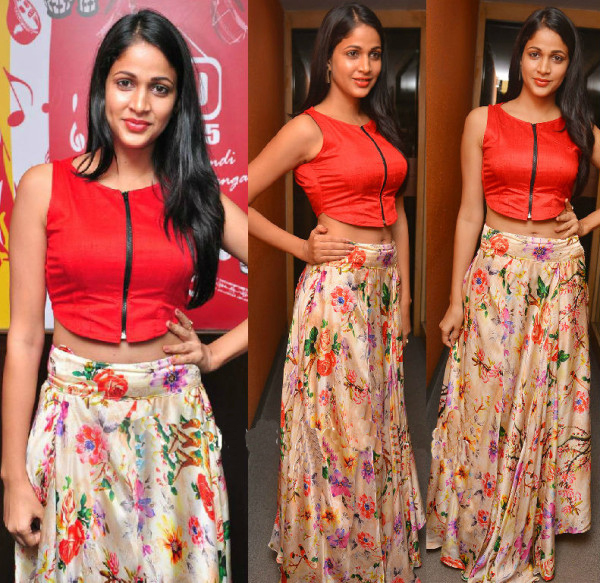 Fashion has been redefined by the exquisite look which the cold shoulders brought on with them. Ladies, it's really time to slip into one of these beauties. You could show them off with an umbrella skirt and a Kamarbandh anytime anywhere. So. Are you ready to do the Thumkas yet?
5. Kurti with Cigarette pants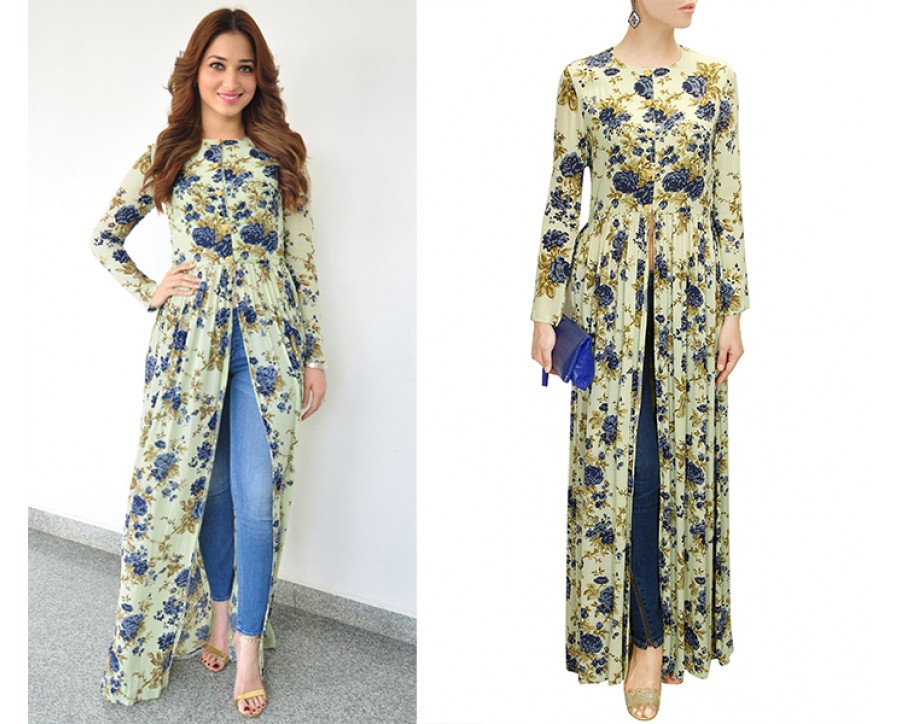 The front-slit ankle length Kurtis are creating a wave in fashion now. The frills along the yolk only add to their appeal. You have already seen everyone from Alia to Shilpa Shetty Kundra looking purely stunning in them. They suit everybody, be they tall or short. Throw in a pair of Cigarette pants and pointed heels to perfect the charm and you're ready to draw every eye on you. Now's your chance to rock the party, girl!
6. Shirt Tops with Long Skirt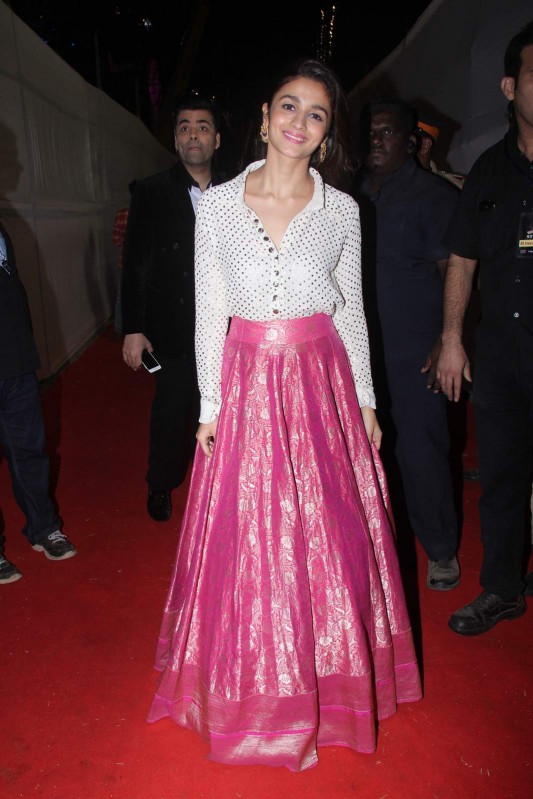 Slip into a high-waist flowery skirt and tuck in a white shirt top! YAYYY!! That's it, girls! Fashion never comes simpler than this. The glam ladies of Bollywood have absolutely got a knack for creating trends. Maybe, a dash of color on your cheeks and a little gloss on your lips??? Definitely ready to shine like the Diwali Diyas!
7. Anarkali Kurti with Palazzos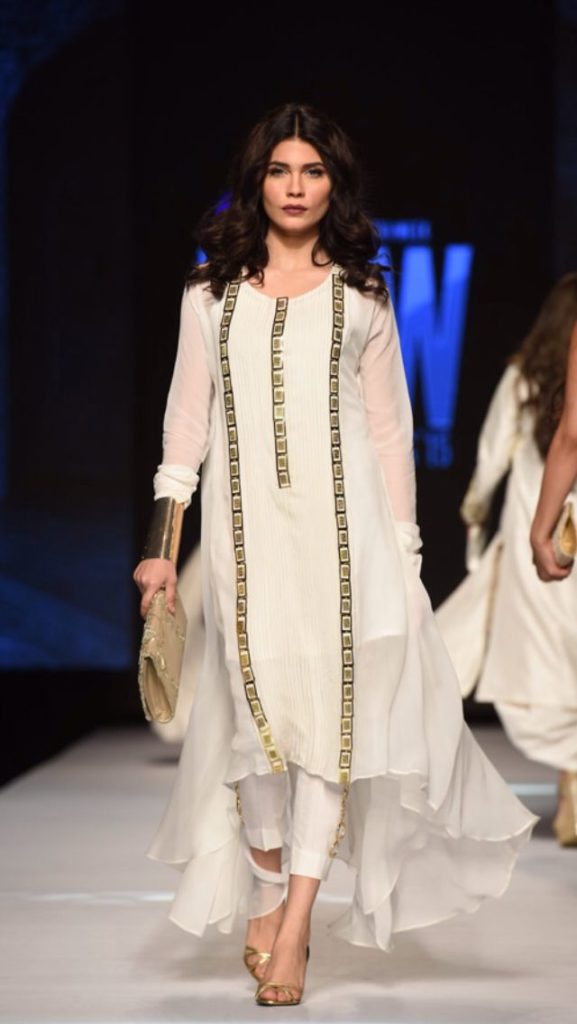 When it comes to Indian wear, you simply have to remember Anarkali Kurtis – because they are never going out of style. Anarkali Kurtis with vibrant palazzos is the new fad in traditional dressing. Pastel colored Kurtis and palazzos will give you the right touch of refinement and elegance to walk into the party as you own it. And… put on some statement jewelry as a finishing touch to the ensemble. Heads high!
8. The Pleated Skirt
Are you looking out for how to pull out the party girl look? It's time you tried on a cool Bardot top and a pleated skirt. They combine comfort and style like nothing else. A shimmery skirt with a top in a subtle color can be complemented with just a choker necklace and a clutch. You've got the look!
9. Maxi Dresses
Maxi dresses are something that never fails to work up your curves. They can be carried off elegantly by people of all sizes. They have the flair, the style and yet are the outfits with which anybody could pull out the desi-girl look. For the occasion choose dresses with traditional prints in lively colors and match them with Jhumkas, or even tassels if you want to go for something a bit different. Pull up your hair into a messy bun and show them some moves. TOO MUCH ATTENTION ALERT!
10. The Ultimate Indian Woman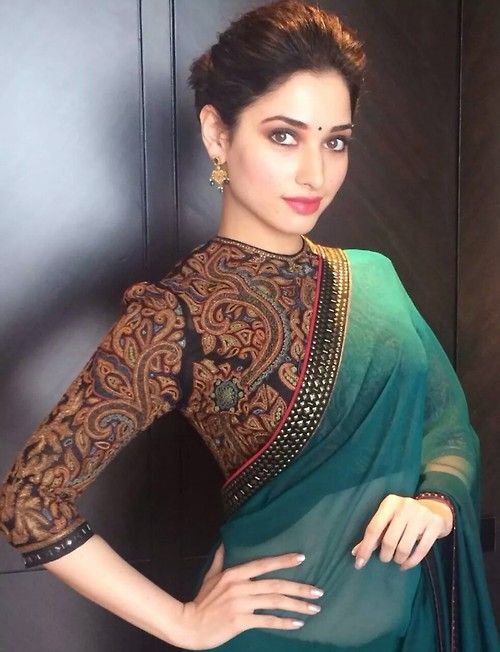 Saree is the dress in which we, women, look hot! Any doubts on that? No, you haven't! But this time, take an advice and focus on your blouses and not just on the saree. The plainest Saree can be turned over with just the right kind of blouse. You have been taken in only so many times by the wonders that Sonam Kapoor does with Sarees. Designer blouses can add a lot to the whole look. You could highlight it with a net-neck piece or a layered cuff. Or you could even embellish your saree with some sheer pearl strands. Bangles and nose pieces are the accessories to go with the ensemble. What are YOU waiting for? Get limelight ready in Saree this Diwali season.
Also Read: These 9 Ethnic Wear Collections are Totally in Fashion Right Now
Girls, fashion is impressive, but at the end of the day, the simplest and the most beautiful thing about you will be your smile. Everyone would love to see that sure, confident smile on your face as you enter the room. Believe me, nothing is ever more adorning than that! You are beautiful the way you are! So, this Diwali spread more smiles and happiness in the world. Let yourself be recollected for being the stylish and self-confident woman that you are. Happy Diwali, girls!